Horizon – an adventurous indie sci-fi web series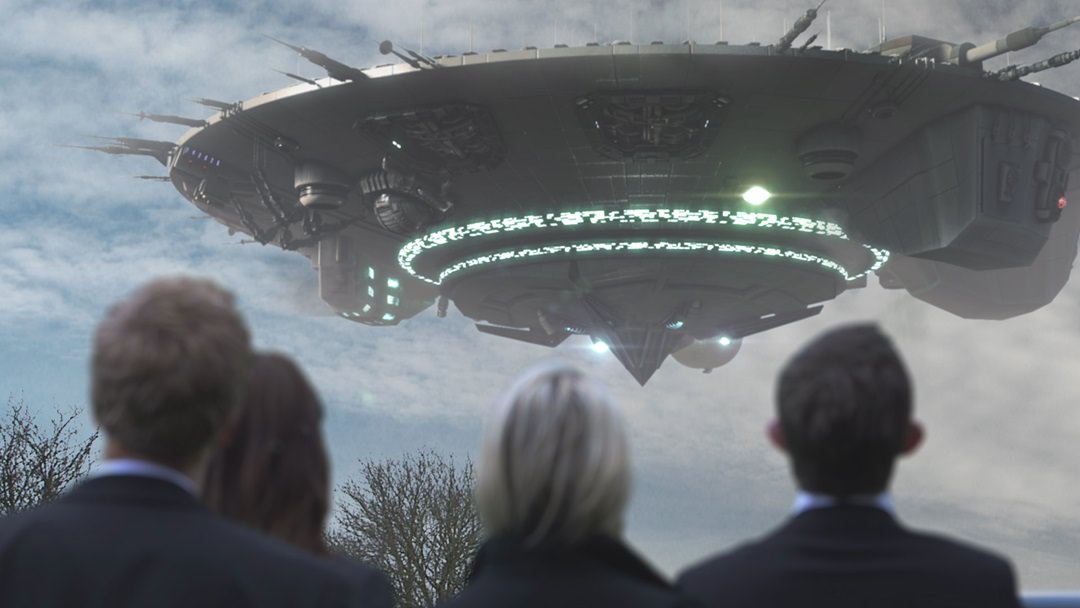 'Lives are changed forever when an alien spacecraft looms above the city of Bristol.'
If I was from an advanced alien race that discovered Earth and was planning to make first contact with the human race, I would suggest numerous locations to land, and none of them… would be the city of Bristol. I have nothing against Bristol – it's a great cultural hub, but surely, aliens would target iconic cities such as Washington, Beijing, Johannesburg, Paris or London. Cities that are home to world leaders and influential people who the aliens would want to communicate with – whatever their motive was.
Regardless of this unusual choice of location for aliens to land, this didn't stop Bristol-based filmmakers Simon Pearce, Paul Dudbridge and Chris Marshfield taking inspiration from their home city to create their web-series, Horizon.
Horizon is a sci-fi series that centres around a group of four characters, Steven (Paul Tonkin), Dan (Simon Pearce), Chloe (Alicia Ancel) and Nicole (Kate-Davies Speak) who must decide their immediate course of action when a mysterious alien spacecraft appears on the horizon over the city of Bristol.
'They have to move fast, as this world-changing event throws the city into utter pandemonium, and with fear of alien attack, Horizon's key characters – along with the rest of the Bristol population – desperately attempt to flee the city and reach loved ones before it is potentially too late.'
The characters' lives are thrown into turmoil with survival a paramount focus while also trying to establish why these visitors from another world have arrived and what their motives truly are.
Horizon has been an ambitious project for Pearce, Dudbridge and Marshfield, and after watching this web series it's clear that they have achieved the best sci-fi production possible on a tight budget.
The ten episodes from Season 1 can be found on Horizon's main website and YouTube channel. With Season 2 just around the corner, I had the privilege to talk to some of the cast and crew about what it took to get this series made, and some of the challenges they faced during production.
'One unique thing about Horizon is how short the episodes are.'
'Some episodes in season one were as short as three or four minutes' explained Pearce, who plays the character of Dan, 'not the forty-five to sixty minutes you might normally get with a TV drama! Fitting in character beats and plot in such a tight timeframe can be tricky, but obviously, when expanded over the whole series you can design some nice character arcs and changes.'
Dudbridge's experience is mainly in producing feature films, short films and music videos, so with Horizon, Dudbridge, along with Pearce and Marshfield wanted to do something different and challenge themselves.'We are all big fans of episodic TV shows, so we wanted to try our hand at producing something new, rather than a traditional single film which we had made before.'
Pearce agrees and states that long-running shows like Lost (2004-2010), 24 (2001-2010) and The Walking Dead (2010-Present), were big inspirations for them, and they had wanted to tackle something like that themselves for a long time, where they could tell a story over an extended period.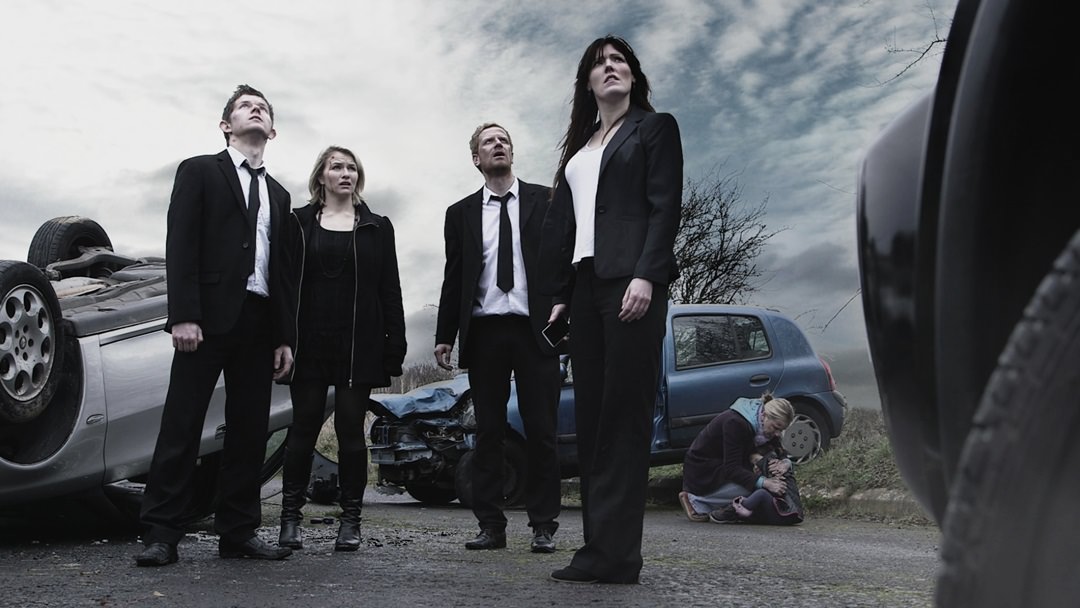 Dan (Simon Pearce), Chloe (Alicia Ancel), Steven (Paul Tonkin) and Nicole (Kate Davies-Speak).
'It was this style that particularly drew actress Kate Davies-Speak, who plays the role of self-absorbed business-woman Nicole, to Horizon.'
'I was keen to work on something episodic," she says. "I was interested in getting a feel for working in a series, discovering the difference between that and feature films, the difference in the pace of the shoot and in the family feel of working with the same cast over a longer duration of time.'
Notably, Pearce, Dudbridge and Marshfield drew inspiration from big blockbuster movies when creating Horizon. 'Two titles that kept coming up in the early stages were District 9 (2009), which I love, and also Independence Day (1996) regarding the tone,'' says Pearce. 'A large part of the remit for us was to have fun. We want to explore the human drama that might unfold if this significant world event were to really happen, but we also wanted characters to dive out of explosions, and crash planes into Bristol landmarks.'
'Paul Tonkin, who plays Horizon's main character and the groups reluctant leader Steven, also thrived acting in a sci-fi blockbuster style.'
'On set is always a fun place to be. As long as you've done your homework, listen and react to everything happening around you and fast, then you're in for a very creative time. Whether you've got a dirty cold, being thrown about, tied up in a shed, carrying people about or packing up at the end of the night it's all done with a great respect for the craft we work in.'
When it comes to creating your own web series, despite all the fun, there are still going to be obstacles. 'Time was easily one of our biggest challenges," emphasises Pearce. "Next was simply organising everything and everyone. It was myself and Paul doing the majority of the work, and on some shooting days we had all of our main cast together, plus a room full of supporting artists, and a location full of props to coordinate. Just finding days when everything and everyone was available at the same time was tough.'
'For an ambitious project and minimal funding, the making of Horizon had many other challenges on top of just time constraints.'
Due to the small budget, Pearce, Dudbridge and Marshfield had day jobs to juggle, as well as pulling favours from various people in the TV and film industry. 'We were fortunate to have some amazing people help us across both series, but because this was a labour of love people would have to fit it in around other things. We couldn't just block out a period of time to shoot it all. Each series was around ten to fifteen days to shoot, but those days would be spread across something like six months… It was a lot to juggle,' explains Pearce.
Pearce also reveals that 'all of this would be made easier if we had a full crew every day, but we didn't, so camera operators would sometimes have to wrangle their own lights, pull their own focus. We didn't always have Assistant Director's or runners to liaise with actors or supporting actors when they weren't on set. All of that sucks time out of your day. Everyone had to be on top of their game to keep things running smoothly. Again though, we had a great cast and crew who worked really hard, often under tough conditions to get it done.'
As Horizon is a sci-fi show about a giant alien spacecraft invading planet Earth, there was certainly the need for visual effects. After seeing the finished product, it looks like the commitment from the visual effects team paid-off.
'Alicia Ancel, who starred as anxious student Chloe, adds 'The most rewarding part of Horizon is to see how successful the special effects are once they have been incorporated.'
It's tough when filming to imagine and react to the imaginary drama around you, but through having excellent directors, it was easy to put trust in them for what was needed to make each scene work.'
Alicia further elaborates 'I have worked on a fair number of special effects projects before, ranging from commercials, stop motion, and feature films. However, I think Horizon has had the largest number of effects to incorporate and have been the most realistic. By having specialist people in to coordinate movements etc., this made a massive difference and saved a lot of time on set.'
'Horizon is an adventurous series, where the cast and crew have done all they can to stretch their limited resources to present that big budget impression to the viewer and a lot of thought has gone into developing the plot and characters.'
Like so many small independent British films and shows, creating Horizon was more about professional filmmakers working on a show they thoroughly enjoyed and were passionate about being a part of.
David Axcell
Film Critic
David has quite a broad taste in film which includes big budget blockbusters and small indie films; including International and Arthouse cinema. As long as it's good in that particular genre, he'll watch anything.
This article is copyright owned by Keltar Limited. All rights reserved.
Plagiarism or unauthorised copying is not permitted.
All other copyrights remain the property of their respective owners.