Filming an Indie Sci-Fi Web Series: Horizon – Season 2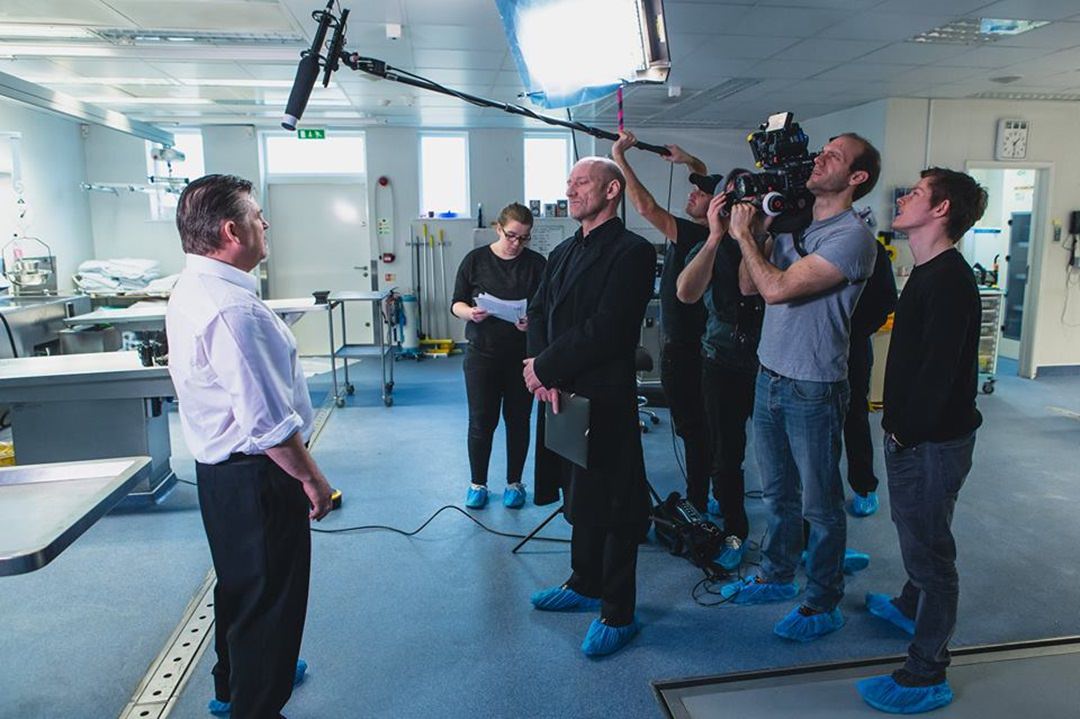 Filming at Flax Bourton Mortuary with Brennan (Tim J. Henley, left) and Gilroy (Grahame Fox, right).
'The talented Bristol cast and crew of web series Horizon film a Blockbusting storyline on a tight budget.'
With the alien spacecraft still hovering over Bristol, time is quickly running out for reluctant leader Steven, his book smart younger brother Dan, student Chloe and business-woman Nicole. As they scramble to make it safely out of the city, revelations will also be unearthed about who these strange visitors are, and what their intentions are.
When sci-fi web series Horizon ended on an epic cliff-hanger, it was clear fans needed closure. Now, over two years later, fans can finally get answers over what happened after aliens occupied the city of Bristol, and a group of friends and family caught in the middle of this world-changing event.
Horizon creators Simon Pearce, Paul Dudbridge and Chris Marshfield, wanted to do more with Season 2 than just match the same level of ambition and creativity. They tried to push themselves even more creatively than Season 1 which has been well received by fans.
As a result, they have a bigger cast, more impressive special effects, and have even gone back in time with an episode set in the 1800's. Once again, I was able to talk to some of the cast and crew and obtain first-hand information about what it took to make this final season.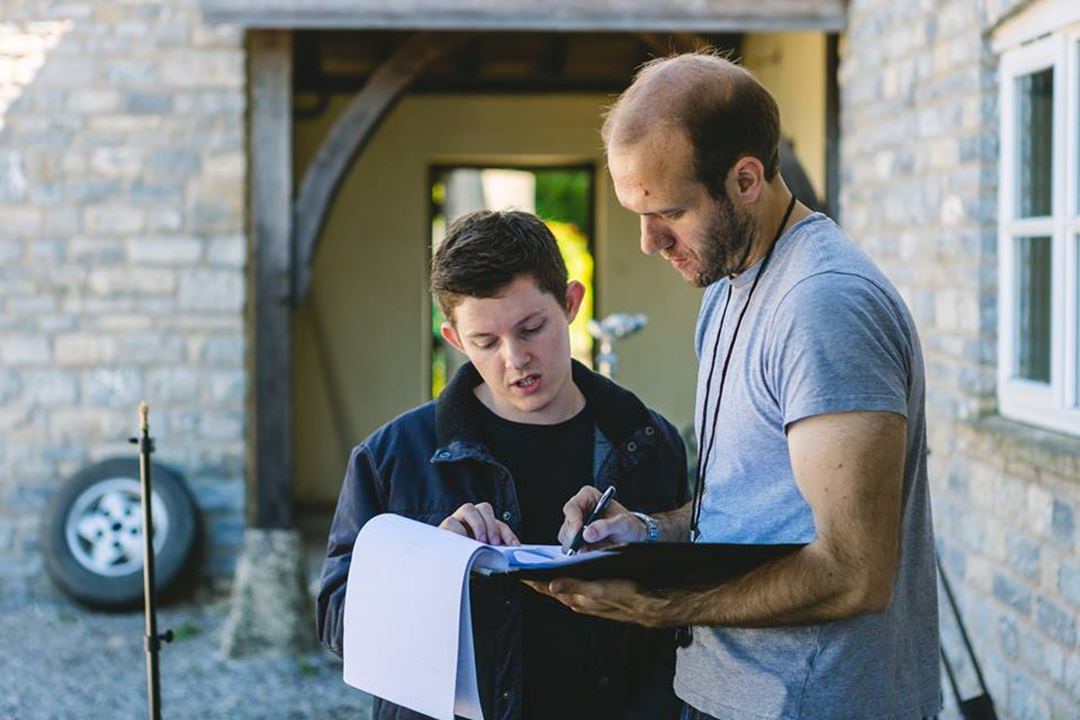 Creators Simon Pearce (left) and Paul Dudbridge (right) go over the days shot list.
'With the more ambitious Season 2, there were more significant issues for the cast and crew to tackle.'
Issues, clarified Dudbridge, including larger and more difficult locations to shoot at. 'We dealt with a lot of challenging locations in Bristol, from filming in a working mortuary, to sourcing a last minute replacement when the Bristol Museum cancelled our filming two days before we were due to start.'
Dudbridge adds, 'the most challenging location overall was The Georgian House Museum in Bristol. It was a fantastic place to shoot and they were very gracious to let us in there, but it was costly to hire on our limited budget. The period setting meant we also had costume and make-up issues to contend with, as well as tight restrictions on what could be moved in the house and what filming kit could be placed where.' Restrictions and disruptions to their fast-paced shooting style hindered filming. Dudbridge further explains, 'Also, having to pay for the location and staff by the hour, we had to be bang-on with our schedule and couldn't afford any overruns or delays. We got it done, but everyone had to be on their game.'
'Mhairi Calvey, whose character Penny was introduced in season two, also mentioned some of the obstacles they faced in The Georgian House Museum.'
'I have never worked on anything like Horizon before, it was my first period drama shoot.' Calvey adds, 'I think our main challenge was that we were working in an amazing location at The Georgian House Museum, and only had a day to film the entire episode. Usually, on set runners can just move everything themselves. However, because we were filming in a museum we had to have the curators carefully move everything between each take. If something needed to be touched, then we would have to wear special gloves and be incredibly careful when we were doing some of the emotional scenes and moving around the set.'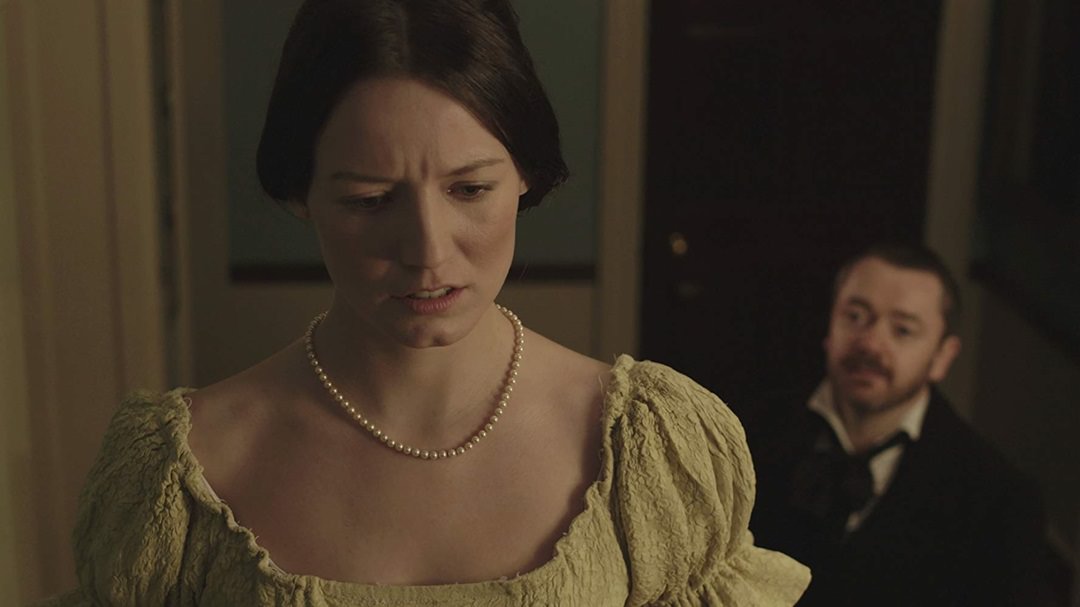 Edward (Dan Winter) talking to his wife Penny (Mahari Calvey).
Paul Tonkin, who returns to his role of Steven, especially found it more taxing when it came to filming the second season.
'Season 1 was filmed in an allotted two-week period, so the whole shooting process was over pretty quick, but Horizon Season 2, with its bigger set pieces, time jumps, more locations, called for a more sporadic shooting schedule.'
Tonkin elaborates, 'pinning locations and actors down at the same time was more challenging, and so maintaining those small details, and character quirks for me was a bigger but ultimately fruitful task.'
Alicia Ancel enjoyed returning as Chloe for Season 2. 'One of the most enjoyable aspects of working on Horizon was getting to meet and work with so many local and talented artists within the film industry. Being able to appreciate first-hand the talent we have on our doorstep is priceless. This extends to all levels of production, as everyone was prepared to go above and beyond to make Horizon a successful project. Working with a very similar crew for Season 2 made filming a lot easier and a positive experience as we all understood what was expected of us.'
'For Tim J. Henley, however, whose small role in Season 1 expanded in Season 2, the genre was a new experience for him.'
'I've not done sci-fi before, so that was a first for me,' he explains. 'I had to do a few scenes with the SFX alien, so that was a challenge as the 'alien' was obviously not what it appears as in the final edit…so as an actor that's always a challenge because you have to fill in the gaps mentally.'
It wasn't just visual effects that Henley had to contend with. 'There was also a lot of firearms in Season 2,' he adds, 'so again, always a challenge for an actor to give a good performance of believable integrity for a weapon that is only a pretend one. I find it particularly hard to fire a machine gun without making the sound Private Pike in Dad's Army makes when he pretends to fire his machine gun. I'm a big kid at heart, so I have to try and control myself to stop making the machine gun noises with my mouth!'
'One person who relished returning to Season 2 of Horizon was Kate Davies-Speak, whose character Nicole, arguably evolved the most in Season 1.'
'I think the audience will notice that from the outset in Season 2, that Nicole is instantly much closer and warmer with the group, she's bonded with them now and is very protective of them and less self-absorbed' she describes. 'The audience may also be pleased to see that Nicole is more accustomed to an 'action-girl' survivor image, she's ditched the suit, the handbags and is now dressed and ready for any threats that occur.'
Like most film franchises and television shows, the stakes are raised as the story progresses, adding a more serious and epic tone. It was important though to keep that fun, blockbuster feel to the creative team.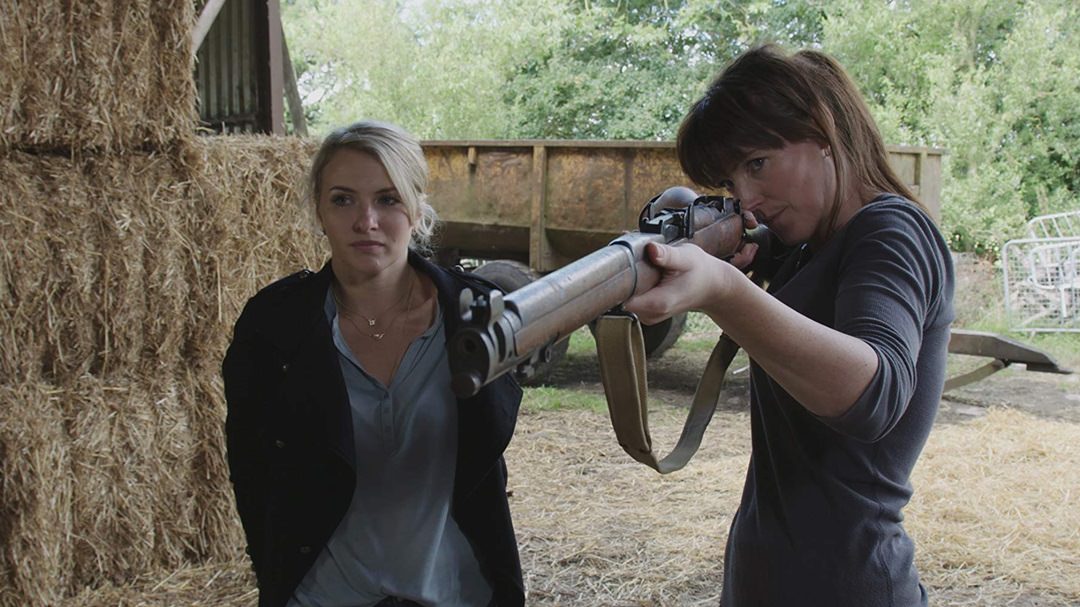 Chloe (Alicia Ancel, left) with Nicole (Katie Davies-Speak, right) testing a rifle they have found.
Pearce goes on to describe one of the new characters who helped maintain that lighter mood. 'The new character Edward Coleridge (played by Dan Winter) allowed us to have a lot of fun, even when the stakes are high, and he plays those moments beautifully. He'll draw some comparisons to Doctor Who I think.'
Consequently, Winter's time-travelling character is unique when compared to the others as he had to come at the story from a slightly different angle. 'I guess one of the biggest challenges was playing someone from a different time. Normally you try and create a world together, matching or fitting in with what other people do. The challenge from me on this one was to not worry about being different and not fitting in.'
'Season 2 of Horizon will give fans the closure they need.'
With the solid world-building, great storytelling, and interesting characters you can root for, Horizon offers a web series that may even compete with studio produced and bigger budgeted TV series that are currently in the market. Season 2 also proves that with passion and determination, you can achieve great things, even with minimal resources.
The cast and crew of Horizon hope that this successful sci-fi web series will inspire future British filmmakers to step out of their comfort zones, and push their creative limits despite budget and location restrictions.'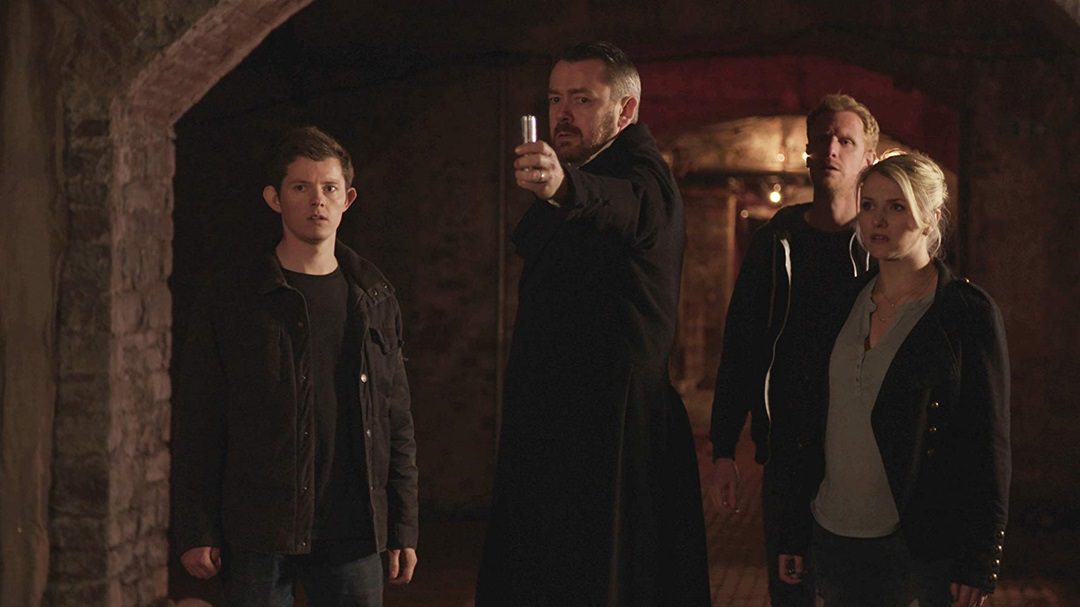 Dan (Simon Pearce), Edward Coleridge (Dan Winter), Steven (Paul Tonkin) and Chloe (Alicia Ancel).
David Axcell
Film Critic
David has quite a broad taste in film which includes big budget blockbusters and small indie films; including International and Arthouse cinema. As long as it's good in that particular genre, he'll watch anything.
This article is copyright owned by Keltar Limited. All rights reserved.
Plagiarism or unauthorised copying is not permitted.
All other copyrights remain the property of their respective owners.