Aquaman review – a fun and adventurous superhero movie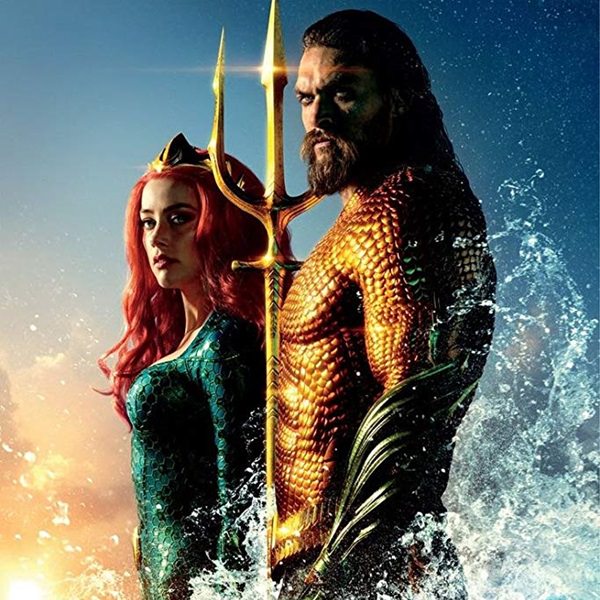 'King Orm plans to conquer the surface world and it is up to half-brother Arthur Curry to reclaim the throne of Atlantis and stop him.'
After seeing him properly in last years Justice League (2017), Aquaman is finally getting his first solo adventure on the big screen. So far, Wonder Woman (2017) has arguably been the only critical success the DC Extended Universe has had. The pressure is on for Aquaman to follow suit, and prove this is a franchise still worth your time and money.
The story follows Arthur Curry (Jason Momoa), who was mostly raised by his human father, but whose mother was Atlanna, Queen of Atlantis, an advanced underwater civilisation. Not wanting anything to do with his royal heritage, he avoids that part of his life. When tragedy strikes however, and his evil half-brother Orm (Patrick Wilson) takes the throne he must reclaim his birth right before war breaks out between two worlds. Helping him are Amber Heard's princess Mera and mentor Vulko (William Dafoe).
Objectively, Wonder Woman is still the best of the solo DC movies.
Aquaman is definitely a close second, depending on where you rate the divisive Man of Steel (2013). Although not going deeper in its themes like Patty Jenkins' film, and far from being a perfect superhero movie, this is a lot of fun. Having directed one of the better Fast and Furious films, James Wan takes the same approach here.
This is a light, entertaining adventure flick that doesn't take itself too seriously. He embraces the ridiculousness of a story about a man who can talk to fish and leans into that fantastical element unabashedly. It just wouldn't work if you tried to ground the plot and make it too dark. In fact, that breezy tone is actually quite reminiscent of Indiana Jones, which clearly works for Wan's approach to the character.
Continuing to course correct after the very convoluted Batman v Superman (2016), this also benefits from being a more stand-alone instalment to the DCEU. Apart from one moment where the events of Justice League are mentioned, Aquaman is very much its own thing. New audiences can come in fresh and won't require a ton of background knowledge or anyone to have seen previous movies. More importantly, it allows the focus to be purely on its title character, instead of trying to fit in five main ones and barely getting to know any of them.
'Saying that, one of the movie's main drawbacks is its dense mythology which it has to fit in.'
Technically, this isn't an origins tale, yet there are a considerable amount of flashback scenes explaining Arthur's childhood. A lot of this has to be there because the main plot is closely tied to his heritage. On top of that, there are countless sequences of clunky exposition that explain the rules of Atlanta's society and history. What this results in, is an unnecessarily long runtime where the actors read off wooden monologues every ten minutes.
Making up for this, is Wan's solid direction. Mostly known for the horror film, which is arguably a visually reliant genre, he smartly uses that keen eye of his for this very different type of movie. When it comes to some of the underwater scenes, there are great moments of beauty in the cinematography.
Likewise, the ocean worlds are wonderfully realised, and are injected with a lot of colour and vibrancy. There's obviously a great deal of CGI and green screen being used. But time and effort has clearly gone into making it as good as possible when compared to the more rushed Justice League.
Wan also proves himself with the action scenes.
Offering something different, there's plenty of excitement to be had in some of the underwater battles. Even when it becomes a CGI mess towards the end, the rest of the set pieces are skilfully framed. Using long shots, Wan lets us take it all in. Going for quantity, this is also an extremely action-packed film with plenty going on.
Momoa proves to be a great Aquaman, and he surely knows what type of film he's in. All the other actors like Dafoe and Heard struggle with lifeless expositional dialogue, but Momoa looks like he's having a blast. Playing him with a cavalier attitude not only makes him a lot of fun to watch, but gives him an engaging arc as he goes from reluctant leader to king of the ocean.
Getting the best lines, he's definitely one of the main reasons to watch this film. The only other person who gets to ham it up and let loose is Wilson's antagonist. Really going for it, you won't mind that as a villain he's rather bland and unoriginal in his motivation.
'Despite its flaws, Aquaman is going to be another success for the DCEU. It has a brilliant lead in Momoa, a light adventurous tone, and some thrilling action sequences; what's not to like. With two stand-alone hits now, we could actually be forgiven for getting excited to see what this cinematic universe does next.'
Film Details
12 · 2h 23m · 2018.
Genre
Action · Adventure · Fantasy · Sci-Fi · Superhero.
Cast
Amber Heard · Dolph Lundgren · Graham McTavish · Jason Momoa · Ludi Lin · Nicole Kidman · Patrick Wilson · Temuera Morrison · Willem Dafoe · Yahya Abudul-Mateen II.
Director
James Wan.
Writers
David Leslie Johnson-McGoldrick (screenplay) · Geoff Johns (story) · James Wan (story) · Will Beall (screenplay and story)
Aquaman created by
Mort Weisinger · Paul Norris.
Cinematography
Don Burgess.
Editing
Kirk Morri.
Music
Rupert Gregson-Williams.
Contains
moderate violence · scenes of sustained threat.
David Axcell
Film Critic
David has quite a broad taste in film which includes big budget blockbusters and small indie films; including International and Arthouse cinema. As long as it's good in that particular genre, he'll watch anything.
This article is copyright owned by Keltar Limited. All rights reserved.
Plagiarism or unauthorised copying is not permitted.
All other copyrights remain the property of their respective owners.