Fantastic Beasts: The Crimes of Grindelwald review – overly dense but still enjoyable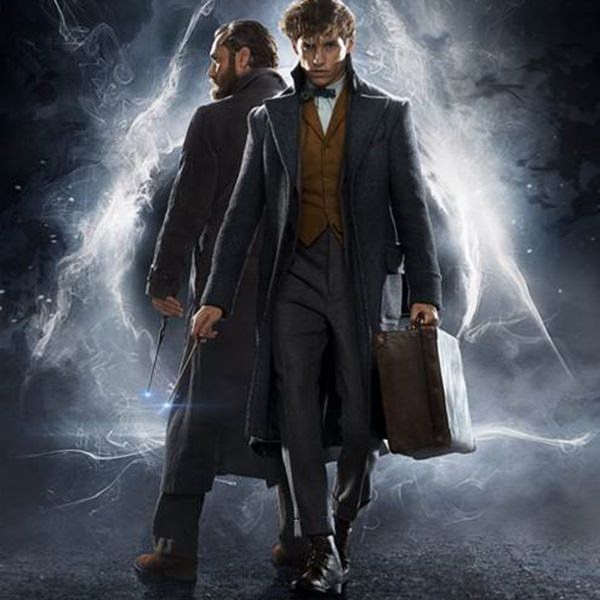 'Professor Albus Dumbledore enlists the help of former student, Newt Scamander to thwart the plans of the powerful wizard Gellert Grindelwald.'
Fantastic Beasts: The Crimes of Grindelwald (2016) is the second chapter in J. K. Rowling's latest film series set in the wizarding world she created. David Yates also returns as director and helps tell the story that was left dangling from the first film. Beginning three months on from the previous movie, the plot continues the exploits of Newt Scamander (Eddie Redmayne) and his magical beasts. When extremist wizard Grindelwald (Johnny Depp) escapes from prison, Professor Dumbledore (Jude Law) sends Newt to Paris to stop him. Jacob (Dan Fogler), Tina (Katherine Waterston) and Queenie (Alison Sudol) also return and join him on his secret mission, which involves the reappearance of Credence (Ezra Miller).
From the very first opening scene, you can clearly tell this is a stunning movie. There's no doubt a lot of time and money have been put into a dazzling array of set pieces that everyone will marvel at. Rowling really lets her imagination go wild when it comes to this world of magic. She shows a keen understanding of what will bring a sense of wonder and awe. Yates once again expertly translates Rowling's words onto the screen, making this just as visually impressive as that first movie.
Obviously, a great deal of CGI and green screen are used.
Gratefully, it's of a high standard and at no time will you be thinking these are terrible special effects. They blend elegantly with the physical sets, which are used to create some exhilarating and dizzying set pieces. For a two hour plus movie, it never feels dull or sluggish with all these exciting action sequences. As a period piece as well, 1920's London and Paris are beautifully realised. Not only that, big Harry Potter fans will be pleased to see Hogwarts again. Combined with that franchise's iconic score and the inclusion of Albus Dumbledore, it's a clever way of connecting these two film series'.
Regrettably, all this aesthetic quality is let down by an unnecessarily dense story. If well-versed in the world of Harry Potter and you've read the books, you should be fine. If you consider yourself a casual viewer, you may struggle to follow what's going on. Even with one or two clunky exposition scenes, this is a narrative steeped in mythology that not everyone will be familiar with. The movie just can't stand on its own, and like the previous instalment, gets bogged down in loads of world-building. It's a major fault that comes with three other movies already planned. Where there's a necessity to keep the plot expanding and leave character arcs unresolved. Or bombard us with big reveals. All this can be very confusing for what is a family film.
'Speaking of which, whereas Fantastic Beasts and Where to Find Them was a lighter affair. The Crimes of Grindelwald gets very dark very quickly.'
Due to the nature of the story, there's a grittier and more serious tone where the stakes are considerably higher. We do see some of Newts wonderfully whimsical creatures, which does inject some much needed levity. But, they do take more of a backseat to Grindelwald's evil scheming. This isn't necessarily a bad thing, but with a scene (albeit off-screen) of infanticide, this is certainly not for the very young.
In terms of her writing, Rowling has always been good at creating interesting characters, and she continues that here. There's a big ensemble but Newt, Tina, Jacob and Queenie in particular have extra shades added to them and are developed in different ways. Making sure there's more to them than just being the heroes, she gives them complexity and makes them feel like real people. Redmayne once again is great as the unassuming and unconventional protagonist. He's a softly spoken man who's incredibly likable yet shows inner strength thanks to Redmayne's engaging performance. Fogler equally gets a lot more to do. Dissimilar to before, he isn't just used as an exposition character to have everything explained to the audience.
Newcomers Law and Depp fight for screen time but are utilised well with the little they do have. Dumbledore is such a well-known and much-loved character, and Law does a brilliant job taking over from Michael Gambon as a younger version of the powerful wizard. A great mentor figure to Newt, we get to see him a little less wise and more flawed before he met Harry Potter. Depp on the other hand doesn't have much to do, but at least he looks like he's having fun with a role for a change.
'With many aspects to like about this film, a lot of hard-core Potter fans will surely find plenty to enjoy. Nevertheless, despite those positive qualities, including its visual beauty, The Crimes of Grindelwald suffers from a poor story structure. Too many side plots and building mythology upon mythology does not always make a good movie. Instead of worrying about setting stories up for future instalments, this film would have been better served with just a little more focus on itself.'
Film Details
12 · 2h 20m · 2018.
Genre
Adventure · Family · Fantasy.
Cast
Alison Sudol · Brontis Jodorowsky · Callum Turner · Carmen Ejogo · Claudia Kim · Dan Fogler · Eddie Redmayne · Ezra Miller · Ingvar Eggert Sigurdsson · Johnny Depp · Jude Law · Katherine Waterston · Kevin Guthrie · Ólafur Dari Ólafsson · Poppy Corby-Tuech · Victoria Yeates · William Nadylam · Zoë Kravitz.
Director
David Yates.
Writer
J.K. Rowling.
Based upon the characters created by
J.K. Rowling.
Cinematography
Philippe Rousselot.
Editing
Mark Day.
Music
James Newton Howard.
Contains
moderate fantasy threat.
David Axcell
Film Critic
David has quite a broad taste in film which includes big budget blockbusters and small indie films; including International and Arthouse cinema. As long as it's good in that particular genre, he'll watch anything.
This article is copyright owned by Keltar Limited. All rights reserved.
Plagiarism or unauthorised copying is not permitted.
All other copyrights remain the property of their respective owners.