Spider-Man: Into the Spider-Verse review – a movie the whole family can enjoy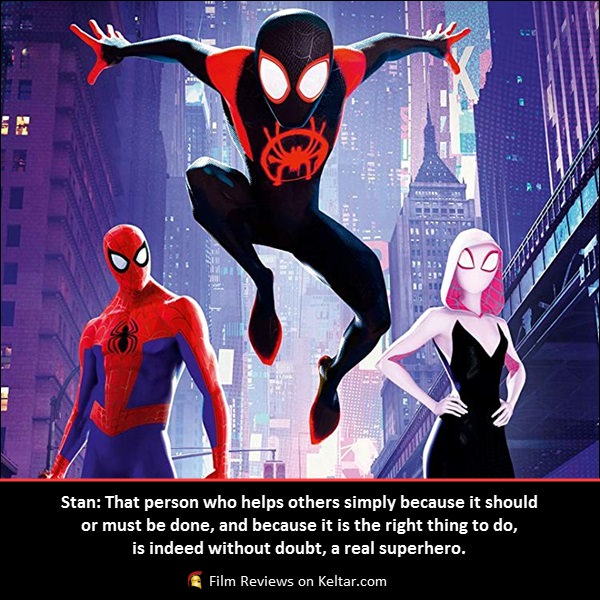 'Miles Morales becomes Spider-Man and teams up with his counter-parts from other realities to save the multiverse.'
After Sony and Marvel's deal that allowed him to join the MCU, Spider-Man has been enjoying something of a resurgence in the form of Tom Holland. Not wanting to let them take all the credit however, Sony have continued to produce and develop Spider-Man related movies. Venom (2018), despite mixed reviews, was a financial success and is unsurprisingly getting a sequel. Now, pushing the envelope out and getting experimental, the studio has released a whole new animated feature starring the wall-crawler. Spider-Man: Into the Spider-Verse leans into its comic book origins and opens up the character into a world of multiple universes.
The story focuses on Miles Morales (Shameik Moore) a young teenager who idolizes the original Spider-Man. Struggling at his elite boarding school and with his parent's high expectations, he finds solace in his street art encouraged by his uncle Aaron (Mahershala Ali). When he picks the wrong location and gets bitten by a radioactive spider, he must learn to become a real superhero. Things get even more complicated when Kingpin (Liev Schreiber) starts messing with interdimensional travel and pulls different versions of Spider-Man into his universe. Miles must now work with an alternate Peter Parker (Jake Johnson), Spider-Woman (Hailee Steinfield) and an assortment of numerous other Spider-people to help them get back home.
Thanks to its animated format, Spider-Man: Into the Spider-Verse is a unique, fresh new approach to this beloved crime fighter.
With a smaller budget, directors Bob Persichetti, Peter Ramsey and Rodney Rotham don't have to play it safe with the story. They can try different things out, and not just rely on the basic tropes we've seen so many times before. On top of that, with filmmaking duo Phil Lord and Christopher Miller producing (Lord also co-wrote the script), there's not only a lot of fun and humour injected into the plot, but plenty of heart. Clearly all involved have a great deal of passion for this character.
Diving deep into the Spider-Man mythos and exploring his legacy, they want to do more than just entertain. By exploring multiple versions of the web-slinger. We see the importance of Spider-Man as a mantle that is shared by various individuals across a number of realities. Coming with that is a very meta approach, where comic books are constantly referenced and the characters are almost aware they're living out a superhero story. Enhancing that is a distinct animation style that really helps this movie pop out of the screen and bring something different to a Spider-Man film. It adds to that comic book aesthetic, with this world really looking like a graphic novel brought to life.
'The animation also aids the action sequences, bringing a real visual treat for audiences.'
All of the set pieces are packed with energy, excitement and tons of colour. What's more, having multiple spider people fight together presents something original in these fight scenes. This can be hard to achieve in a world where there's already been three incarnations of Spider-Man, and what feels like twenty films in the past fifteen years. So the fact that the makers of this movie can still infuse the action with that kind of panache, is something to be applauded. Likewise, it doesn't hurt that there's plenty of physical comedy to be found, making the sequences not just thrilling but also funny.
When it comes to the voice cast, everyone is perfectly matched to their characters.
Moore brings a real youthful energy to Miles and produces an authentic awkward teen who's not so sure of himself. He has a lot of soul and makes for a relatable protagonist. Lord also writes a gratifying journey for him. Going from a kid who just wants to blend in, to someone who owns his powers and the title of Spider-Man, it's a crowd-pleasing moment when he dons that suit to save his friends.
After Moore, it's Johnson who gets the most to do. Playing Peter older and more cynical, he's a Spider-Man we've never seen before. A world-wearier hero, he has a brilliant journey himself alongside Miles, as he slowly becomes a mentor to this young teenager. Although this film is packed with characters, it's really these two who have the best chemistry and development.
'Spider-Man: Into the Spider-Verse is a fun-filled and action-packed movie that the whole family can enjoy. In fact, it proves that the wall-crawler can excel in a different format and outside of the MCU. This is thanks mainly to an enthralling story that isn't afraid to try different things and bring something fresh to the table. Full of heart and passion, don't be surprised to hear a sequel announcement in the near future.'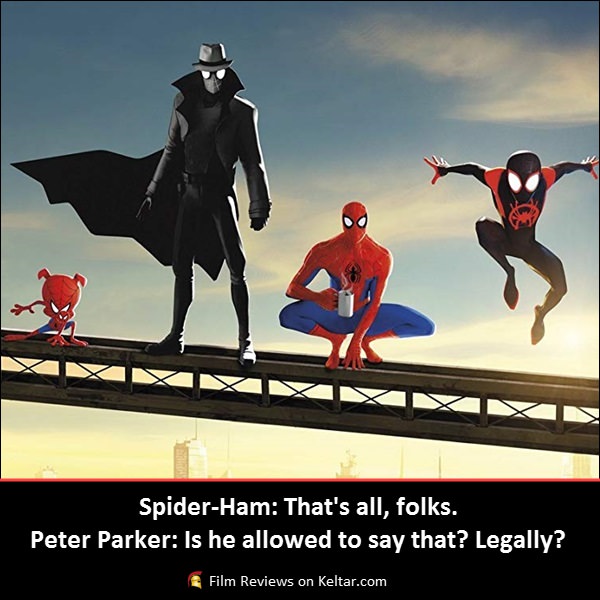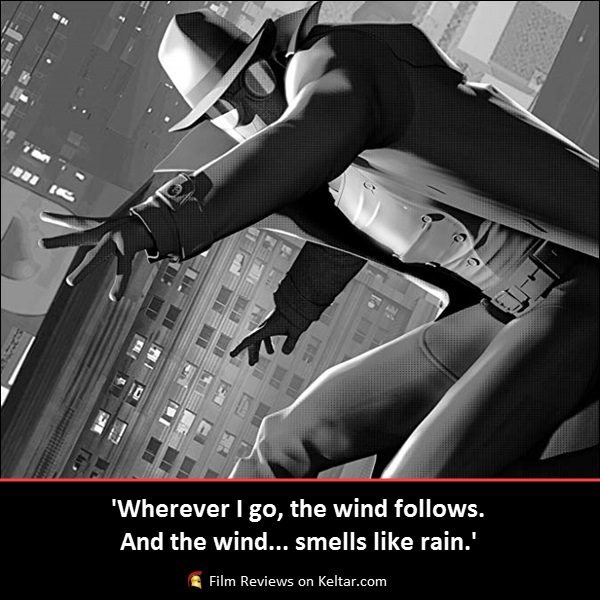 Film Details
PG · 1h 57m · 2018.
Genre
Action · Adventure · Animation · Comedy · Family · Sci-Fi.
Cast
Brian Tyree Henry · Hailee Steinfield · Jake Johnson · John Mulaney · Jorma Taccone · Kimiko Glenn · Lily Tomlin · Liev Schreiber · Mahershala Ali · Nicholas Cage · Shameik Moore · Stan Lee.
Directors
Bob Persichetti · Peter Ramsey · Rodney Rothman.
Writers
Phil Lord (screenplay and story) · Rodney Rothman (screenplay) · Dan Slott (creator 'Spider-Verse') · Meghan Malloy (story consultant).
Editing
Robert Fisher Jr. Music: Daniel Pemberton.
Contains
injury detail · innuendo · mild threat · moderate fantasy violence.
David Axcell
Film Critic
David has quite a broad taste in film which includes big budget blockbusters and small indie films; including International and Arthouse cinema. As long as it's good in that particular genre, he'll watch anything.
This article is copyright owned by Keltar Limited. All rights reserved.
Plagiarism or unauthorised copying is not permitted.
All other copyrights remain the property of their respective owners.