Spider-Man: Homecoming review – a return to form for the wall-crawler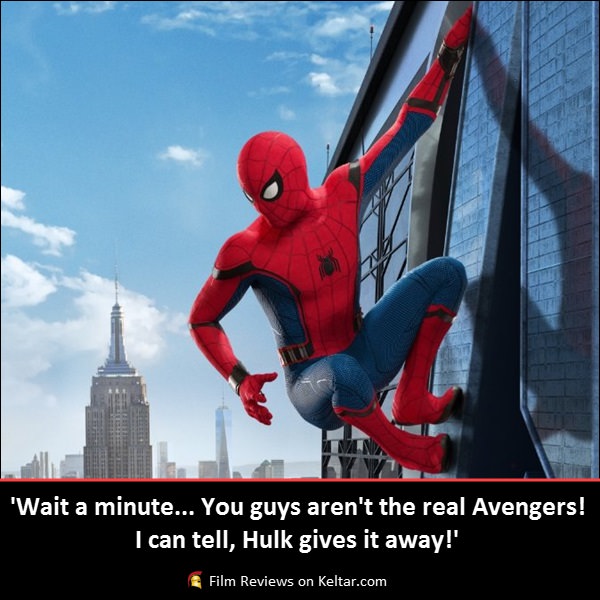 'Peter Parker balances his life as a high school student with his crime fighting alter-ego Spider-Man.'
After getting his introduction into the MCU with Captain America: Civil War (2016), Spider-Man is getting the full reboot treatment for the second time in fifteen years. It's a testament to the characters endurance and popularity that we're willing to go along with yet another iteration of the wall-crawler. Just three years after Sony botched the last one. Directed by Jon Watts and aptly titled Spider-Man: Homecoming, we get to see him back home with Marvel, a studio that knows what it's doing.
Tom Holland returns as Peter Parker/Spider-Man.
After the events of Civil War, shown hilariously through Peter's amateur vlog, he is now under the mentorship of Tony Stark (Robert Downey Jr.) with a snazzy high-tech suit. He's also a fifteen year old high schooler who still has a lot to learn before he can be called an Avenger. When criminal Adrian Toomes (Michael Keaton) comes onto the scene with his stolen alien technology and selling dangerous weapons on the street. Peter sees an opportunity to prove himself.
It's clear after watching this film that this is the Spider-Man movie we've been waiting for. Not since Sam Raimi's Spider-Man 2 (2004) have we had a film about this beloved character that we could call excellent. but Watts, however, knocks it out of the park with Homecoming. Skipping the overdone origin story, he refreshingly takes us straight into Peter's everyday life of balancing school and his superhero activities. As well as dealing with a major teenage crush on classmate Liz (Laura Harrier).
Watts makes sure we spend just as much time with Peter the pupil, as we do Peter the vigilante.
Balancing those two sides masterfully. It even at times has a strong coming-of-age indie vibe, or something John Hughes would have done back in the Eighties. No other Spider-Man film has really delved into Peter's school life, usually skipping over it to get straight to the heroic stuff. This is just another advantage of taking out the origin story, meaning we get to see that aspect of Peter's life in more detail. This is an incredibly funny film, and whereas all the previous incarnations of the web-head had humour woven into their stories. It's clear this latest addition is a bona fide comedy.
Adding Downey Jr's Stark is a smart way of tying Spider-Man into the rest of the MCU. Watt skilfully handles his inclusion, where he's used sparingly, allowing the film to just about stand on its own (although it probably would help to have some background knowledge). He has a wonderful dynamic with Peter, and you really see a paternal relationship between them without undermining Starks personality traits we've come to know and love.
Generally, most of the character work in this film is spot on, and the core performances are brilliant.
Holland, as an actual teenager, is suitably cast as Peter Parker and nails that awkward teen phase, as well as convincing in the heroics department. As an adolescent, he plays him authentically naïve and rash, with a chip on his shoulder and something to prove. Thanks to the script, he's given some great dialogue, particularly alongside best friend and confidante Ned (Jacob Batalon).
Keaton as Toomes brings a lot of menace to his antagonist, and looks like he's having a ton of fun while doing it. Correcting the previous film's mistake of shovelling in to many villains, as the main bad guy, he's allowed some depth. You can almost understand the reasoning behind his decisions. If there's one issue with his character, it's that he's given a third act reveal that personally connects him to Peter. Which is something all the previous films have done. It adds emotional stakes, but at the cost of slightly stretching the story into unbelievable territory.
As a high school movie and a superhero one, there are a multitude of characters that don't always get enough time.
Harrier's love interest is just that, and although funny, Ned feels more like a soundboard and plot device than an actual person. They also take some liberties with Flash Thompson, played by Tony Revolori. Who's reimagined as an obnoxious rich kid rather than a physically imposing bully like in the comics.
Action-wise, there are some fantastic set pieces that utilise Spider-Man's powers really well, and with the advanced suit, it certainly has something unique about it. Obviously as a family movie, Watts doesn't go super gritty like some of the Toby Maquire films, which does take some of the tension out of them. For the most part though, these are exciting and action-packed sequences that do offer something different. We've come a long way since 2002, and the CGI now is seamless. Used just on the right side of too much, it never feels heavy handed or overblown. Probably thanks to the more personal and street-level story.
'Spider-Man: Homecoming is an awesome reintroduction to this well-known and popular character. By not rehashing the same old origin formula, and focusing on Peter's high school life. This third version of Spider-Man still feels fresh and original. Not only that, but with its funny script, Holland's amazing performance, and by opening him up to the wider Marvel Cinematic Universe. This is a Spider-Man franchise we're be in no rush to see rebooted for a while.'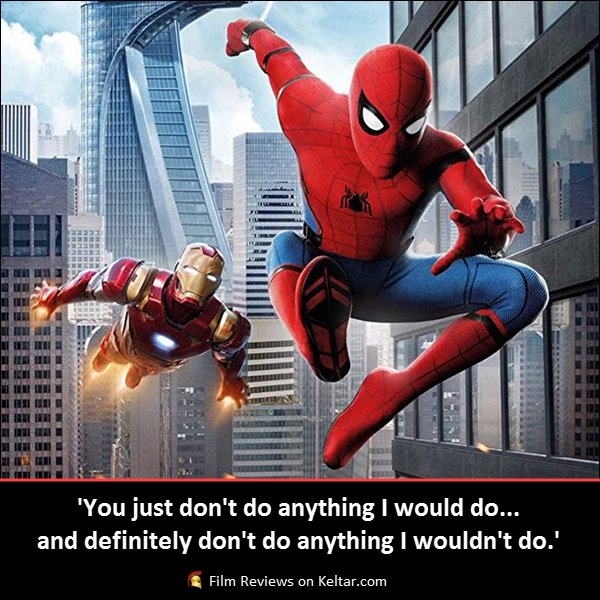 Film Details
12 · 2h 13m · 2017.
Genre
Action · Adventure · Fantasy · Sci-Fi.
Cast
Michael Keaton · Robert Downey · Stan Lee · Tom Holland. Director: Jon Watts.
Writers
Chris McKenna (screenplay) · Christopher Ford (screenplay) · Erik Sommers (screenplay) · John Francis Daley (screenplay and screen story) · Jonathan Goldstein (screenplay and screen story) · Jon Watts (screenplay).
Based on the Marvel comic book by
Stan Lee · Steve Ditko.
Character 'Captain America' created by
Jack Kirby · Joe Simon.
Cinematography
Salvatore Totino.
Editing
Dan Lebental · Debbie Berman.
Music
Michael Giacchino.
Contains
obscured strong language · moderate fantasy violence · sex references · threat.
David Axcell
Film Critic
David has quite a broad taste in film which includes big budget blockbusters and small indie films; including International and Arthouse cinema. As long as it's good in that particular genre, he'll watch anything.
This article is copyright owned by Keltar Limited. All rights reserved.
Plagiarism or unauthorised copying is not permitted.
All other copyrights remain the property of their respective owners.