Stan & Ollie review – a charming biopic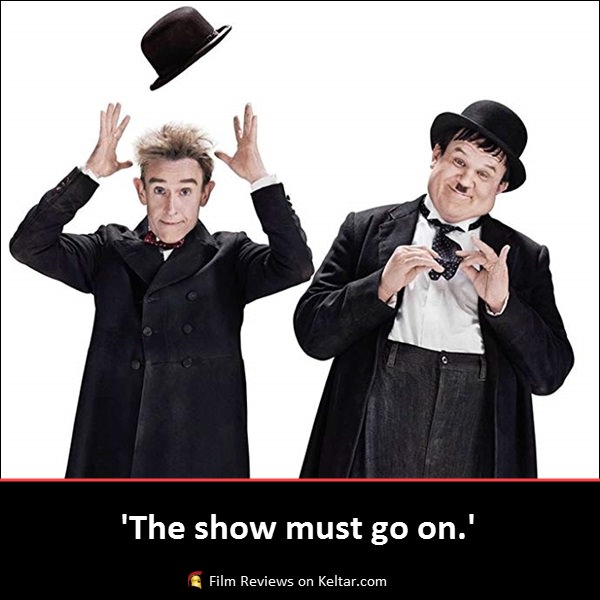 'The world famous comedy duo Laurel and Hardy embark on a gruelling theatre tour of post-war Britain.'
Comedy double act Laurel and Hardy get the bio-pic treatment in Stan & Ollie. Starring Steve Coogan and John C. Reilly as the legendary pair, the movie zeros in on their later years in the 1950's trying to reignite their career. Long after their hay day in the classic Hollywood era. Stan Laurel (Coogan) gets his old partner Ollie Hardy (Reilly) to do a comedy tour throughout Britain and Ireland, while also planning a Robin Hood film. Due to old resentments and Ollie's failing health things don't go according to plan.
Unlike the razzle dazzle of most biographical movies involving actors or musicians, Stan & Ollie is a very low-key affair. In lieu of a flashy and visually bombastic story like last year's Bohemian Rhapsody (2018), this has a more straightforward approach. Apart from a one-take opening that follows the duo through a film set, there's very little flair in the filming style. This isn't a negative aspect, and simply shows director Jon S. Baird's aim of focusing on telling this simple yet interesting story. A story about a beautiful friendship that had stood the test of time.
'Really, that's what the film's actually about.'
The majority of bio-pics normally focus on their subject's careers and lives, covering as much as possible. Baird however, specifically chooses to explore these two very different individuals' relationship to one another. He reveals a very sweet-natured friendship forged over a long period of time. There's tension over past decisions but in the end, these are people who care deeply about each other. Stanley even affectionately calls Ollie 'Babe' throughout the movie. All of the other great comedy double acts out there only work because they know each other really well, and Baird captures this perfectly in his film.
This might not be to everyone's liking. Those wanting an in-depth account of Laurel and Hardy's origins and an exploration into how the classic Hollywood studio system worked, won't find it here. Cleverly, Baird instead keeps it intimate. By concentrating on their friendship at the tail end of their careers, he makes it more accessible to audiences.
Essentially, this is a platonic love story between two ageing friends which most viewers will be able to relate to. We're shown the differences between Stan and Ollie's personalities, how they view work and come up with their acts. A duo who are so in sync with one another that they'll jump into an impromptu skit and know exactly what the other person is doing. Because of that affection, when conflicts do arise from the past, it's not some scene chewing and overly dramatic moment.
With such a focus on the pair's relationship dynamic, a lot rests on the performances.
Happily, Coogan and Reilly absolutely deliver in presenting a genuine friendship, and they play off each other splendidly. Again, these aren't grandiose performances. There's no showboating or over-the-top acting. No one tries to steal the scene, but they both very quietly bring an authenticity to these two friends working together. It's very much at the heart of the movie.
Aided by some solid costumes, make-up and prosthetics, they really do look like their real-life counterparts. What's more, combined with brilliantly designed sets, you could almost be convinced you're watching an actual Laurel and Hardy picture.
Letting the film down slightly are the rest of the characters. Not many of the other cast members get that much to do, and are basically there to aid the lead characters' development. Having said that, although at the centre, they are superbly supported by Shirley Henderson and Nina Arianda as the women behind the famous comedians.
Henderson brings a real sincerity to Lucille, the over-protective wife to Ollie, and even with the colder Ida, Arianda is able to produce a subtle warmth. Together they form their own kind of comradery in their support and love for their husbands.
'Stan & Ollie probably won't light up the box office like some of the flashier bio-pics that are out there. But, if you can get behind the direction Baird is taking the story in, there's plenty to appreciate in this movie. With two understated yet outstanding performances. This is a charming and engaging look into one of Hollywood's most beloved double acts to ever grace our screens.'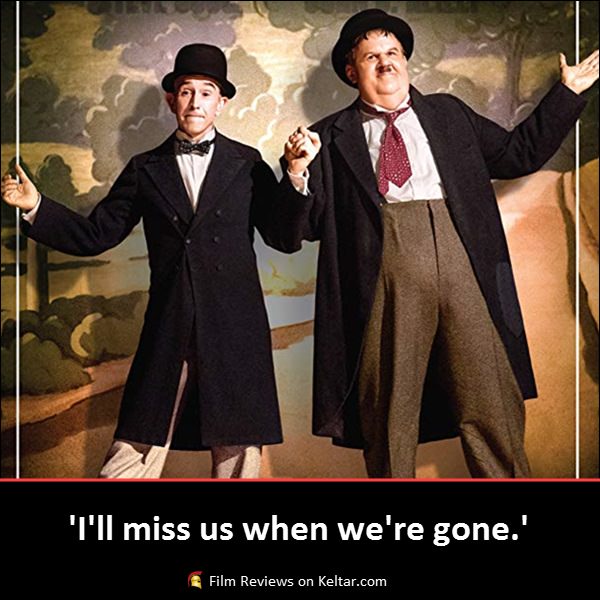 Film Details
PG · 1h 37m · 2018.
Genre
Biography · Comedy · Drama.
Cast
Danny Huston · John C. Reilly · Nina Arianda · Richard Cant · Shirley Henderson · Steve Coogan.
Director
Jon S. Baird.
Writer
Jeff Pope.
Cinematography
Laurie Rose.
Editing
Billy Sneddon · Úna NíDhonghaíle.
Music
Rolfe Kent.
Contains
mild bad language.
David Axcell
Film Critic
David has quite a broad taste in film which includes big budget blockbusters and small indie films; including International and Arthouse cinema. As long as it's good in that particular genre, he'll watch anything.
This article is copyright owned by Keltar Limited. All rights reserved.
Plagiarism or unauthorised copying is not permitted.
All other copyrights remain the property of their respective owners.