Captain America: Civil War review – an action fuelled superhero film with heart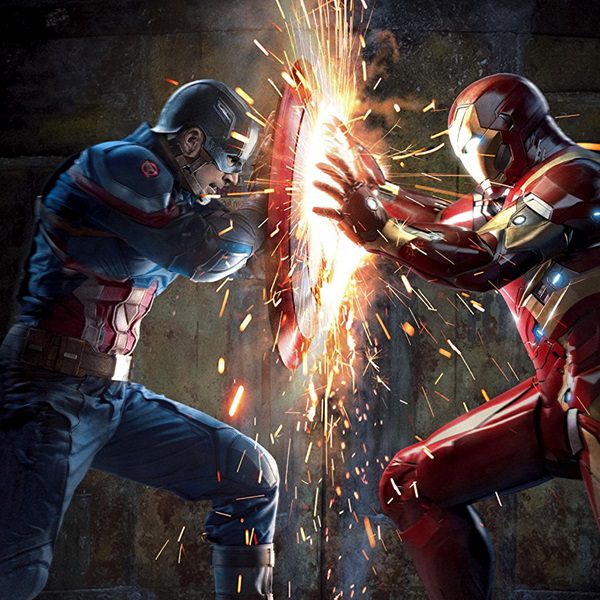 'Captain America fights former friend Iron Man.'
Eight years and thirteen films in, the Marvel Cinematic Universe still shows no sign of slowing down. Like the Hulk, it's an unstoppable force destroying every rival in its path including the incrediblyjealous (I'm assuming) DC Universe. Which also recently had it similarly themed film about two heroes fighting each other. Can you believe then that the MCU is kicking off its third phase with Captain America: Civil War which actually succeeds where Batman v Superman: Dawn of Justice (2016) struggled.
For a film that seems to be overstuffed with characters. Including a couple of important new additions in the form of Spider-Man and Black Panther. The Russo brothers and their team have done an excellent job in balancing all the various moving pieces and sub plots in creating a very coherent and engaging story.
Loosely based on the Civil War storyline from the Marvel comics Captain America: Civil War. It centres around Steve Rogers and his fellow Avengers who become divided over ideals when a mission goes wrong and innocents get hurt. Stark says they need to be kept in check and have some kind of oversight and welcomes a new government act that would do just that. While Rogers disagrees and thinks they work best without interference. It all then gets personal when Bucky Barnes AKA The Winter Soldier resurfaces.
What could have been an over-complicated mess of a plot actually works, mostly because for years now we have gotten to know a lot of these characters. All the actors, especially from phase one, now fall into their roles easily and we, as the audience, have seen them grow and change over the course of these movies. The seeds for this divide have been planted gradually and carefully, building up to this film. So when these characters come to blows, it doesn't feel forced or out of the blue but a natural progression of the narrative. It is a fun film and very entertaining.
Civil War is packed with action. From the very first scene to the final confrontation it doesn't really let up. But the Russo brothers make sure it's grounded in the story and each scene is justified and not just there for the sake of it. They get the balance just right when it comes to CGI and live action, blending them well together. Each action scene is very different and distinct from one another keeping it interesting. Particularly when it comes to showcasing the variety of abilities on display.
One of the common criticisms that usually accompany a Marvel movie is that of the underdeveloped villain. Apart from Loki maybe, most of the antagonists tend to be bland and uninteresting with their grand scheme never amounting to more than some kind of world domination. The beauty with Civil War is that the conflict is between the protagonists themselves. Sure, we have Daniel Brühl's Helmut Zemo on the side lines manipulating events but it's the clash of superheroes which is front and centre of the film. We've gotten to know these characters over time and what makes them tick,and for  the first time we are told to pick a side between them. To think and consider what we would do in this struggle because there are valid points on both sides.
This does mean there is quite a big ensemble of characters to fit in, including new recruits Black Panther (Chadwick Boseman) and Spider-Man (Tom Holland). That being said Holland did a great job with this new incarnation of the wall-crawler and brought a lot of humour (him and Rudd's Ant-Man get some of the funniest scenes). I look forward to seeing what he does with him in future films. Despite the large cast, the Russo brothers have done an excellent job in balancing them and making sure they got appropriate time in front of the camera. In the end this is a Captain America film and he gets the central role, with the focus being on his relationship with Bucky and the strain that puts on his friendship with Stark.
'Captain America: Civil War is a great opening for the third phase of MCU films, and will certainly be a hard act to follow for the next slate of films.'
And also for the DC Universe to match. The two and half hours runtime might seem to long for some and put people off but I felt the length was just about manageable for what needed to be fitted in. This far along these stories have become incredibly interconnected so might be hard to follow for the ininitiated, but who cares when it's this entertaining.
Besides, the chances are that if you're watching Civil War, you've been following the previous films know what's going on. If you haven't, I highly recommend you get yourself caught up and go watch Captain America: Civil War. It's a few hours of fun you won't regret.
Film Details
12 · 2h 27m · 2016.
Genre
Action · Fantasy · Sci-Fi · Superhero · Thriller.
Cast
Alfre Woodard · Anthony Mackie · Chadwick Boseman · Chris Evans · Daniel Bruhl · Don Cheadle · Elizabeth Olsen · Emily VanCamp · Frank Grillo · Hope Davis · Jeremy Renner · John Kani · John Slattery · Kerry Condon · Marisa Tomei · Martin Freeman · Paul Bettany · Paul Rudd · Robert Downey Jr. · Scarlett Johansson · Sebastian Stan · Stan Lee · Tom Holland · William Hurt.
Director
Anthony Russo · Joe Russo.
Writers
Christopher Markus (screenplay) · Stephen McFeely (screenplay).
Based on the comic by
Jack Kirby · Joe Simon.
Cinematography
Trent Opaloch.
Music
Henry Jackman.
Editing
Jeffrey Ford · Matthew Schmidt.
Contains
moderate violence.
David Axcell
Film Critic
David has quite a broad taste in film which includes big budget blockbusters and small indie films; including International and Arthouse cinema. As long as it's good in that particular genre, he'll watch anything.
This article is copyright owned by Keltar Limited. All rights reserved.
Plagiarism or unauthorised copying is not permitted.
All other copyrights remain the property of their respective owners.