Once Upon a Time in Hollywood review – an original look into old-school Hollywood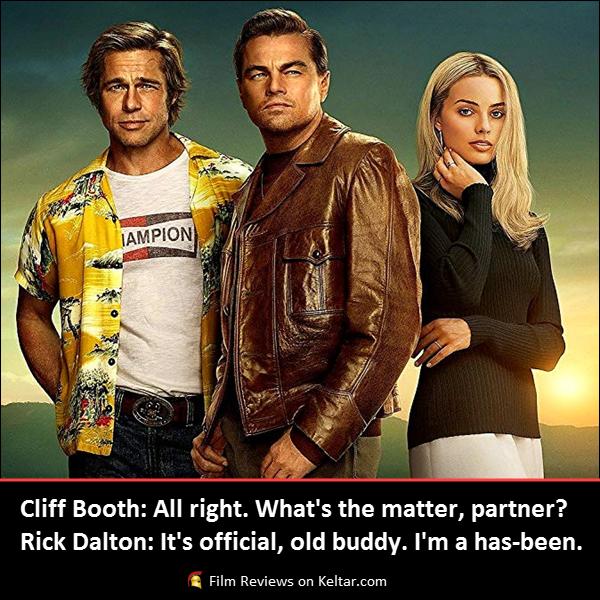 'Rick Dalton, a fading TV star and his long-time stunt double Cliff Booth traverse a changing Hollywood in 1969's Los Angeles.'
If you're looking for a break from the franchise machine and feeling fatigued from all the superheroes, you might like to try Quentin Tarantino's new movie. Once Upon a Time in Hollywood is a fictional but original story about a real time within the American film industry. A period piece looking at the Hollywood scene during the late Sixties. It's also something different from Tarantino's last two films, which were clearly framed as westerns.
Set in 1969, the story follows washed up actor Rick Dalton (Leonardo DiCaprio) and his stunt double, Cliff Booth (Brad Pitt). Struggling to transition into movies, Rick has Cliff drive him around L.A to various TV jobs. Meanwhile, Charles Manson and his "Family" are out living in an unused ranch, plotting their hippie revolution. Actress Sharon Tate (Margot Robbie) is also enjoying her life in Hollywood, and just so happens to be Rick's next-door neighbour.
'Fans of Tarantino will not be disappointed with Once Upon a Time in Hollywood'.
It has all the hallmarks of what makes his movies uniquely his. Visually stylish, a cool soundtrack and excellent dialogue are all here and what he does best. What's more, he is someone who doesn't just make films, but loves them as well, being a massive movie fan himself. His latest effort is clearly a love letter to classic Hollywood. An ode to an era long gone yet still important to a lot of people, Tarantino included.
This was a time of change for the American film industry, and Tarantino demonstrates this through main character Rick Dalton. He's inspired by actors who started their career in the classical Hollywood system. But he now struggles after his type of leading man went out of fashion. Through his and Cliff's eyes, we get a backstage peek into how movies were made during that time and how everything worked. Presented in such a fascinating and engaging way, the lengthy two-and-a-half-hour runtime will zip by unnoticed.
'Despite the authentic setting and a lot of real-life characters, fiction is clearly mixed with truth.'
Like Tarantino's Inglorious Basterds (2009), Once Upon a Time in Hollywood is an alternative take on this period of history. Not only are Rick and Cliff fictional creations, but they're interacting with people that actually existed. Giving Tarantino a lot of freedom and flexibility, he doesn't have to adhere to the way events really played out. In fact, there's a very loose feel to the way the story unfolds, and given a relaxed structure. Rick and Cliff are the lead characters, but they're more a device to give us a glimpse into this world as various sub-plots come and go.
That's not to say anything of consequence doesn't happen. There are some incredibly tense moments that solely involve individuals just talking to one another. Framed and paced perfectly, these are engrossing scenes that will have your eyes fixed to the screen. Building tension and knowing when to release it is something Tarantino is very good at, and proves it once again here. This is not an action-packed movie, yet the few action sequences the film does have are all excellently shot. Since Kill Bill vol. 1 (2003), this is an aspect of film making that he's progressively got better at. As expected, it's not short on bloody violence either, which can be very shocking and borderline gratuitous.
'There's a big ensemble of characters, but DiCaprio and Pitt do the bulk of the heavy lifting.'
DiCaprio particularly gives a fantastic and committed performance as the self-conscious Rick. Feeling his career going down the pan, there's a real desperation in his portrayal of a man trying to cling to his fame. He likewise proves effective in blending the dramatic with the humour, as he's also very funny in parts. Adding a great deal of physical comedy, it's a side of the actor we rarely see.
On top of that, he has a brilliant rapport with Pitt's super cool and more stoic Cliff. Although there's an obvious power dynamic, there's a true friendship displayed between them despite their differences. Robbie does splendidly as Sharon Tate. Due to the flexible history, her character's journey doesn't unfold in the expected way. With very little dialogue she conveys a lot just through her presence. It's a touching tribute to her memory, in which Robbie brings grace and beauty to this tragic figure.
'Once Upon a Time in Hollywood is another solid addition to Tarantino's filmography.'
Yes, it may be controversial and violent in places, but you certainly can't say it's boring or unoriginal. Technically proficient and well written, it's further proof you can still find fresh stories to tell amongst all the superheroes, reboots and remakes.
Film Details
18 · 2h 41m · 2019.
Genre:
Comedy · Drama.
Cast:
Al Pacino · Austin Butler · Brad Pitt · Bruce Dern · Dakota Fanning · Damian Lewis · Emile Hirsch · Julia Butters · Leonardo DiCaprio · Luke Perry · Margaret Qualley · Margot Robbie · Mike Moh · Timothy Olyphant.
Director:
Quentin Tarantino.
Writer:
Quentin Tarantino.
Cinematography:
Robert Richardson.
Editing:
Fred Raskin.
Contains:
strong bloody violence.
David Axcell
Film Critic
David has quite a broad taste in film which includes big budget blockbusters and small indie films; including International and Arthouse cinema. As long as it's good in that particular genre, he'll watch anything.
This article is copyright owned by Keltar Limited. All rights reserved.
Plagiarism or unauthorised copying is not permitted.
All other copyrights remain the property of their respective owners.