Dora and the Lost City of Gold review – a fun adventure film for kids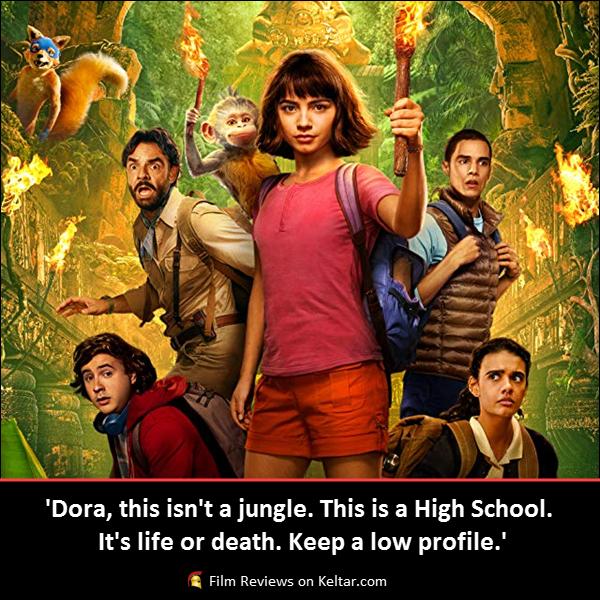 'Dora the explorer and her friends go on an exciting jungle adventure to save her parents and solve the mystery behind a lost city of gold.'
Still going strong after nearly twenty years, Dora The Explorer (2000 – present) is getting a live-action movie adaptation.Aimed at pre-schoolers, the animated show encouraged bilingual learning as Dora had various adventures with her talking monkey named Boots. There was also a talking backpack and map involved, with numerous songs to be sung which many a parent of a certain age will remember. Dora and the Lost City of Gold on the other hand, is a different beast altogether. Strangely, this ends up working in the film's favour.
Starting in the South American jungle, Dora (Isabela Moner) lives a life of adventure with her explorer parents (Michael Peña and Eva Longoria). Searching for a lost Inca civilisation, when they find a vital clue, they send Dora to Los Angeles to keep her safe. Living with her cousin Diego (Jeff Wahlberg), she struggles to fit in at high school. Through a series events, Dora ends up back in the jungle with Diego and fellow classmates Randy (Nicholas Coombe) and Sammy (Madeleine Madden). Now, with the help of fellow explorer Alejandro Gutierrez (Eugenio Derbez), Dora and her friends must find her parents before a group of dangerous mercenaries do.
'Rather than aiming this at the very young like the cartoon, director James Bobin smartly updates the story.'
By ageing up the character to a teenager, this becomes more a family film. What's more, as the director of the recent Muppet movies, he brings a more self-aware tone to the narrative. So instead of this being a lazily made time killer for parents, there's actually a fair amount of humour for adults to enjoy as well. He pokes fun at the absurdity of the situation the protagonists find themselves in. Dora's belief that singing is the answer to every problem encountered. Acknowledging the ridiculousness of Swiper the fox needing a mask. These are all elements that are played for laughs and in-turn work for the story.
On top of that it's a competently made adventure film. With a zippy pace and plenty of exciting set pieces, little ones shouldn't get too bored either. Basically, it can be summed up as Indiana Jones for kids, which it clearly is. Actually, the whole final act is a blatant copy of The Last Crusade (1989). But if you can get past the unoriginal plot and just have fun with the silliness, this can be a very watchable film for everyone.
'Really helping is a game cast who all know what type of film they're in.'
They might not be incredibly fleshed out or well-written, but they still look like they're having fun nonetheless. As the lead, Moner brings a real infectious joy to the role of Dora. She's a character who's really comfortable in her own skin and doesn't try to hide it when in school. A good role model, it's refreshing to have a teenage girl who isn't afraid to be different. Walhberg, Madden and Coombe are also good in what they have to do, complementing each other in different ways.
Derbez may have a turn your see coming a mile away, but he makes a great bumbling grown-up who tags along with the teenagers. He's essentially that adult character in every children's movie who acts like the imbecile the kids all think we are. With the limited screen time they have even Peña and Longoria do well as Dora's parents. Peña particularly gets a few funny moments to shine and show-off his comedic chops.
'For its intended audience, Dora and the Lost City of Gold is a solid film.'
If you want to get picky there are plenty of flaws and plot holes you can point at. It feels rushed in places and sometimes characters don't make a whole lot of sense. Even the special effects could be a bit better. Yet despite those issues you can't complain. This movie could have been a whole lot worse when compared to other live-action adaptations of cartoons (see Scooby-Doo). Bobin has actually shown real care in translating what made the original tick, and spin it into a fun and entertaining movie the whole family can enjoy.
Film Details
PG · 1h 42m · 2019.
Genre
Adventure · Family.
Cast
Benicio Del Toro · Danny Trejo · Eugenio Derbez · Eva Longoria · Isabela Moner · Jeffrey Wahlberg · Michael Peña.
Director
James Bobin.
Writers
Matthew Robinson (screenplay) · Nicholas Stoller (screenplay & script) · Tom Wheeler (story).
Based on the series by
Chris Gifford · Eric Weiner · Valerie Walsh.
Cinematography
Javier Aguirresarobe.
Editing
Mark Everson.
Music
John Debney · Germaine Franco.
Contains
mild threat · rude humour.
David Axcell
Film Critic
David has quite a broad taste in film which includes big budget blockbusters and small indie films; including International and Arthouse cinema. As long as it's good in that particular genre, he'll watch anything.
This article is copyright owned by Keltar Limited. All rights reserved.
Plagiarism or unauthorised copying is not permitted.
All other copyrights remain the property of their respective owners.