Baby Driver review – a masterfully-made action movie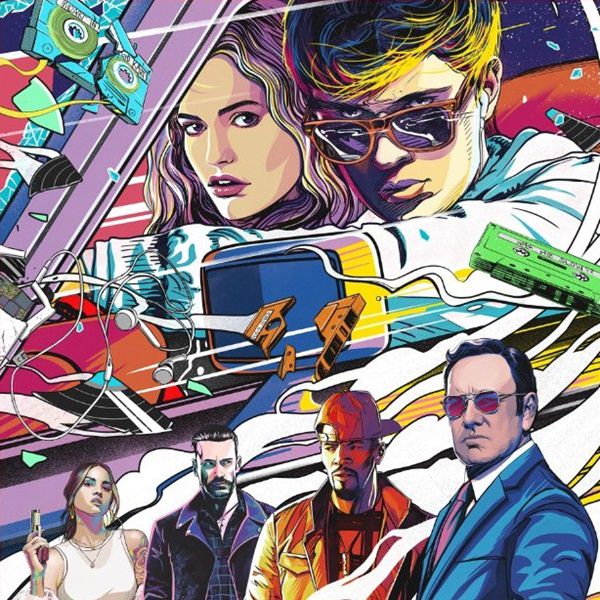 'Baby is a talented getaway driver who falls for young waitress Deborah and decides he wants out of the criminal life.'
After being pushed out of Ant-Man (2015) over creative differences, Edgar Wright returns undeterred with his own original film Baby Driver, which he has the sole writing credit to. Indeed, with his own unique style and visual flare, he has complete freedom to bring this old-school looking action film to the big screen, with little interference and showing Marvel what they missed out on.
The story centres around a young music lover named Baby (Ansel Elgort), who after a car crash as a child, is left orphaned and with permanent tinnitus. Owing a debt to criminal mastermind Doc (Kevin Spacey), he works as a gifted getaway driver for a rotating set of bank robbers including Buddy (Jon Hamm), his girlfriend Darling (Eiza González) and the unhinged Bats (Jamie Foxx). Using the music to drown out the ringing in his ears, it also provides him with the focus and the beat to pull off amazing getaways. At around the same time he pays off his debt to Doc, he meets and falls for Debora (Lily James), the waitress at his local diner. Seeing an opportunity to leave the world of crime for good and start a new life, he regrettably gets pulled in for one more job, only for things to go majorly south.
Although the story of a criminal wanting to get out of the game after one last job is anything but original, Baby Driver more than makes up for it by having oodles of style, a great array of oddball characters, a whip-smart script, and an awesome soundtrack. That's not even mentioning the marvellous action scenes, which the music is skilfully synced with. This is Edgar Wright at his best, once again showing what his capable of, as he perfectly paces the film at a breakneck speed, while also telling an exciting and engaging story that you'll certainly get invested in.
Even before the opening credits appear on the screen, we get a thrilling car chase, setting the tone for the rest of the movie, which is immensely fun and entertaining. What's more, that levity is perfectly balanced with the more dramatic moments of the story, never feeling out of place or jarring.
Like the rest of Wright's work, this is also magnificently edited film, and he moves the camera impeccably, having everything cut together with great panache and purpose. Whether it's one long take of Baby listening to his music and dancing down the street, or one of the many outstanding car chases, they're all put together with amazing mastery and creativity, that everything just pops out of the screen.
A big part of what makes Baby Driver excel, are the terrific set pieces. When done right, there's nothing as exhilarating as a high speed car chase on film. Automobiles are potentially one of the most lethal machines in existence, and there's something innately tense about watching a car go at incredible speeds. Where one little mistake could mean certain death, or at least critical injury. Thankfully, as proved with movies like Hot Fuzz (2007) and Scott Pilgrim vs The World (2010), Wright knows how to film action, and shows himself just as competent when it comes to car chases, with these white knuckling scenes. 
These are real practical stunts, filmed with expertise and skill, and alongside cinematographer Bill Pope, he infuses them with tons of energy. He makes sure we see all of the insane driving in all of its glory and avoids constantly quick cutting to multiple angles in one sequence, a trait Michael Bay is particularly guilty of. The songs Baby uses to set the pace of these high speed pursuits, is skilfully choreographed, and is a really ingenious and inventive way of bringing something fresh and different to these high-octane set pieces, helping them stand out among all the other cinematic car chases out there.
On top of all the visceral action, Wright has created some great characters to go with his caper film, and all the actors look like their having a blast with them. Elgort brings a lot of heart to Baby, who's basically a good kid caught in a bad situation. He's a very introverted character, and Elgort is brilliant at conveying a range of emotions with a restrained performance. There's a lot of depth to him and we really see the confliction he lives with, as he's good at what he does, but clearly doesn't belong in that criminal world. James is solid as Deborah, adding a lot of substance to what is purely a love interest role. She has good chemistry with Elgort and you easily buy into their relationship, where you'll be rooting for the young couple all the way through.
Spacey's Doc is also given a couple of layers more than your average criminal mastermind. Able to display a calculating and ruthless individual, he also has something of a fatherly bond towards Baby and straddles those two sides masterfully. The rest of the crew are a series of quirks and idiosyncrasies, but they slot so well into Wright's world and are a big part of the fun factor. Hamm is intense as Buddy, but it has to be Foxx who's the scene stealer as the unpredictable Bats. Getting some of the funniest lines, he's both terrifying and hilarious at the same time.
'Baby Driver is nothing short of an action film masterpiece, and is a classic in the making. It's visually stunning, creatively made, and with great characters and incredible action scenes, offers something truly original. With cool toe-tapping music that plays an important part in the film, it should even give Guardians of the Galaxy (2014) a run for its money in the best soundtrack stakes.'
David Axcell
Film Critic
David has quite a broad taste in film which includes big budget blockbusters and small indie films; including International and Arthouse cinema. As long as it's good in that particular genre, he'll watch anything.
This article is copyright owned by Keltar Limited. All rights reserved.
Plagiarism or unauthorised copying is not permitted.
All other copyrights remain the property of their respective owners.