Guardians of the Galaxy review – a ridiculously good time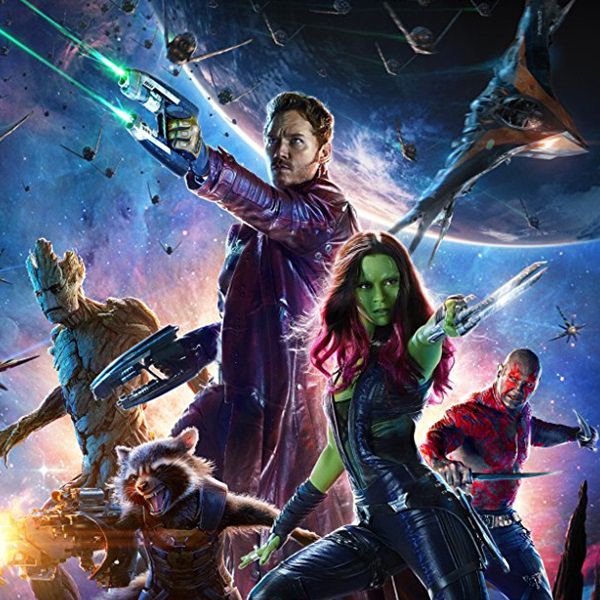 'A group of space criminals led by Peter Quill must pull together to stop fanatical warlord Ronan the Accuser obtaining a mysterious orb.'
After all the earthbound adventures during the first phase of the MCU, we get our first full-on space opera with Guardians of the Galaxy. Bold and imaginative, this comes at the perfect time to shake this growing franchise up, and bring something different to the mix. It also proves a film about a talking raccoon and giant tree alien can be just as successful as the more well-known properties.
The story starts in 1988, where a young Peter Quill (Chris Pratt) is abducted by space pirates following the death of his mother. Twenty-six years later, and the now grown up Quill, going by the name Star Lord, steals a mysterious orb. He soon finds himself on the run from galactic warlord Ronan (Lee Pace), who wants to use the powerful artefact to destroy his enemies. Forced to team-up with remorseful assassin Gamora (Zoe Saldana), Drax the destroyer (Dave Bautista), and bounty hunters Rocket Raccoon and tree alien Groot (voiced by Bradley Cooper and Vin Diesel), Peter must find a way to save the galaxy before it's too late.
This is an excellent space adventure, made better by the fact it takes place millions of light years away from Earth. Despite it being set within the same universe as The Avengers, due to it's locale, it has the freedom to be its own thing, and doesn't have to concern itself with connecting all those stories into one big narrative. Not yet anyway. There are some hints of a bigger picture, particularly a closer look at James Brolin's big bad Thanos. Mostly though, Guardians of the Galaxy is a stand-alone movie that doesn't require you to see all the instalments that came before.
One of the film's greatest strengths, is having director and writer James Gunn at the helm.​A gutsy choice, this was only his third directing credit, after the relatively smaller films Slither (2006) and Super (2010). Surprisingly though, he brings a confidence and style that would normally come from a film maker who's more seasoned in big budget productions.
As his previous movies showed, he really knows how to get the most out of the story, injecting a lot energy onto the screen and letting the visuals do the bulk of the work. In that regards, he proves to be the ideal choice to translate all those elements into the larger and louder world of the MCU's galaxy.
Unlike The Avengers (2012) this is a superhero team-up that has a fraction of the time to set up its five main protagonists. Gunn, however, deftly handles each characters introduction with skill and precision, giving us a strong sense of each individual, what motivates them, and how they fit into this bigger landscape. Thanks to some solid writing, they're equally people the audience can invest in and care about. There's also a lot of fun injected into the story, and with some amazingly frenetic set pieces, including space battles and a brilliant prison escape, you'll be caught up in the adventure from beginning to end.
All this is brought to life via some superb visual effects, with better than average green screen blended skilfully alongside the practical sets. Gunn also has a good ear for music, and brings a really retro soundtrack, which makes sense as that was the time period peter left earth and the only music he knows. It's just another element that adds to the already colourful and vibrant aesthetic. What's more, it all comes with an awesome sense of humour, where you'll be constantly laughing at the spot-on character-based comedy. Again, Gunn showing his writing chops as well as his directing skills.
Aiding the story are some first-rate performances. Pratt is a perfect fit as the charismatic Star Lord, balancing just the right amount of snarky demeanour with likability, that although technically a criminal, you can still cheer for him as the main hero and trust him to do the right thing. Channelling a young Harrison Ford, there's a reason he's become a go-to actor for that charming scoundrel type, and he nails it right here.
Saldana gives Gamora a lot of depth as someone looking to make amends for past sins. She expertly reveals that softness inside her while never undermining the killer she's been raised to be. There is a romantic spark between her and Peter, but thankfully, she's not solely the love interest, and has her own ark and journey.
Bautista has a tragic backstory yet gets some of the funniest lines, and he straddles those two aspects of Drax just right. Cooper likewise does well as the voice of Rocket, having a great double act with Diesel's Groot. Even with these two being CGI characters (with one that talks by repeating the same phrase), they feel like real people, easily slotting in with the rest of the Guardians. The one major flaw this movie does have, is its villain. Pace is fine with what he has to do, but he clearly gets short-changed when it comes to characterisation. No more than a monologue-spewing fanatic, Ronan is simply there to be the catalyst for the more three-dimensional heroes to come together.
Saying that, this isn't an isolated problem for the MCU, with many of its films struggling with weak antagonists.
'Guardians of the Galaxy is a fantastic and highly entertaining movie, that takes this expanding universe into the stars.'
With thrilling action sequences, solid writing, and heroes that are decently fleshed-out, this is one of best space operas since Star Wars.
Film Details
12 · 2h 1m · 2014.
Genre
Action · Adventure · Sci-Fi · Superhero.
Cast
Benicio Del Toro · Bradley Cooper · Chris Pratt · Christopher Fairbank · Dave Bautista · Glen Close · John C. Reilly · Karen Gillan · Krystian Godlewski · Lee Pace · Michael Rooker · Peter Serafinowicz · Sean Gunn · Stan Lee · Vin Diesel · Wyatt Oleff · Zoe Saldana.
Director
James Gunn.
Writers
James Gunn · Nicole Perlman.
Based on the Marvel comics by
Andy Lanning · Dan Abnett.
Drax, Gamora and Thanos created by
Jim Starlin.
Groot, Ronan the Accuser and The Celestials created by
Jack Kirby · Larry Lieber · Stan Lee.
Howard the Duck created by
Steve Gerber · Val Mayerik.
Nebula created by
John Buscema · Roger Stern.
Nova Corps created by
Marv Wolfman.
Rocket Racoon created by
Bill Manto · Keith Giffen.
Star-Lord created by
Steve Englehart · Steve Gan.
Taneleer Tivan/The Collector created by
Don Heck.
Yondu Udonta created by
Arnold Drake · Gene Colan.
Cinematography
Ben Davis.
Editing
Craig Wood · Fred Raskin · Hughes Winborne.
Music
Tyler Bates.
Contains
moderate bad language · moderate fantasy action violence · threat.
David Axcell
Film Critic
David has quite a broad taste in film which includes big budget blockbusters and small indie films; including International and Arthouse cinema. As long as it's good in that particular genre, he'll watch anything.
This article is copyright owned by Keltar Limited. All rights reserved.
Plagiarism or unauthorised copying is not permitted.
All other copyrights remain the property of their respective owners.