Ocean's Eight review – a soulless imitation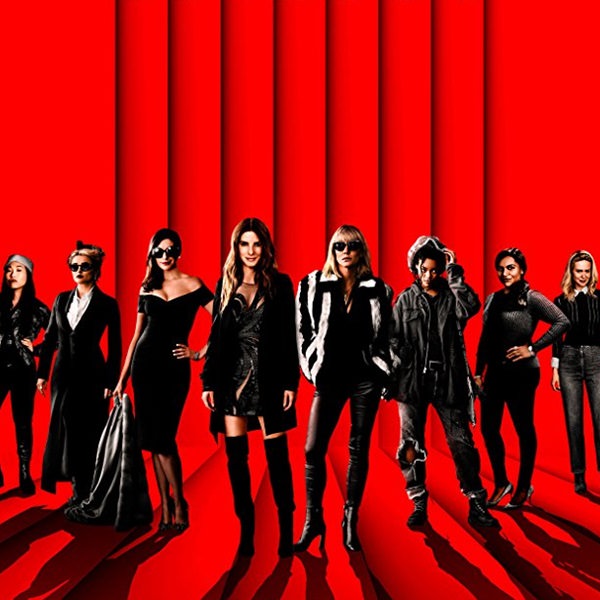 'Criminal mastermind Debbie Ocean gathers an all-female team of specialist criminals to pull off a seemingly impossible heist at the Met Gala.'
A spin-off/sequel to Steven Soderbergh's original heist trilogy, Ocean's Eight follows Sandra Bullock's Debbie Ocean. Brother to George Clooney's Danny from the first films, she's in the family business and fresh out of prison, looking for the perfect score. Similar to those previous movie's, she sets about building her titular team of eight to procure a rare diamond necklace. With best friends Lou (Cate Blanchette) and Tammy (Sarah Paulson), they concoct an elaborate plan involving Anne Hathaway's Hollywood actress and the Met Gala in New York City.
The plot has very similar and overdone character beats, including a seen-it-all before structure. There's the first act of putting together the crew and establishing the mark. Then, the middle section of preparing and getting ready for the job. And finally, the heist itself with all its twists, turns and sudden reveals that have become a staple of the long con in cinema.
There's no real surprises, and any red herrings your see coming a mile away. What's more, the crime of stealing a rare piece of jewellery could be copied and pasted from any number of films and TV shows.
When it comes to Debbie and her crew, these are all the same basic character tropes we've seen numerous times. Yes, the actors all do well and look like they're having fun, but ultimately, there's nothing particularly special about them. Although there is some attempt to develop Debbie, she' essentially Clooney's counterpart, with Blanchette's Lou standing in for Brad Pitt. No real depth is added to them, and they generally come off as shallow copies of those super-cool career criminals you can find in any other heist film.
None of the other characters are half as interesting as they think they are, and can be summed up in one or two words. Whether it's Awkwafina's street hustler or Rihanna's hacker, they're all just there to service the plot, and keep things ticking along. They have some amusing ticks or quirks but that's about it. Also hindering Ocean's Eight, is the fact it has no real antagonist for Debbie and her team to go up against.
The first film had Andy Garcia, who made an excellent foe and brought an extra element of danger. Instead, we have Richard Armitage's smarmy art dealer who's the closest to being a villain, but not to a degree where he actually threatens the protagonists or creates any tension.
'Despite these issues, this isn't by any means a terrible movie. Most of its problems boil down to its beat-for-beat copy of Ocean's Eleven (2001). It's a good-looking film, with an enjoyable breezy pace, and enough witty dialogue to keep things entertaining and fun. Really it's one major flaw is it doesn't justify itself, or do anything different to set it apart. Ultimately, you'll be better served watching the far superior original, in which Ross has clearly just imitated.'
Film Details
12 · 1h 50m · 2018.
Genre
Action · Comedy · Crime · Thriller.
Cast
Anne Hathaway · Awkwafina · Cate Blanchett · Dakota Fanning · Elliott Gould · Helena Bonham Carter · Mindy Kaling · Mindy Kaling · Richard Armitage · Rihanna · Sandra Bullock · Sarah Paulson.
Director
Gary Ross.
Writers
Gary Ross (screenplay & story) · Olivia Milch (screenplay).
B

ased on the characters created by
George Clayton Johnston · Jack Golden Russell.
Cinematography
Eigil Bryld.
Editing
Juliette Welfling.
Music
Daniel Pemberton.
Contains
drug misuse · infrequent strong language · sex references.
David Axcell
Film Critic
David has quite a broad taste in film which includes big budget blockbusters and small indie films; including International and Arthouse cinema. As long as it's good in that particular genre, he'll watch anything.
This article is copyright owned by Keltar Limited. All rights reserved.
Plagiarism or unauthorised copying is not permitted.
All other copyrights remain the property of their respective owners.