Hereditary review – a perfectly crafted horror film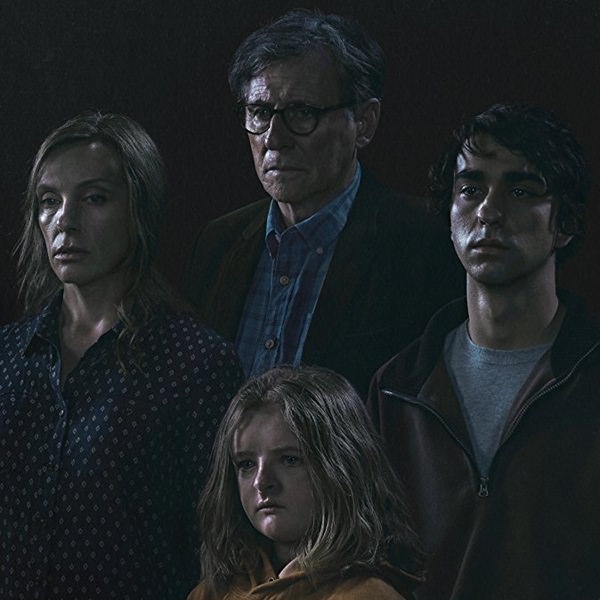 'When Ellen passes away, her daughter's grieving family begins to unravel cryptic and increasingly terrifying secrets about their ancestry.'
For a feature directorial debut, Hereditary will be a great calling card for Ari Aster, who also wrote the screenplay. With just a handful of short films behind him, this smartly crafted horror story is a commendable achievement. In fact, it will likely rocket him to the top of the list of well sought out directors that most filmmakers spend years to get to. What certainly helps is that Hereditary isn't your conventional scary movie with typical jump scares and cheap shocks, usually built around a flimsy plot with shallow characters. Rather, this is something far more denser and thought-provoking. Lingering in the mind long enough to spread good word-of-mouth.
Not wanting to spoil too much, the story is simply about a family grieving the loss of their matriarch. Daughter and miniaturist artist Annie (Toni Collette) struggle to move on, with her mind seemingly playing tricks on her. Believing something malevolent is haunting her, she starts cutting herself off from her husband Steve (Gabriel Byrne), oldest son Peter (Alex Wolff) and thirteen-year-old daughter Charlie (Milly Shapiro).
From the very moment the film opens, Aster does a great job of getting right under your skin. This is a very creepy and unnerving experience. If you're looking for a traditional scary movie this probably won't be for you. More psychologically terrifying than anything else. By diving deep into the minds of the characters, who are dealing with a large amount of grief and guilt, Aster skilfully transfers that mind-set over to the viewer. As a result, the majority of scares come from our own mind, rather than just throwing lots of stuff on the screen. Where it's what we don't see that will frighten us instead of what's shown.
What's more, everything about the story feels original and there's a sense of ambiguity as to what's going on in this family's life. With certain characters fragile mental states, questions are raised as to how much is real and how much isn't, adding an extra layer to engage with. It's just very clever storytelling, focusing on a dysfunctional family and keeping the plot tightly focused. Allowing us to find a level of investment in these people you don't normally get, it also aides in building a claustrophobic and isolating atmosphere.
Despite the uncertainty and unreliable psyches of some of the characters, that doesn't make what we're shown on-screen any less horrifying. Visually, Hereditary is a masterclass in using cinematography to a chilling effect. The methodical pacing, the slow deliberate camera movements and a copious amount of spine-tingling imagery are all used to adeptly bring a constant feeling of foreboding.
Keeping jump scares to a bare minimum, it's all about creating that unsettling feeling in the pit of your stomach, which is what this movie does perfectly. There are scenes, where in wide angles, something will catch your eye, and when it does, it will give you shivers right through your body.
Praise also has to go to the excellent use of sound. When we're not looking at something petrifying, we're absolutely hearing it, with our imagination filling in the gaps before anything is revealed. One recurring sound in particular will drive you mad. It's just another aspect that Aster uses really effectively to squeeze every last drop of fear out of you. Let's also not forget Colin Stetson's sinister score, that likewise contributes a lot in getting you as uncomfortable and uneasy as possible.
Every one of this small cast play an important role in the story, but it has to be Collette who stands out the most. A phenomenal performance, her gradual unravelling is brilliantly portrayed. Slowly losing her grip on reality, she'll keep you guessing all the way through to the credits as to what's really going on with her. She really throws herself into this role and as exaggerated as it gets, she's still able to ground it.
Byrne is good as the husband trying to hold everything together, but he doesn't have to do as much as the rest of the cast. After Collette, it's Wolff who really shines. Similar to his on-screen mother, he has to display a range of mental states, which he's able to convey with great skill. He does a superb job of presenting this haunted and guilt-ridden teenager, who acts being scared really well. To say any more about him would spoil the movie. Even the young Shapiro, whose acting debut this is, does a solid job as the disturbing pre-teen. Showing great promise right off the bat, she has to do a considerable amount with hardly any dialogue, and she achieves this successfully.
'Fear is subjective and what scares one person might not scare another. But, Hereditary is a well-crafted piece of cinema that is worth seeing regardless. It's a tremendous debut for a first-time director and Aster proves himself a master filmmaker from the get-go. With expert use of sound, visual storytelling and combined with amazing performances, this is a refreshing horror movie that does something different with the genre. Not only that, but with its ambiguous narrative, it will definitely have you talking theories and different interpretations long after you've seen it.'
David Axcell
Film Critic
David has quite a broad taste in film which includes big budget blockbusters and small indie films; including International and Arthouse cinema. As long as it's good in that particular genre, he'll watch anything.
This article is copyright owned by Keltar Limited. All rights reserved.
Plagiarism or unauthorised copying is not permitted.
All other copyrights remain the property of their respective owners.