First Man review – a superbly made biopic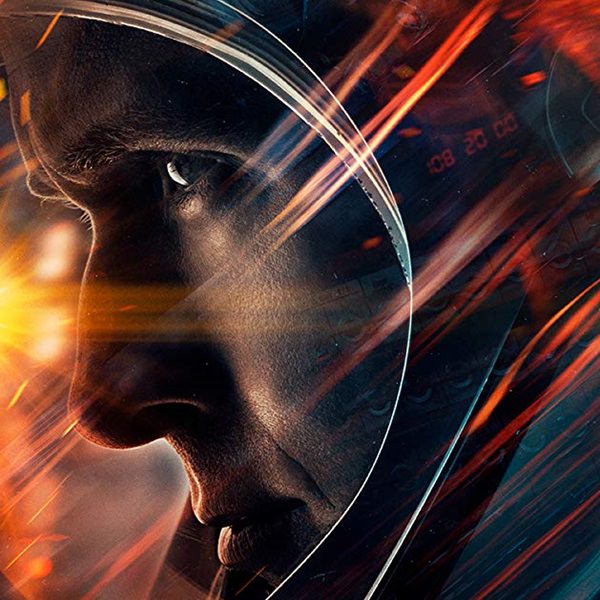 'The story of Neil Armstrong and the lead up to his legendary space mission in 1969, which saw him becoming the first man to walk on the Moon.'
Delving into the world of music in his previous movies, including the Oscar winning La La Land (2017), Damien Chazelle now changes things up. His latest film First Man, is a biographical account of one of the most important moments in human history. Collaborating once again with Ryan Gosling, it's the story of Neil Armstrong, the man who in 1969, would be the first human to step on the moon. Starting in 1961, the story focuses on Armstrong's (Gosling) attempt to prepare for this pivotal mission. After experiencing a personal tragedy, he throws himself into the work, which also takes a strain on his home life with wife Janet (Claire Foy).
Those expecting a grand and epic biopic, won't find it here.
Unlike his last movie, Chazelle keeps things simple and to the point. This isn't a flashy and typically Hollywood account of a real-life figure or event. Instead, the director wisely allows the truth of what was accomplished speak for itself. As a result, you won't find a film like Apollo 13 (1995) with all its shiny spectacle, but a more human and personal story. Chazelle keeps the focus on the man more than the mission, and explores the cost and sacrifices that were made to achieve this immense task. Saying that, we do get to see some of the work and other important faces that were involved in seeing this historic moment achieved.
This story however, is firmly about Armstrong and what the mission meant to him. Technically, Chazelle does a great job of showing this through some superb direction. From the very opening scene, where we find Armstrong piloting a rocket plane, the camera rarely leaves him. With the camera glued to his face through most of the runtime, it tells us this is all from his perspective. What's more, the period setting is rendered realistically, aided by the fact that First Man is presented and filmed like a documentary. There's a lot of hand-held camera movements and a grainy quality to the picture, including a lot of times where the film goes out of focus. All this helps not only in making this look like it was actually shot in the Sixties, but like we're also watching genuine footage of this American hero and his work.
'By maintaining that emphasis on the human element, Chazelle doesn't rely on a lot of special effects.'
Seldom do we see the exteriors of the rockets and space-crafts in flight. Rather, most of the action is shown from the cockpit or pilots point-of-view. When it comes to those physical sets, they are expertly detailed, and you can see the work that has gone into them. Despite the lack of visual effects, Chazelle is skilfully able to make these props incredibly tense in the flight sequences. Where the danger feels really palpable and extremely nerve-racking. You'll absolutely feel the pressure these men were under, where one little mistake or miscalculation could mean certain death. I can't imagine it being a spoiler, but when the film does get to that iconic moment, combined with Justin Hurwitz's beautiful score, you will no doubt feel the awe and wonder of this important landmark in mankind's history.
None of this would be possible without Goslings amazing performance. Having a bulk of the screen time, a great deal of First Man's success rests on him, and he thoroughly delivers. Again, with the camera squarely on his face most of the time, he has to convey a lot of emotion. Coming from a time and society that was a lot more buttoned up, he does some brilliant subtle acting. Being closed off but showing cracks in the emotional armour, he's able to show the flaws of Armstrong while still making him sympathetic. Over the course of the film, you really see the toil this mission is taking on him.
Although this is Gosling's movie, he's complemented by an equally fantastic performance from Foy.
Although this is Gosling's movie, he's complemented by an equally fantastic performance from Foy. Playing the supportive wife, it's through her we see the strain Armstrong's job is having on their marriage. She wants to be there for him but at the same time is struggling with how distant he gets. Restrained in her performance due to the time her character lives in, she still brings all those nuances perfectly. Other solid actors like Jason Clarke, Kyle Chandler and Corey Stoll also fill out the rest of the cast who play small but critical roles in Armstrong's story.
'Through Chazelle's direction and Gosling's performance, First Man is a remarkable film that explores one of humanity's greatest heroes. With a focus on realism, this may not be the slickest and most crowd-pleasing of biographical movies, but it certainly is one of the best made and intimate ones.'
Film Details
12 · 2h 21m · 2018.
Genre
Biography · Drama · History.
Cast
Ryan Gosling · Claire Foy.
Director
Damien Chazelle.
Writers
Josh Singer (screenplay)
Based on the book by
James R. Hansen.
Cinematography
Linus Sandgren.
Editing
Tom Cross.
Music
Justin Hurwitz.
Contains
infrequent strong language · moderate threat.
David Axcell
Film Critic
David has quite a broad taste in film which includes big budget blockbusters and small indie films; including International and Arthouse cinema. As long as it's good in that particular genre, he'll watch anything.
This article is copyright owned by Keltar Limited. All rights reserved.
Plagiarism or unauthorised copying is not permitted.
All other copyrights remain the property of their respective owners.