Fast & Furious: Hobbs & Shaw review – some mindless fun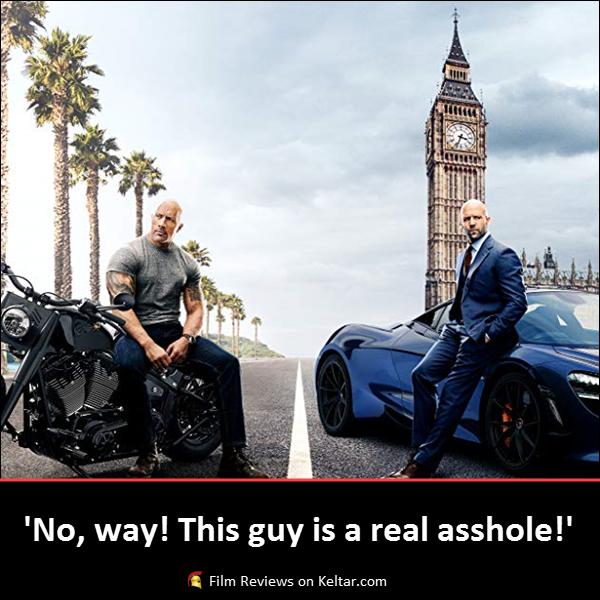 'Hobbs and Shaw reluctantly team up to take on a cyber-genetically enhanced terrorist who seeks the destruction of humanity.'
Eight instalments in and the Fast and Furious franchise is now delving into spin-off territory. Fast & Furious: Hobbs & Shaw smartly puts together the two characters that were actually the best part of the last movie. By giving Luke Hobbs (Dwayne Johnson) and Deckard Shaw (Jason Statham) their own adventure, this could potentially give us a great old-school action duo. Relatedly, Johnson and Statham are clearly contemporary action stars, cut from a similar cloth to Schwarzenegger and Stallone. This is definitely the kind of movie that feels perfect for them.
Like any good buddy movie, the story creates a reason to put law enforcer Hobbs and ex-MI6 operative Shaw together. Two polar opposites, these frenemies must put aside their differences to combat a common threat. That threat being in the shape of cyber terrorist Brixton Lore (Idris Elba). With cyber enhanced strength, he plans to take control of a dangerous bio-weapon called Snowflake. Having to team-up with British spy Hattie (Vanessa Kirby), who's also Shaw's sister, these unlikely allies must now work together to bring Lore down and save the world.
'Much like the Fast and Furious films, Hobbs and Shaw throws subtlety out the window for an over-the-top action film.'
Deciding if you'll like this movie will entirely depend on where you stand on its parent franchise. If you don't mind a heavily clichéd story full of the familiar tropes that comes with the genre, you'll probably find a lot of enjoyment. Essentially, this is a popcorn movie where you don't have to think too hard. What's more, the characters aren't portrayed in a very complex or nuanced way. Also, you'll never feel they're in any real peril, despite the carnage that ensues all around them.
That being said, director David Leitch knows exactly what kind of film this is. From the very beginning when we're reintroduced to these characters, the tone is very tongue-in-cheek. At one point, even Johnson almost winks at the camera after delivering a one-liner. Regardless of the world-threatening stakes, that levity is maintained throughout the Two hour plus runtime, and nothing is ever taken too seriously.
'Although no different to the majority of these types of action adventures, the movie does have an ace up its sleeve in the form of its main stars.'
In Fast and Furious 8, these two characters had the best chemistry. Combative but with a hint of begrudging respect they made a great double act. Leitch leans into that aspect even more for his film. Constantly smack talking and trying to one-up each other, it's at its funniest when these two very different individuals are working together. It works so well in fact, that that inevitable comradery is held back to keep them as the more entertaining reluctant partners.
As a result, a lot of credit goes to Johnson and Statham as this old fashioned action duo. Playing off each other brilliantly, they're clearly having a lot of fun. These are proper action stars and they both slot seamlessly in this heightened world of espionage and mankind ending viruses. Likewise, they both have their own style when it comes to their fighting and are very complementary in that regards. Johnson being the obvious muscle and Statham the stealthy, stylistic martial artist. They also prove apt in the few serious moments they do have, mostly concerning their respective families.
'Aiding them, is a very excellent Kirby.'
She seems to be Intentionally moving away from her more dramatic role from The Crown (2016-present). Looking like she's relishing every moment, she throws herself into this more action orientated movie. Getting to fight alongside the boys, she easily holds her own, even though technically she plays a damsel in distress role as well. As the main antagonist, Elba does well, also looking like he's just enjoying being part of a big dump action movie. By making him superhuman, he's a formidable foe, and does actually feel like a threat to the almost invincible heroes. On top of that, look out for a couple of cameo roles that help elevate that comedic element.
When it comes to the action, Leitch makes good use of his stunt performing background. Having had his hand in making the John Wick films and directing Deadpool 2 (2018), he undoubtedly knows how to execute these explosive sequences. Fast-paced and relentless you certainly won't feel bored as Leitch puts the protagonists through some very physics-defying mayhem.
'Hobbs and Shaw is not a perfect film by a long shot. But if you're looking for some mindless and absurd action, this will get the job done.'
Keeping it fresh and watchable is easily Johnson and Statham's chemistry. Their banter and continuous stream of insults are just as entertaining as the explosions. As the first spin-off to the Fast and Furious franchise, it shows real potential and proves you can tell other stories in this universe that don't have to be related to Vin Diesel and his gang.
Film Details
15 · 2h 17m · 2019.
Genre
Action · Adventure.
Cast
Cliff Curtis · Dwayne Johnson · Eliana Su'a · Elza González · Helen Mirren · Idris Elba · Jason Stratham · Vanessa Kirby.
Director
David Leitch.
Writers
Chris Morgan (screenplay and story) · Drew Pearce (screenplay and story).
Based on characters created by
Gary Scott Thompson.
Cinematography
Jonathan Sela.
Editing
Christopher Rouse.
Music
Tyler Bates.
Contains
infrequent strong language · moderate violence.
David Axcell
Film Critic
David has quite a broad taste in film which includes big budget blockbusters and small indie films; including International and Arthouse cinema. As long as it's good in that particular genre, he'll watch anything.
This article is copyright owned by Keltar Limited. All rights reserved.
Plagiarism or unauthorised copying is not permitted.
All other copyrights remain the property of their respective owners.