Coco review – Pixar at the top of their game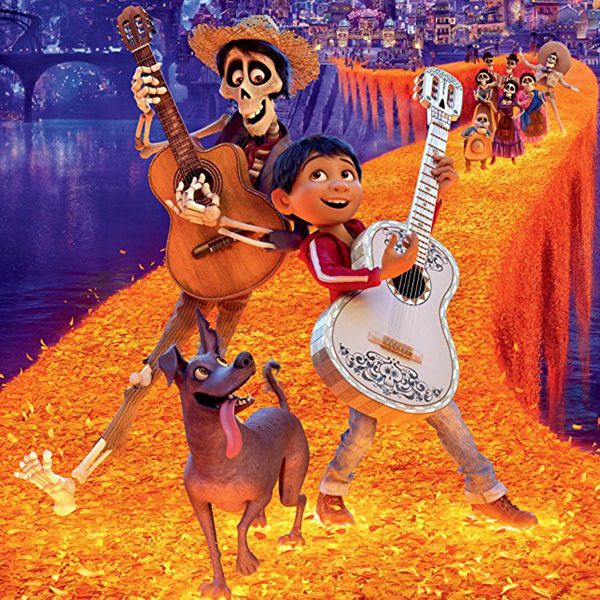 'During the festival The Day of the Dead a young boy runs away to pursue his passion for music and ends up in the Land of the Dead.'
Similar to Disney's Moana (2016), Pixar's new film Coco has a story based around a different culture, and is the stronger for it. Also on its side, is the fact it's an original story, offering something new instead of a lazy sequel to their earlier movies, which so far have been mixed in quality to say the least. Coco, which is directed by Pixar regular Lee Unkrich, is a nice reminder of what the studio is capable of when they put the effort in.
Set in Mexico, the story follows a music loving twelve-year-old, Miguel Rivera (Anthony Gonzalez), whose great-great grandfather abandoned his wife and daughter, Coco, years ago to pursue a career as a musician. As a result, music has been banned in the Rivera family for generations and Miguel must keep his passion a secret. Then, on the annual Day of the Dead celebration, through a series of mishaps, Miguel finds himself trapped in a skeleton populated spirit world. Now, with the help of a local named Héctor (Gael García Bernal), he sets out to find the infamous great-great grandfather to receive his blessing, and return to the world of the living.
To begin with, this is Pixar at its best, with Unkrich offering beautiful storytelling and characters everyone can relate to. This is a film that respects its target audience, and is so much more than a children's movie, but something the whole family can enjoy. It's not just a thinly conceived plot with loads of set pieces and sight gags stringed together like most of the kids films out there. Instead, Unkrich creates a well thought-out world, putting in a complex and mature message about family, legacy and forgiveness. Where even the fantasy element has a purpose by being built around the story, and not just there for the sake of it.
By focusing on the Mexican culture, we get to see a unique and different aspect of the human experience. Take in beliefs and values that aren't common to westerners, and get a taste of a different way of looking at the world. Unkrich also honours that culture by presenting 'The Day of the Dead' festival respectfully, and skilfully capturing the spirit of what that tradition is all about.
These are all important themes regardless of age, and no matter where you come from or what stage of life you're in, everyone should be able to grasp and appreciate what this movie is going for. Consequently, like previous Pixar instalments, this hits all those emotional beats hard, and only the coldest person would feel unmoved by the end.
Complementing the story, is the amazing animation, which renders a vibrant and colourful after-life that will draw you in straight away. What's more, when it comes to the characters, despite the fact a good portion of them are skeletons, they're given a lot of expression, and you'll totally buy into them as real people instantly. The combination of culturally appropriate and excellent music, only adds to fleshing this engaging and breath-taking landscape out. Although not reliant, there are still great action sequences scattered throughout that will keep things exciting for the little ones, and help build tension.
A lot also goes to the brilliant voice cast that help bring the characters to life, but it's the two leads who do the bulk of the heavy lifting. Gonzalez brings real heart and passion to Miguel, and you can really feel the pain and conflict in his voice when it comes to honouring his family, and his love for music. Likewise, Bernal is superb as Hector. He brings a great transformation to his voice, where he goes from bumbling side character, to someone really important to the story. The rest of the voice actors all do solid work, and you can tell they're all putting their all into it. Not only that, the film further honours the culture its depicting by having an almost exclusive Latin American and Mexican cast, enhancing that authentic feel.
'This is Pixar proving why they're the juggernaut they are. Coco is a near perfect family film, made even better by its original story, and not being an adaptation or sequel to an already existing property. With a complex and emotional narrative, and outstanding animation, this is a movie that is just as entertaining for the adults, as it is for the kids.'
David Axcell
Film Critic
David has quite a broad taste in film which includes big budget blockbusters and small indie films; including International and Arthouse cinema. As long as it's good in that particular genre, he'll watch anything.
This article is copyright owned by Keltar Limited. All rights reserved.
Plagiarism or unauthorised copying is not permitted.
All other copyrights remain the property of their respective owners.