Early Man review – a solid British comedy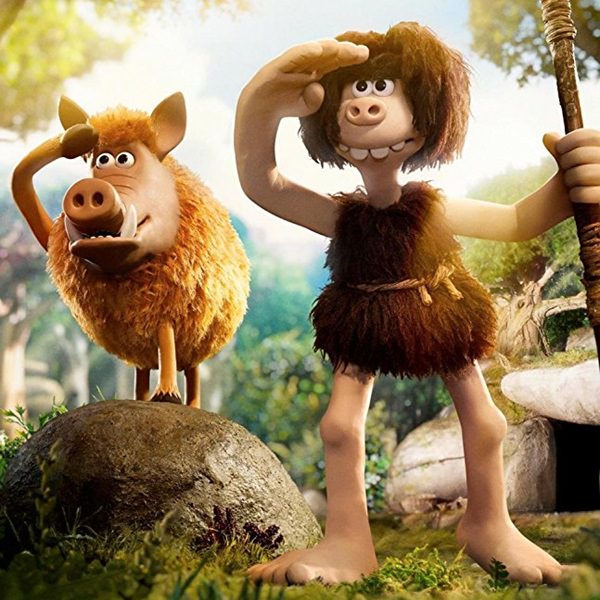 'Dug must unite his tribe to take on the evil Lord Nooth who has claimed their land in order to build a mine.'
Apart from two CGI films, Aardman Animations have mostly stuck to that lengthy but charming of mediums, stop-motion. Here they use it to good effect in their latest instalment, Early Man, which is directed by Nick Park, and voiced by a selection of great British talent.
Set in prehistoric times, the story follows young caveman Dug (Eddie Redmayne) and his wild boar Hobnob, as they live an idyllic existence with their rabbit-hunting tribe in a peaceful and secluded valley.
All that changes when The Bronze Age comes crashing down in the form of the evil Lord Nooth (Tom Hiddleston), who wants to mine the land for its precious metal. Expelled from their home, Dug challenges Lord Nooth to a football game, and if they win against his team, they get the valley back.
Similar to previous Aardman features, Early Man is unabashedly British in its execution and comedy, with Park and co. cleverly poking fun at Britain's obsession with everything football, in a rib-tickling manner. As a result, it might not have a particularly wide appeal outside of our small island, and unless your familiar with British culture, it might go over your head at times. Despite that though, there is enough here to enjoy for most audiences, regardless of nationality, and besides, it's quite nice to have a film that feels like it was made just for us Brits.
Park provides a solid combination of both adult and child humour, where young and old alike will be laughing, just maybe for different reasons. Where there's silly slapstick for the kids, and smart visual gags and one-liners for the parents, all brought together in a skilful fashion so it never feels jarring or out of place. A lot of the comedy also comes from the quirky characters, who may not all be that developed, but their silliness will no doubt win you over, and bring out your inner child with that irreverent sense of humour.
It's clear Park also wants to present a heartfelt story about a community losing their home to a superior enemy, but unfortunately, the silliness undermines that tone, sucking out all the stakes and urgency from the characters situation. Additionally, the outline is essentially an underdog sports movie, something we've all seen before, and the story of an outcast protagonist wanting more than his lot in life, is also very clichéd and overdone. If, on the other hand, you're not too worried about that aspect of the movie, and it's just something you're taking the kids to, it will be more than serviceable.
On the creative side, you can't deny the visual beauty of the stop-motion process. There's just something very appealing about this old-school medium, in which Aardman are masters at, where literal years have been put in to creating this world. Physical and tangible, the painstaking detail gone into these characters and environments is staggering, and there's a charm to it that can't be replicated by CGI. What's more, Park puts in some great set pieces, including a well-executed football match that could rival any live-action one, which all helps ramp up the excitement.
Helping fill out this prehistoric landscape, are the excellent voice cast, who all sound like they're having barrels of fun with funny accents and accentuated British accents. Actually, it sounds really good not to hear that stereotypical English accent so many films use, but to get a taste of the variety of different dialects the UK has to offer. Redmayne is perfectly cast as the constantly joyful Dug, who wants to do more than just hunt rabbits.
Likewise, Hiddleston's Lord Nooth is that typical bumbling antagonist, and he sounds like he's enjoying every minute of it. Even Maisie Williams, as love interest Goona, sounds like she's appreciating a break from her more dour character from Game of Thrones, and doing something more light-hearted instead. Moreover, there are a great array of British comedians lending their vocals in the background. For example, listen out for Rob Brydon as a couple of commentators, and The IT Crowd's Richard Ayoade as one of Dug's tribe members.
'If you're not looking for anything ground breaking in your storytelling, Early Man is a great piece of movie entertainment, and a solid British comedy for both young and old. With brilliant stop-motion animation, and a very game voice cast, there's plenty of fun to be had with Aardman's latest endeavour.'
David Axcell
Film Critic
David has quite a broad taste in film which includes big budget blockbusters and small indie films; including International and Arthouse cinema. As long as it's good in that particular genre, he'll watch anything.
This article is copyright owned by Keltar Limited. All rights reserved.
Plagiarism or unauthorised copying is not permitted.
All other copyrights remain the property of their respective owners.