1917 (2019): 'A Relentless And Pulse-Racing War Film'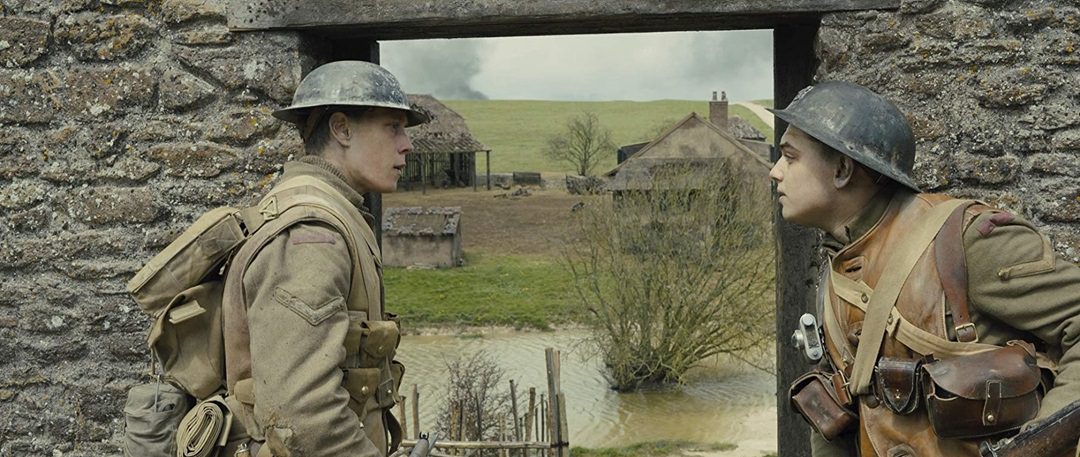 At the height of the First World War, two young British soldiers are sent on a dangerous mission.
After tackling two Bond movies, Sam Mendes' goes way back to World War One for his next picture. Putting that experience in the action genre to good use, 1917 is a relentless epic war film. With award season just around the corner, you can tell it's gunning for some big trophies.
Set in the midst of The Great War, the story revolves around two young soldiers who are given a vital mission. Lance Corporal Will Schofield and Tom Blake (George MacKay and Dean-Charles Chapman) are tasked to deliver a very important message. They must travel across enemy lines and halt an attack that could save the lives of 1,600 troops. This also includes Tom's brother Joseph (Richard Madden), who is among the battalion.
1917
*This is an external link and will open in a new tab.
Similar to Christopher Nolan's Dunkirk (2017), 1917 is a war film that's all about the gradual building of tension. Visually, the biggest way Mendes does this is through the impressive cinematography. Award winning Director of photography Roger Deakins puts this film together as if it is one big long take. Although it's not the first film to implement that style, within a wartime setting, there's a constant building of suspense. There's no break in the action, and with that it vicariously pulls you right into the story. You'll feel as if you're right there alongside these characters. Going through what they're going through in real-time.
On a technical level, the way Mendes and his team pull this off is incredibly well done. Obviously there are cuts in the film, and if you wanted to look for them, you probably could guess where they are. But by having long takes with meticulously choreographed moving cameras, the illusion is very convincing. Mendes really immerses you into this world, making the experience from start to finish that more palpable.
'What's even more of an achievement, is when you also consider the action and battle sequences that are interwoven throughout the film.'
A lot of the stunts and explosions are done in-camera, and look very authentic. If CGI is used, it's implemented sparingly, only included to aid the physical effects and not overshadow them. Again, the detail and accuracy to get all this right and match up with the one-shot technique is staggeringly proficient.
Complementing all these set pieces, is the overall look of the movie. There's no glamour to the story whatsoever, and all the characters want to do is survive. We'll really shown the gritty and despairing nature of trench warfare. And with the camera always following up-close on the main characters, you really take on the claustrophobia and suffocation their feeling. Some scenes are even filmed and shot like a horror movie, ramping up that hellish quality of the landscape. Combined with an effective and nerve-shredding score, you'll likely be in a state of unease all the way through the runtime.
External Links
Directed by: Sam Mendes*.
Cinematography: Roger Deakins.
Film Editing: Lee Smith.
Music: Thomas Newman.
Writers: Krysty Wilson-Cairns and Sam Mendes.
*This external link will open in a new window.
Due to 1917's one-shot style, a lot is asked of the main actors. Thankfully, MacKay and Chapman are more than up for the task. From the very start, we're slowly drip-feed information about them and what they're personalities are like. Not through clunky exposition but more through their interactions, which feels very organic. MacKay has to do the bulk of the emotional heavy lifting. He does a fantastic job of pulling us into his frame of mind. You can practically feel his exhaustion as this mission takes more and more from him after every passing hour.
In a short space of time, you also believe the comradery and older brother relationship he has with Chapman's more fresh-faced Blake. Lots of other great British actors' pop in and out, like Colin Firth, Benedict Cumberbatch and Mark Strong. But ultimately, it's Schofield and Blake's brotherly connection that is at the heart of the story, and propels that human element.
'1917 is an excellent example of visual storytelling.'
Mendes doesn't just use the one-shot style as a gimmick, but as a narrative device that drives the whole film to its conclusion. Placing you right alongside the main characters, you'll feel as if you were there with them, and experiencing everything they do. Assisted by MacKay and Chapman's strong performance, this is a war film that drags you right into its chaos and doesn't let go.
David Axcell
Film Critic
David has quite a broad taste in film which includes big budget blockbusters and small indie films; including International and Arthouse cinema. As long as it's good in that particular genre, he'll watch anything.
This article is copyright owned by Keltar Limited. All rights reserved.
Plagiarism or unauthorised copying is not permitted.
All other copyrights remain the property of their respective owners.