Hush review – tense and thrilling from beginning to end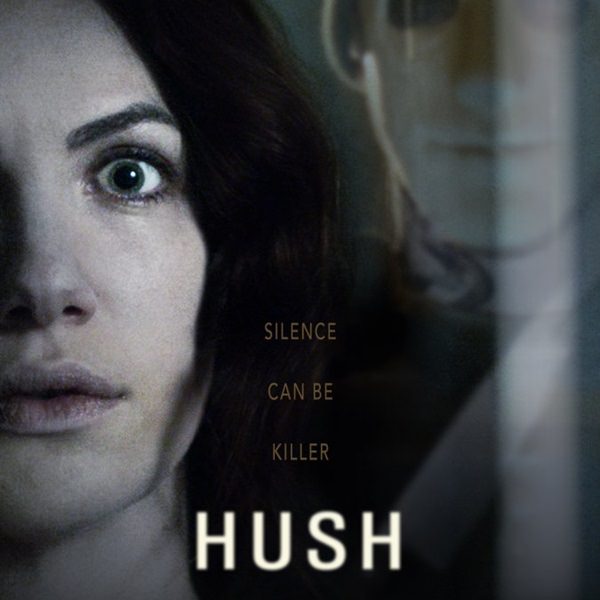 'A deaf writer living a solitary life must fight for her life in silence against a masked killer.'
Over the last few years the home invasion movie has been a staple of the low budget film maker looking to make his mark in the industry. Usually set in one location, and with a small cast, it's a genre that's perfect to do on a lean budget, and if done right can make for an effective and entertaining film.
Hush, directed and written by Mike Flanagan, is such a film, and although the home invasion format might be getting old, he infuses his movie with a fresh and original twist by having the protagonist being deaf and mute, which changes the tone significantly and adds an edge to the whole viewing experience.
The plot itself is typical of this well-worn subgenre, as we watch Maddie's (Katie Siegel) quite night in switch to a fight for survival when a masked intruder, played by John Gallagher Jr., begins stalking her around her home. It's a straight forward story with no major plot twists or revelations, and is purely designed for its slim eighty minute runtime to thrill the audience, which it does exceedingly well.
It's not surprising really. Flanagan has already proven himself with this years Ouija: Origins of Evil (2016) and 2014's Oculus that he knows how to build tension and create an unnerving atmosphere, and Hush is no exception.
Throughout the film he expertly executes this simple premise and skilfully draws us in to the limited world Maddie exists in, to the extent that we are almost vicariously experiencing this disability alongside Maddie during this traumatic event. Additionally, you really feel the isolation, not just because of the cabin-in-the-woods setting but also because of Maddie's inability to hear and talk; there's a part of her that's cut off from the rest of the world, which adds an extra layer of tension and suspense to the narrative.
Having Maddie be deaf, I felt, gave the film more realism as in so many of these home invasion films we're left wondering why no one hears anything or makes use of all working senses, but with Maddie, she literally can't hear anything. It becomes more feasible when we see this intruder break in and manage to get up close and personal to his unsuspecting victim without her noticing.
What really helps elevate this film above the rest though, and keeps it from being formulaic and mediocre, is Katie Siegel's performance as Maddie. The whole film rests on her shoulders and her ability to get the audience to really engage with this character and care for her.
What's made even more impressive is the fact that she's able to achieve this with no dialogue, allowing her body language and face to display a great range of emotions and do all the work. She does an excellent job in portraying someone with a hearing impairment, and combined with some great cinematography and limited sound design, feels very authentic.
Siegel, who also co-wrote the script, refreshingly makes sure that Maddie isn't portrayed as helpless either, despite her disability. She brings a real inner strength and determination to the character. Maddie shows real resourcefulness and becomes a great heroine as she slowly proves to her attacker she isn't to be trifled with, and turns less into a victim and more into a survivor as the film progresses.
John Gallagher Jr. is also really effective as the nameless invader, shedding that nice guy, everyman persona he had from 10 Cloverfield Lane and portraying someone who is truly sadistic and evil. The way he toys with Maddie when he finds out she is deaf is really unnerving, and made more unsettling is the fact that no true motivation is given to him, making him that more terrifying.
'Hush is a pure thrill ride from beginning to end, with a fresh and different take on the home invasion film.'
With a heroine you can really root for, a chilling antagonist, and a great cat and mouse setup between the two, it's a film that's worth your time and will have you on the edge of your seats and your eyes glued to the screen.
David Axcell
Film Critic
David has quite a broad taste in film which includes big budget blockbusters and small indie films; including International and Arthouse cinema. As long as it's good in that particular genre, he'll watch anything.
This article is copyright owned by Keltar Limited. All rights reserved.
Plagiarism or unauthorised copying is not permitted.
All other copyrights remain the property of their respective owners.