Hunt for the Wilderpeople review – a hilarious and heart-warming film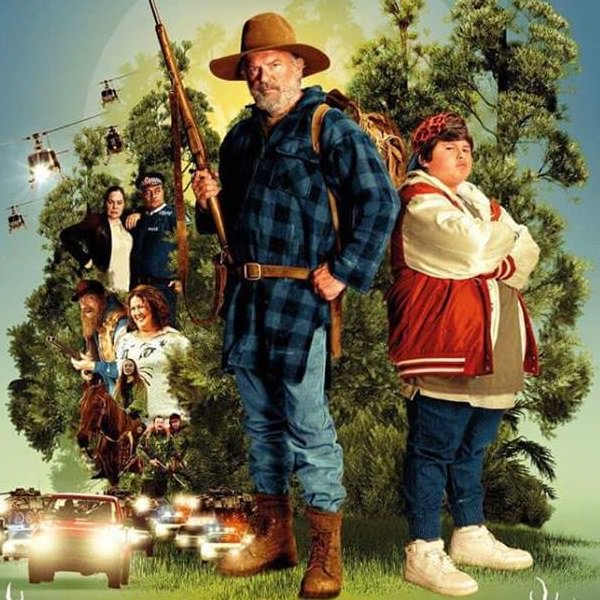 'A rebellious orphan left in the care of a rural foster family in New Zealand runs off into the wilderness.'
Kiwi film maker Taika Waititi, is the man behind the hilarious What We Do In The Shadows (2014), a New Zealand based mockumentary about a group of vampires who share a flat in Wellington. He is also due to join the ranks of the Marvel Cinematic Universe with Thor: Ragnarok, but before that he directed one of 2016's best films, Hunt for the Wilderpeople.
Set in and around the New Zealand countryside, the story centres around the relationship of a juvenile delinquent and his reluctant foster dad. Hector, played by Sam Neill, never wanted to foster Ricky (Julian Dennison) but his wife Bella manages to break through his defensive shell and develops a close relationship with him by taking him hunting and introducing him to the outdoorsman life.
When Bella suddenly dies though, and fearing going back into child service's custody, Ricky runs away into the wilderness. After Hector finds him, and through series of mishaps, the duo soon find themselves in the middle of a nationwide manhunt. On the run and living in the bush they slowly begin to warm to each other.
On paper, it sounds like a very dramatic film that explores a serious topic; of a troubled child dealing with abandonment issues and being lost in the system, and when he does finally find some stability, to have that torn away from him suddenly as well. Waititi though, is actually able to take this heavy sounding film, and craft out of it a heart-warming and charming story about two very different people who find some common ground and slowly bring the best out of each other, and smooth over those rougher edges in their personalities.
It never feels over sentimental, thanks largely to its great sense of humour, which is very character based and well written by Waititi himself. It's a very dry and deadpan sense of humour, which might not be to everyone's taste but you won't help but be won over by the performance and chemistry of the two central characters who are at the very heart of this film.
On top of that, it has some wonderful cinematography, making it a beautiful looking film that lets a lot of the visuals do the storytelling just as much as the writing, and Waititi makes the most of his home country's rural and majestic beauty. It's an idyllic setting for these characters and is a convincing place for them to get lost in for the amount of time they're missing. It's also a fitting place, and no coincidence that this untamed pair, who are outcasts and have been rejected by society, would feel more at home in this great and vast untamed environment.
A lot of what makes this film work is the central performances, and fortunately, Neill and Dennison don't disappoint as the cantankerous Hector and city kid Ricky. Their chemistry is vital to the movie's success, and for us to buy in to their unconventional father-son relationship.
Thankfully, they achieve that with aplomb, and watching them slowly and begrudgingly grow to respect one another is very touching and moving. Waititi also takes his time in developing this friendship so it feels realistic and fits within their personalities, and although these characters aren't very touchy-feely or good at expressing themselves, both actors are great at bringing just the right amount of emotion when needed.
As a child actor, Dennison easily holds his own alongside his more seasoned co-star, and is skilful in portraying the damaged Ricky as this authentic, hardened child who gradually thaws that tough exterior of his. Plus, he proves particularly adept in his comic delivery and gets some of the best lines, like when he's describing to some hunters they come across what they've been doing in the woods, and making it sound like Hector has been molesting him (it's certainly more funny than it sounds).
It's one of Neill's best roles, probably since Jurassic Park (1993), and he actually brings a lot of nuance and layers to Hector, where deep down under that mean-spirited old man, is actually someone with a heart. Special mention also has to go to Rachel House as a child services official, who's maybe a bit too enthusiastic about the manhunt, and Rhys Darby's Psycho Sam, a conspiracy theorist hermit who lives off the grid.
'Hunt for the Wilderpeople is a fantastic and heart-warming film that's also an hilarious comedy that Waititi balances with those more dramatic aspects pitch perfectly.'
With great chemistry from the two leads, a well-paced story that's beautifully shot, excellently written and brilliantly edited together. It's a film you can immerse yourself in and fall in love with these well rounded and compelling characters.'
David Axcell
Film Critic
David has quite a broad taste in film which includes big budget blockbusters and small indie films; including International and Arthouse cinema. As long as it's good in that particular genre, he'll watch anything.
This article is copyright owned by Keltar Limited. All rights reserved.
Plagiarism or unauthorised copying is not permitted.
All other copyrights remain the property of their respective owners.