Spider-Man: Far From Home review – another excellent and heartfelt movie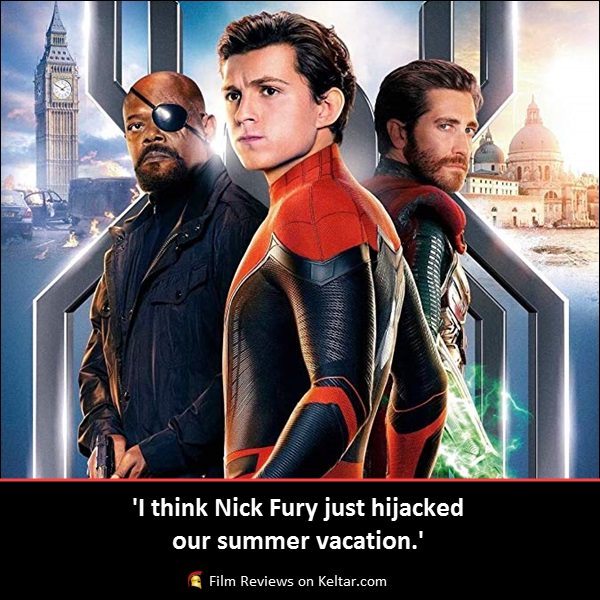 'Peter's European vacation with his friends is hijacked by Nick Fury when a series of mysterious attacks take place across the continent.'
Avengers: Endgame (2019) may have been the end of the Infinity Saga of the MCU, but surprisingly, it doesn't close phase three. That honour goes to Spider-Man: Far From Home, which is the second solo movie for the wall-crawler in his current iteration. As a result, it has the difficult job of filling in some of the blanks left by Endgame, as well as offering its own self-contained story and likely teasing what's ahead in this ever-expanding universe.
Directed again by Jon Watts, the story follows Peter Parker, aka Spider-Man (Tom Holland). Struggling to balance his double life, a school trip to Europe offers him the perfect opportunity to take a break from the superhero antics. He also sees it as a chance to tell classmate MJ (Zendaya) how he feels about her. Things don't go according to plan, however, when Nick Fury (Samuel L. Jackson) turns up. Needing help to save the world, Peter must now join forces with another hero nicknamed Mysterio (Jake Gyllenhaal).
'After the cataclysmic events of Endgame there's a lot of work Spider-Man: Far From Home has to do from the get go.'
Story elements need to be cleared up, and some narrative juggling needs to be done for the plot to have a cohesive flow. On top of that, it has to stand on its own, which was a far easier task in the first film, Spider-Man: Homecoming (2017). For the Most part, Watts achieves this skilfully, and although it would have been helpful to see the last two Avengers films, it isn't essential.
Like the previous solo movie, this is a great deal of fun, being packed with endless entertainment. Keeping it fresh, Watts expands the story out of the school grounds and into Europe, giving it a different vibe to the usual New York setting. What's more, it has plenty of humour, and he keeps the tone consistent with the first film; that of a high-school comedy. There's some great situational moments that will have you laughing, but the funniest parts are character-based. Likewise, he compliments that humour by nailing what it's like to be a teen in today's contemporary society. All the main characters feel like actual High-Schoolers, and are written as believably as they can.
'As a young superhero who carries a lot on his shoulders, Watts doesn't let the comedy overshadow those more serious beats.'
In fact, Peter is dealing with some heavy issues, and the script allows him to explore that and not rush over it. Whereas the first film was all about him desperately wanting to be an Avenger, Far From Home sees him avoiding that responsibility. Handled deftly, it allows the film to be about more than just spectacle. It sees Peter develop as a character and grow up, making this a better and engaging viewing experience.
All this wouldn't be possible without Holland's solid performance as Peter Parker. Considering he's been playing Spider-Man for just a few short films, he perfectly inhabits this most beloved comic book character. He absolutely brings that heart and soul the story needs for this superhero movie to stand out among the countless others. Far from flawless, Peter's an incredibly relatable person who just wants to live a normal life. Those who saw Endgame know he's also grieving, and Holland does a superb job in conveying all these emotions he's going through.
'The focus is clearly on Peter's Journey, and everything else is in service to his arc.'
Consequently, the rest of the young cast don't get much to do. Jacob Batalon continues to be that comedy sidekick as Ned and nothing more (as good as he is in that role). Zendaya's good with what she has to do, but even she's barely fleshed-out. Moving from background character to love interest, very little is done to justify her existence beyond a plot device. Similar to Robert Downey Jr's involvement in Homecoming, Samuel L. Jackson's Nick Fury is also here as connective tissue to the larger MCU world. At this point he's just going through the motions having played this character for so long.
This paragraph contains a spoiler
On the other hand, when it comes to the villain, Gyllenhaal looks like he's having a lot of fun and relishing this deceptive role. Fans of the source material will know that Mysterio is no ally to Spider-Man, and will probably see the turn coming. Originally a master illusionist, Gyllenhaal plays him very theatrically, and the way his so-called powers are used in the movie is cleverly done. A duplicitous performance, it's only someone of Gyllenhaal's calibre who could nail that duality. Essentially he's a con-man, and he has an interesting motivation beyond just world-conquering.
Combined with the usual high-standard special effects, the action sequences are all brilliantly filmed and executed. By bringing in Mysterio's particular skill set, it offers some visually distinct set pieces that even allows us to see Peter's spider-sense in action for the first time. Thanks to Peter being well-written, they're likewise very investing, and you'll feel the emotion in them. Making it that more exciting, you'll rarely get bored throughout the two-hour runtime.
'Far From Home is an excellent addition to the MCU.'
Setting up some interesting avenues for where the next phase of stories could go, Watts certainly doesn't play it safe. Yet at the same time it has all you would want from a solo movie about one of Marvel's most popular heroes. In-depth character work mingled with fast-paced action has provided us with another exciting and heartfelt Spider-Man film, and will have us eagerly anticipating what they do next with him.
Film Details
15 · 1h 1m · 2019.
Genre
Action · Adventure · Comedy · Sci-Fi.
Cast
Angourie Rice · Cobie Smulders · Jacob Batalon · Jake Gyllenhaal · Jon Favreau · Laura Harrier · Marisa Tomei · Martin Starr · Remy Hii · Samuel L. Jackson · Tom Holland · Zendaya.
Director
Jon Watts.
Writers
Chris McKenna (screenplay) · Erik Sommers (screenplay).
Based on the Marvel comic by
Stan Lee · Steve Ditko.
Cinematography
Matthew J. Lloyd.
Editing
Dan Lebental · Leigh Folsom Boyd.
Music
Michael Giacchino.
Contains
language · moderate fantasy violence · sex reference · threat.
David Axcell
Film Critic
David has quite a broad taste in film which includes big budget blockbusters and small indie films; including International and Arthouse cinema. As long as it's good in that particular genre, he'll watch anything.
This article is copyright owned by Keltar Limited. All rights reserved.
Plagiarism or unauthorised copying is not permitted.
All other copyrights remain the property of their respective owners.