Knives Out (2019): 'An Inventive And Original Murder Mystery'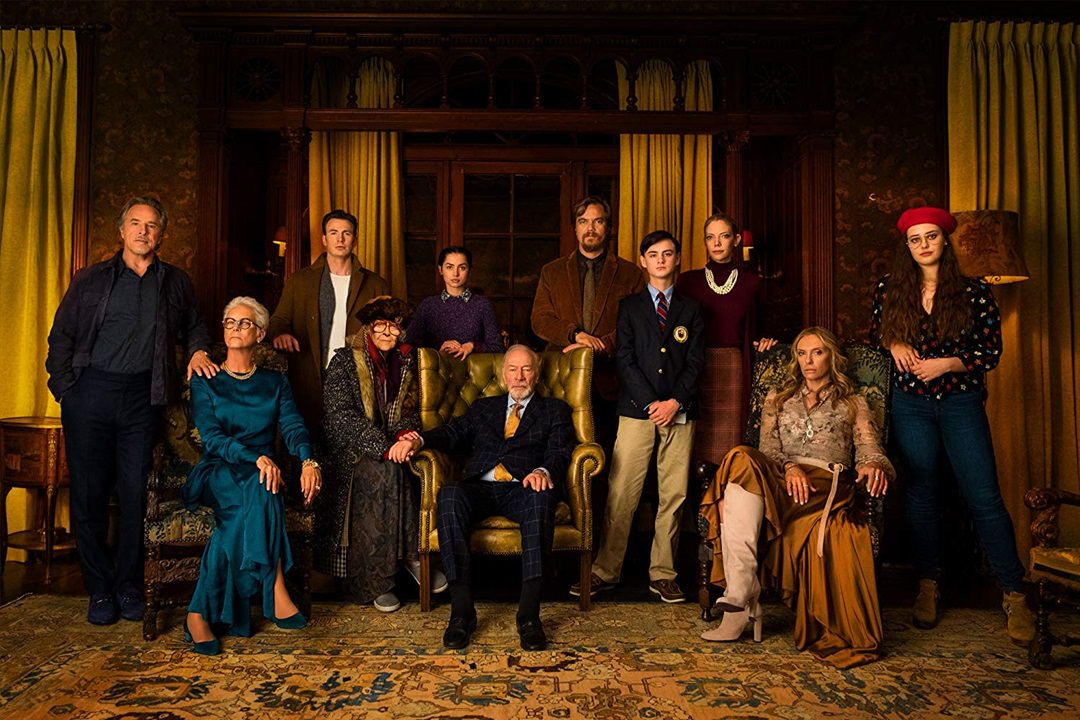 Photo: Clare Folger/Lionsgate.

When a renowned crime novelist, Harlan Thrombey is found dead at his estate just after his 85th birthday. The inquisitive and debonair Private Detective Benoit Blanc is mysteriously enlisted to help the investigation.
After his divisive and subverted take on Star Wars, Rian Johnson leaves the big franchises alone for his next film. Knives Out is an original, self-contained whodunit, which he also wrote. This gives him more freedom to bring his own unique style to the genre. And likewise, doesn't have an attached fan base that will want to mercilessly kill him if he gets wrong.
The story follows the Thrombey family, whose patriarch is famed crime novelist Harlan Thrombey (Christopher Plummer). On the morning after his eighty-fifth birthday he is discovered dead by the housekeeper. What first seems like a suicide slowly unravels into a murder enquiry, in which all family members have a motive. Renowned detective Benoit Blanc (Daniel Craig) is brought in to investigate, and determine who did the deed.
'Johnson spares no expense when it comes to his suspects.'
Among them are eldest daughter Linda (Jamie Lee Curtis) and her husband Richard (Don Johnson). Daughter-in-law Joni (Toni Collette) and youngest son Walter (Michael Shannon) also have motives. Even oldest grandson Ransom (Chris Evans) has reason to see his grandfather dead. Let's also not forget about Harlan's nurse Marta (Ana de Armas), who was practically part of the family.
Arguably everyone knows how these murder mysteries play out. It's just a matter of guessing who the culprit is and taking into account the expected red herrings that are usually thrown in. In terms of storytelling, it's hard to do anything fresh or original with the genre. You either make it too simple and too easy for audiences to work out. Or you make it overly complicated and so densely plotted that it falls apart under scrutiny, having too many plot holes.
'Fortunately, Johnson is a master of subversion, and nothing is truly what it seems.'
He clearly has a love for this style of movie, and is able to simultaneously play by its rules while also picking it apart. Very self-aware, it's as if he's deconstructing everything and putting it together in a more interesting and unexpected way. Subsequently, it will keep you guessing until the very end. As soon as you think you know and have a grasp of how the story will conclude, Johnson pulls a complete one eighty and changes everything. Pulling this off several times, it's ingeniously slippery, keeping us captivated throughout its two-hour runtime.
Visually, Knives Out is a great film. Harlan's mansion is a perfect setting for a murder mystery, and has a very old-school aesthetic. With hidden hallways and numerous rooms, it's like a real-life game of Cluedo. All the best scenes take place in the estate, making it an excellent backdrop for this mystery to unfold. What's more, a good deal of the movie is simply conversations or interviews between Blanc and the suspects. Through skilful editing and a brilliant script, he's able to make these scenes absolutely riveting and tense.
'Providing an incredibly star studded ensemble, the cast do a superb job in breathing life into this world.'
Although a lot of them are mostly there as suspects, they all do well with what the screenplay affords them. The standouts are obviously Armas and Craig, who form an engaging repertoire. Armas plays Marta kind and compassionate, but she expertly keeps her true intentions close to her chest. She never gives anything away, and is easily the most fleshed-out character.
Craig, with his long southern drawl, is having a lot of fun with this super sleuth. At times over-the-top, he's always adept at making Blanc feel like a real person. Eccentric maybe, but still an actual character who's driven to find the truth. Evans is also worth mentioning. After playing the always morally upright Captain America, it's nice to see him do something totally different. Ransom is a self-centred, entitled and arrogant individual, who cares for no one except himself. Evans does a such a brilliant job, it is to forget he was a superhero for nearly a decade.
'Knives Out is an inventive and original take on the murder mystery. Meta in its approach and with layer upon layer, it truly is unique.'
Eventually it all comes down to the big reveal of who done it, which is somewhat conventional. Yet the destination to that conclusion is so enthralling, you'll find it hard to hate. With a fantastic cast, especially Craig's central detective and Armas, this is a movie that should invigorate the whodunit.
David Axcell
Film Critic
David has quite a broad taste in film which includes big budget blockbusters and small indie films; including International and Arthouse cinema. As long as it's good in that particular genre, he'll watch anything.
This article is copyright owned by Keltar Limited. All rights reserved.
Plagiarism or unauthorised copying is not permitted.
All other copyrights remain the property of their respective owners.