Jumanji: The Next Level (2019) – 'A Fun-Filled Adventure Film'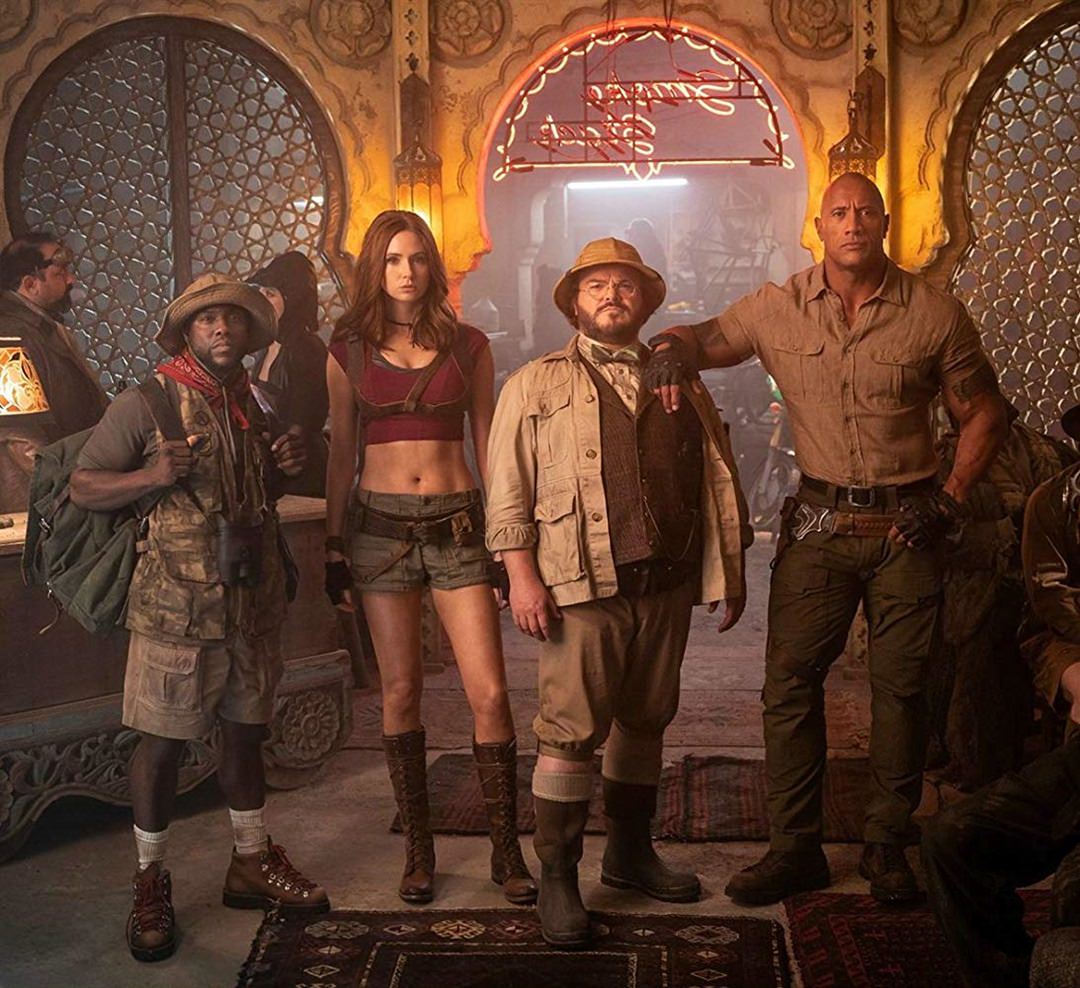 After secretly tinkering with the video game, Spencer returns to the world of Jumanji. His friends soon follow but players must now brave parts unknown and unexplored.
2017's Jumanji: Welcome to the Jungle was a surprisingly successful reboot of a 1990's fantasy movie. With a great premise and a solid cast, it proved popular with audiences. So popular was it, that two short years later we now have its inevitable sequel, Jumanji: The Next Level. All the original actors return and so does director Jacob Kasdan. No doubt they're all hoping to catch lightning in a bottle for a second time.
A year after the events of the previous film, the four teenagers have gone their separate ways. Spencer (Alex Wolff) is struggling the most at college and avoids his friends. To make matters worse, he has to share his room with his grandfather Eddie (Danny Devito) while visiting home. Longing for the confidence and strength of videogame character Dr. Smolder Bravestone (Dwayne Johnson), he attempts to return to the world of Jumanji. (When his friends realise what has happened, they go in after him. However, Eddie and his friend Milo get sucked into the game, becoming Dr. Bravestone and zoologist Mouse (Kevin Hart). Martha returns as original avatar Ruby Roundhouse (Karen Gillan) and Fridge is now "map guy" Professor Oberon (Jack Black).
Although not as good as the first one, Jumanji: The Next Level is still a satisfying sequel. Kasdan does a nice job of balancing the familiar with the new. Meaning you get more of what you liked the first time round, but with some new elements added in to keep it from turning stale. Story beats are repeated and gags re-used, but he also mixes it up regarding the characters. A new mission has to be completed within the game, only this time most of the real-life characters get different avatars.
'By including the elderly Eddie and Milo we get some amusing geriatric humour.'
Seeing Johnson and Hart play these stereotypical pensioners is pretty entertaining to watch. Some of the comedy is obvious but that doesn't make it any less funny. Jokes like having the younger players constantly explain everything. Or them not understanding how a computer game works and not comprehending what's going on. These are all conventional portrayals we've seen many times. Yet what sets it apart is the fact we're watching Johnson and Hart play these characters and actually sell it.
Directed by: Jake Kasdan*.
Cinematography: Gyula Pados.
Written by: Jake Kasdan, Jeff Pinkner and Scott Roseberg.
Based on the book by: Chris Van Allsburg*.
In the previous movie, most of the laughs came from the fact that Johnson was playing a neurotic teenager. And Black a self-absorbed high-school girl. It worked really well because all the central cast gelled well and had great chemistry. Happily, none of that is lost in the new movie, and it's loads of fun to see these actors back together again. Johnson brings his usual amount of charisma, proving he can pull-off a comedic role and poke fun at himself. He also continues to make an excellent double act with Hart, who likewise gets to do something different for a change. Gillan looks like she's having a lot of fun again while Black is superb at playing several distinct characters in one movie.
'Concerning the action, it's all very inventive and exciting.'
CGI heavy maybe, but it slots suitably within a videogame world. A chase scene involving monstrous ostriches. Revolving and rickety rope bridges while being attacked by ferocious Mandrills. These are just some of the sequences that will get the pulses racing. What's more, we're treated to some locations outside of the jungle. Scorching deserts and snowy mountain tops are the new backdrops we can enjoy for this new adventure.
Similar to the last Jumanji film, the biggest weakness is its lack of a compelling antagonist. Due to the nature of the story's structure the villain is a plot device and nothing more. As a computer game, Rory McCann's Jurgen is literally the big boss at the end of the final level. He does well, but it's the second time a really good actor has been wasted in a two-dimensional role. Having said that, Kasdan does offer emotional journeys for Spencer, including a repairing of Eddie and Milo's friendship. This has always been the central theme of these movies. A group of disparate people getting to break away from their social groups and learning to work together.
'Jumanji: The Next Level is another welcomed addition of this rebooted franchise.'
Despite its few flaws, there's enough fun-filled entertainment to please all the family. Combined with a great cast and an adventurous spirit, this movie will be hard to hate.
David Axcell
Film Critic
David has quite a broad taste in film which includes big budget blockbusters and small indie films; including International and Arthouse cinema. As long as it's good in that particular genre, he'll watch anything.
This article is copyright owned by Keltar Limited. All rights reserved.
Plagiarism or unauthorised copying is not permitted.
All other copyrights remain the property of their respective owners.