Joker review – a fresh new take on DC's iconic villain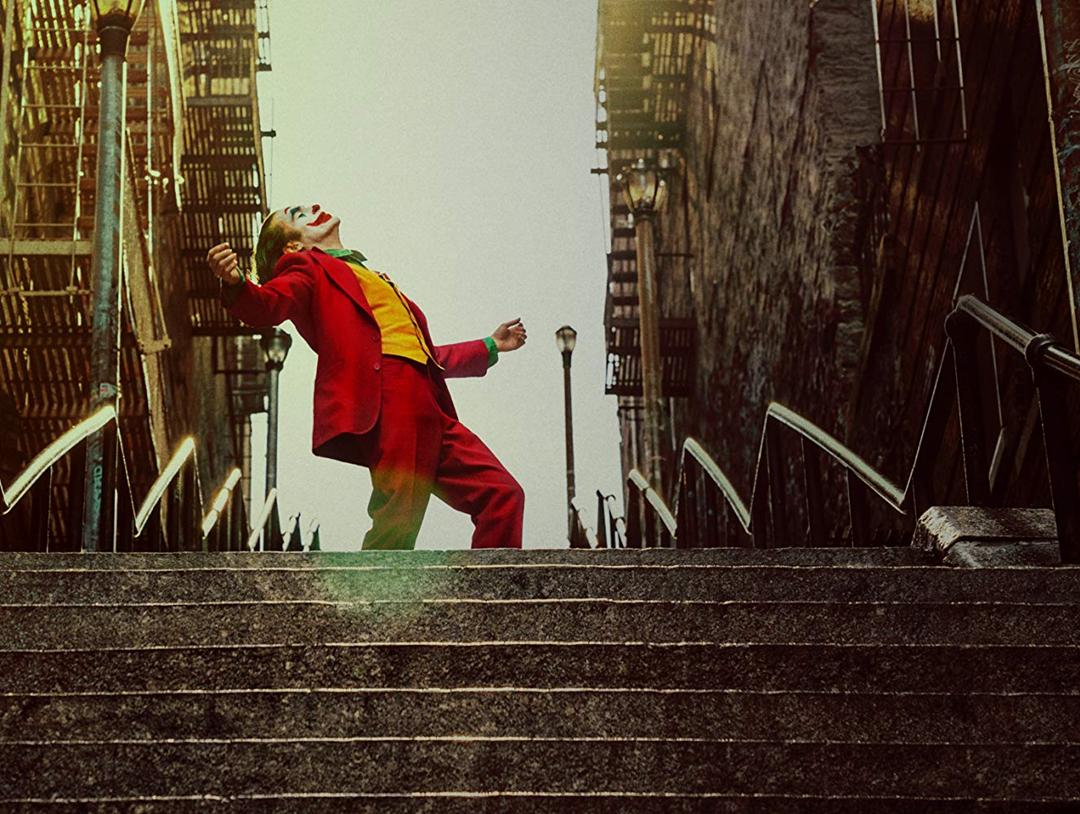 Photo: Warner Bros. 2019.

'Joker (2019). In Gotham City a failed stand-up comedian is slowly driven insane. Eventually becoming a psychopathic murderer.'
With countless iterations on the big and small screen, Batman's most iconic nemesis is finally getting his own movie, Joker. This time though, instead of Jared Leto returning as the crown prince of crime, Joaquin Phoenix is stepping into the role. After Leto's very mixed response in Suicide Squad (2016), it seems Warner Bros. is rebooting the character once again after just a few years. Taking the form of an origins story. The emphasis is not on connecting it to any other DC film, but allowing it stand completely on its own.
Set in Gotham City during the early Eighties, the story follows struggling comedian Arthur Fleck (Phoenix). Mentally ill while also looking after his frail mother (Frances Conroy), Arthur can't seem to catch a break. When he's beaten down one time to many, his mind begins to break, and he slowly transforms into the arch villain known as Joker.
'I feel like the marketing for this film has been pretty honest, but if you're looking for a typical comic book movie this isn't it.'
Joker is not conventional in the least bit. There's no big explosive action sequences, no disposable CGI army or giant sky beam. Actually, apart from character names and the Gotham setting, there's no real indication this is based on a comic book at all. Very much a separate story, this is more a psychological character study into a fragile mind. An unofficial story of how the Joker came to be. In that regard, this makes it a really fresh and original take on Batman's most infamous nemesis.
Director and writer Todd Phillips does a great job in telling this story. He keeps the pace slow and deliberate, never rushing Arthur's arc. As a result, it makes his metamorphosis into this symbol of chaos more believable. Likewise, he does a lot of visual storytelling, where we're able to see Arthur's psyche gradually break.
Extremely well-made, there's certainly a dream-like quality to the cinematography, including a lot of slow-motion. Becoming a visceral experience, Phillips is cleverly bringing us into Joker's disoriented state of mind. We're definitely seeing the world through his perspective, and as such we can never fully trust what we're seeing.
'Although not a traditional superhero movie, Joker is hardly original when compared to other films.'
Story beats are plainly homages to some of Martin Scorsese's earlier work, with The King of Comedy (1983) and Taxi Driver (1976) being obvious inspirations. Robert De Niro even has a role as a talk show host if that wasn't blatant enough. On the other hand, adding these elements does help bring a different interpretation of a character we've seen countless times before. Tim Burton may have given him an origin in 1989's Batman, but by dedicating a whole film to him, Phillips is able to humanize him more and add a degree of sympathy.
All this of course, wouldn't be possible without Phoenix's magnetic performance. It was always going to be a difficult role to play, especially when you have Heath Ledger's lauded and award-winning take to consider from The Dark Knight (2008). Fortunately, Phoenix is excellent and makes the character his own. This is a one-man show, and he carries the story effortlessly, as we follow his journey into complete anarchy.
What's more, it's not just the way he delivers his lines that sell this unhinged individual. His mannerisms and the way he moves his body all bring a physicality that will easily keep your eyes fixated on him. On top of that, Phoenix clearly lost an unhealthy amount of weight for the part, providing a malnourished look that contributes another layer to that mentally unstable persona. There are other cast members to consider, like Zazie Beetz's love interest or De Niro' Murray. None of them however, have a lot to do, and are more a sound board for Arthur and to propel him to his destination.
'Joker is unlike any other contemporary comic book adaptation.'
Some will not like this approach, believing the character works best without an origin altogether. Nevertheless, in its gritty realism of a man rebelling against a society that has rejected him, it shows a studio willing to be experimental with their properties and break the formula. Already proving controversial, and with Phoenix mesmerising performance, the one thing you can't say about this movie, is that it's boring or forgettable.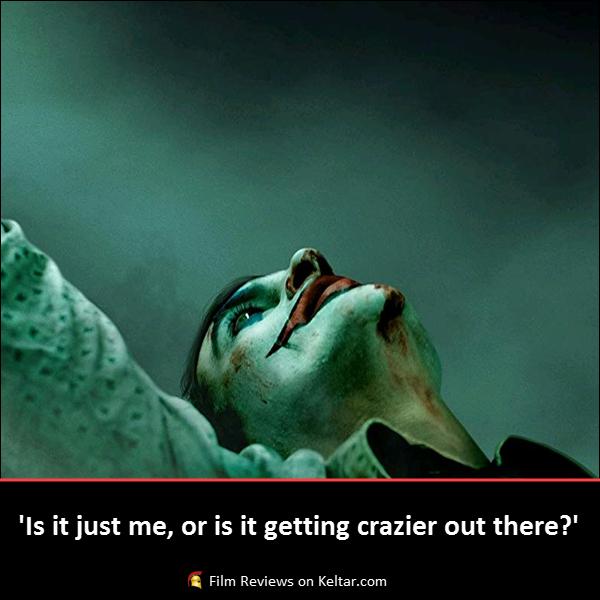 Film Details
15 · 1h 1m · 2019.
Genre
Crime · Drama · Thriller.
Cast
Frances Conroy · Joaquin Phoenix · Robert De Niro · Zazie Beetz.
Director
Todd Phillips.
Writers
Scott Silver (screenplay) · Todd Phillips (screenplay).
Cinematography
Lawrence Sher.
Editing
Jeff Groth.
Music
Hildur Guðnadóttir.
Contains
language · strong bloody language.
David Axcell
Film Critic
David has quite a broad taste in film which includes big budget blockbusters and small indie films; including International and Arthouse cinema. As long as it's good in that particular genre, he'll watch anything.
This article is copyright owned by Keltar Limited. All rights reserved.
Plagiarism or unauthorised copying is not permitted.
All other copyrights remain the property of their respective owners.