Frozen 2 (2019): 'A Solid Disney Musical'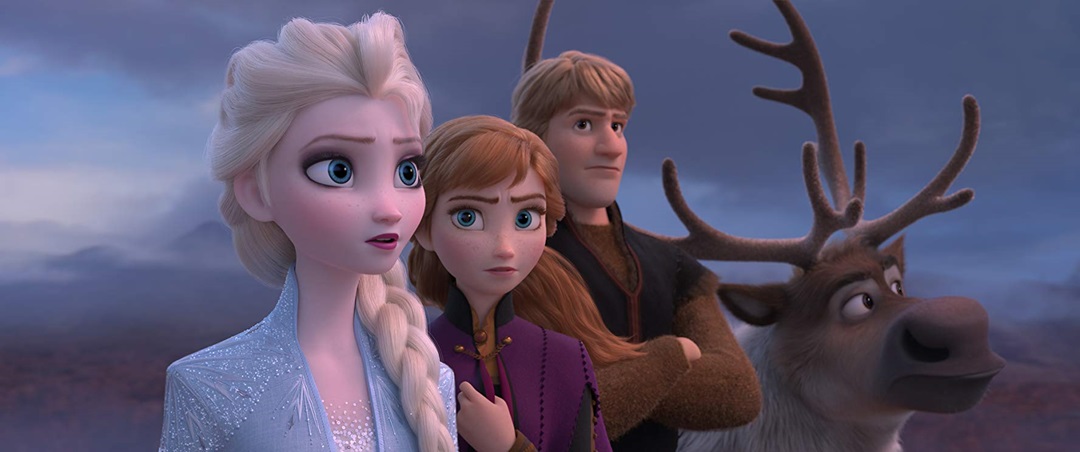 Photo: Disney ©2019. All Rights Reservered.

Elsa and her friends travel to an ancient forest in the hopes of discovers why she has magical powers. But answering her calling, could also threaten her kingdom.
2013's Frozen was a big win for Disney. With a belter of a song in 'Let It Go', no one could resist throwing their hard earned money at it. Considering its huge critical and commercial success, I'm actually surprised that it's taken this long to produce a sequel. Frozen 2 reunites the old gang for a whole new adventure, which once again, has to do with Elsa's ice powers.
Taking place sometime after the first movie, Elsa (Idina Menzel) has now settled into her role as the new Queen of Arendelle. A strange voice however is calling out to her, and threatens the kingdom's safety. To save everyone, she must travel to an enchanted forest and discover the origins of her abilities. Joining her are her sister Anna (Kristen Bell), Anna's boyfriend Kristoff (Jonathan Groff) and magical snowman Olaf (Josh Gad).
'If you and your kids loved the first film (and the numbers say you did), you'll no doubt enjoy this one.'
Concerning the story, Frozen 2 doesn't need to exist. From the very beginning, returning directors Chris Buck and Jennifer Lee have to drop exposition after exposition. They are compelled to build out the mythology for no other reason than to justify a whole new storyline. Essentially it's a continuation of Elsa's arc, bringing issues of her parentage and the true meaning of her powers.
The main problem with this approach, is all the other main characters are kind of forced into the adventure. They're there mostly because they were in the first film and need to be in this one. Anna is stuck in the same place as the overprotective sister who doesn't want to be shut out of Elsa's life. Kristoff has some unrelated side plot trying to come up with the perfect way to propose to Anna. And Olaf is still that comic relief character who feels like he's there just to sell loads of toys.
'Having said that, despite these issues the film still has a lot to recommend it.'
Regardless of the shoehorned narrative, it's still has effective storytelling, and gets the audience to emotionally connect to Elsa's journey. Disney have always been great at pulling at the heart-strings, and Frozen 2 is no exception. It may not be to the heights of the Pixar films. But you'll no doubt have that tingly feeling whenever Elsa, Anna or Kristoff belt out one of their many musical numbers explaining how they feel.
Speaking of which, the music will be a big draw, with every song slotting in suitably to the story. After the massive hit that was 'Let it Go', new song 'Into the Unknown' is clearly vying for that spot. Only time will tell if it has the same impact, but it certainly hits those familiar beats of emotion. The other songs are fittingly catchy, and the main voice cast all get a chance to show off their chops. Of course it doesn't hurt to have excellent singers behind the microphone.
'Menzel, once again proves she's got the lungs for those big musical numbers.'
Known more as a Broadway actor, she not only knows how to sing, but to appropriately emote through those lyrics. She really gets us to feel what Elsa's feeling, and it's her songs that will give you goosebumps all over. On top of that, she has a convincing sisterly bond with Bell, who can also hold a tune. Their relationship is one of the main central themes of this franchise, and both actors sell the love they have for each other really well.
As the comic sidekick, Gad is solid as Olaf and will surely be a fan favourite for the little ones. What could have easily been an annoying character, is actually used just the right amount. He never overstays his welcome, and Gad brings a charming yet innocent naivety to this being who hasn't existed for that long. Groff doesn't get as much to do as he did the first movie. However, he does get one cheesy love ballad that I'm sure will bring a smile to the parents' faces and is worth his inclusion alone.
Another element this movie has going for it, is the predictably stunning animation. So much detail and care has gone into creating this world. The sparkles in the snow, the photo-realistic water, it all aids in bringing out the wintry beauty. When it comes to the character designs, there's fluidity in the way they move, including believable expression on their faces. It really shows how far the film industry has come in regards to computer animation. That it's no longer a gimmick, but a form of animation that has just as much artistic merit than any other format.
'Apart from the unneeded story, Frozen 2 is still a commendable movie.'
With great music, dazzling animation and Menzel's powerful singing voice, there's certainly enough to entice audiences. Just be prepared for your children to have the soundtrack on continuous repeat for the foreseeable future.
David Axcell
Film Critic
David has quite a broad taste in film which includes big budget blockbusters and small indie films; including International and Arthouse cinema. As long as it's good in that particular genre, he'll watch anything.
This article is copyright owned by Keltar Limited. All rights reserved.
Plagiarism or unauthorised copying is not permitted.
All other copyrights remain the property of their respective owners.