Avengers: Infinity War review – epic and action-packed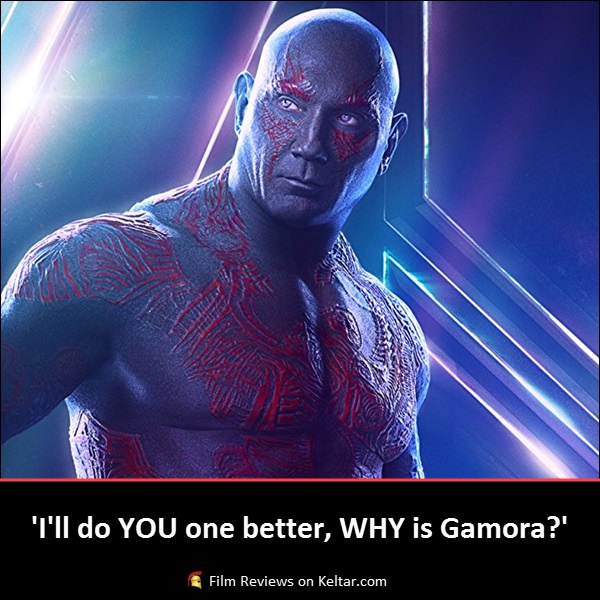 'The Avengers and their allies must work together to defeat Thanos before he lays waste to half the universe.'
This is it. After a decade since the birth of the Marvel Cinematic Universe and eighteen movies later, we are finally seeing the culmination of all this highly thought-out world-building. Avengers: Infinity War is the beginning of an epic conclusion that will see practically every character from the MCU brought together. Ever since Marvel Avengers Assemble (2012) and the mid-credit reveal of evil mastermind Thanos, everything's been building up to a showdown of gigantic proportions and apocalyptic stakes. Directed by Marvel regulars Anthony and Joe Russo, this is arguably the most anticipated movie of the year. However, promising to radically alter the universe going forward, will this movie deliver on the hype, or will it buckle under all the immense pressure?
After being teased and talked about through several films, we at last get a proper look at the mad titan Thanos (Josh Brolin).
Being his film just as much as the rest of the seasoned cast. The story fully commits to his mission to attain all the Infinity Stones, which has been interwoven in a number of the Marvel movies.
Elements of vast power, if combined, would grant the owner the power to wipe out the universe. It's up to Earth's mightiest heroes and pretty much everyone else to stop him before it's too late.
As a movie that's been ten years in the making, it's clear Avengers: Infinity War is not going to be for the casual viewer. This is no self-contained story, and is for those well versed in a decade of mythology that's slowly been built through the course of eighteen films.
Consequently, if this is your first taste of the MCU, I can imagine it being rather confusing for you. Saying that, as the box office suggests, most of you are familiar with this cinematic universe's unfolding saga. If so, then this will be great a pay-off for years of patience, and should be a very cathartic experience.
Happily the Russo brothers have done an excellent job in making this film, which is no small feat.
This will be a very satisfying watch for many, as we see a vast number of MCU characters come together and interact. No one can even deny the giddy delights of finally seeing the Guardians of the Galaxy being brought into the fold. It shouldn't work, stretching all these superheroes out in one film. And if this is your first time seeing them, you would be forgiven for asking why you should care about any of them. It's simply because we've seen these individuals grow and evolve over several films; developing just enough for our own investment.
What's more, the Russo brothers know you wouldn't be able to have everyone share the screen at the same time. They smartly split certain characters up, and show a keen understanding of who would play-off against one another the best. Whether it's the two giant egos of Tony Stark and Stephen Strange clashing, or seeing Thor meet the Guardians for the first time, these are all great crowd-pleasing moments that everyone's going to enjoy. Paced impeccably, and structured in a way that everyone gets their time to shine, the mammoth 150 minute runtime will also go by relatively unnoticed.
One of the benefits of already having well fleshed-out characters, is it frees up the time for the non-stop action.
From the very beginning, Avengers: Infinity War moves at such breakneck speed, jumping from one set piece to the next, that we barely have time to breath. Having said that, this isn't to the movie's detriment, and all these sequences are brilliantly shot and incredibly exhilarating. All the powers and abilities are utilised superbly, offering a mix of different action styles, like giant armies battling or the more personal one-on-one fights.
Visually, it's very clear, and even with a lot of CGI it never feels messy or hard-to-follow. When it comes to the special effects, you can see the money and effort that's been put in to making them as flawless as possible. Not just Thanos, but there are a number of other motion captured characters which are so well-rendered, they seamlessly blend in with the real-life actors. The same goes for the green screen, where the various environments also look and feel very tangible.
Tonally, although there's a more sombre approach and everything feels more dire, there's still that comedic edge Marvel are so good at.
Balanced perfectly, it never undermines the seriousness of what's at stake. Seeing these people we know and love crack jokes with one another adds a human element that would be sorely missed. It is so much a part of the Marvel franchise's DNA by now.
If there's one weakness, it's that the large scale can be jarring in places. With so many characters split off from one another and on their own side adventures, there's a lot of jumping around. You don't get to see enough of certain individuals, and the story feels rushed and forced in places to get everyone where they need to be. It's all so tightly wound with very little fluidity, and looks like the film makers are just ticking boxes in places.
There's too many actors to comment on every performance, but they all do well with the time they're given.
Clearly, it's the cast members who have been there since the beginning who get the most to do. Robert Downey Jr. is great as Tony Stark, and after seven films of playing Iron Man, he skilfully knows how to bring pathos, charisma, strength, and insecurity to this complicated and flawed man. Chris Hemsworth continues to be a comedic delight as Thor, and equally, Mark Ruffalo gets to do more as Bruce Banner this time round. If anything, it's Chris Evans' Captain America who doesn't get to do that much, apart from fight and look really intense all the time.
Considering we don't know much about him, Brolin makes a fantastic Marvel villain as Thanos. Charismatic and menacing, you can feel the immense power he wields. Yet, he's not just written as another bland antagonist, but is given weight in his motivation that is actually quite compelling. He has a morality to him that you could almost comprehend and understand. Brolin does excellent work in making him that more interesting, and even brings a few tender moments to his performance.
'Avengers: Infinity War is no doubt going to be a roaring success. Action-packed and highly entertaining, if you've been invested in this franchise since the start you're definitely going to enjoy this film. Offering you everything you've been patiently waiting for, you'll be pouring over this movie repeatedly for Easter Eggs and hints of what's to come next.'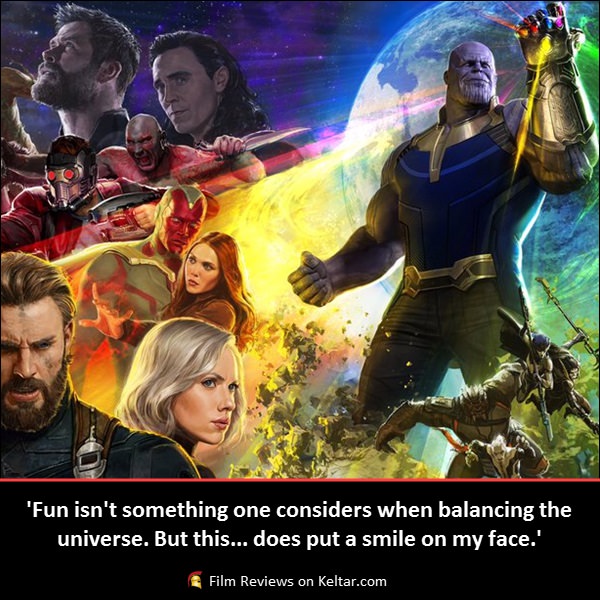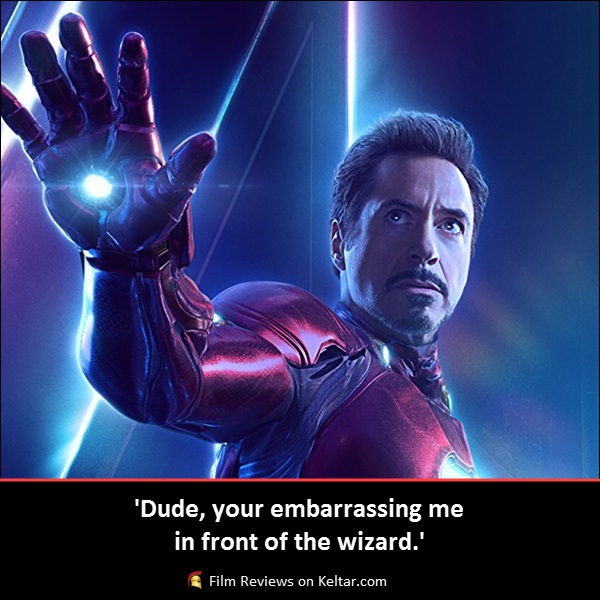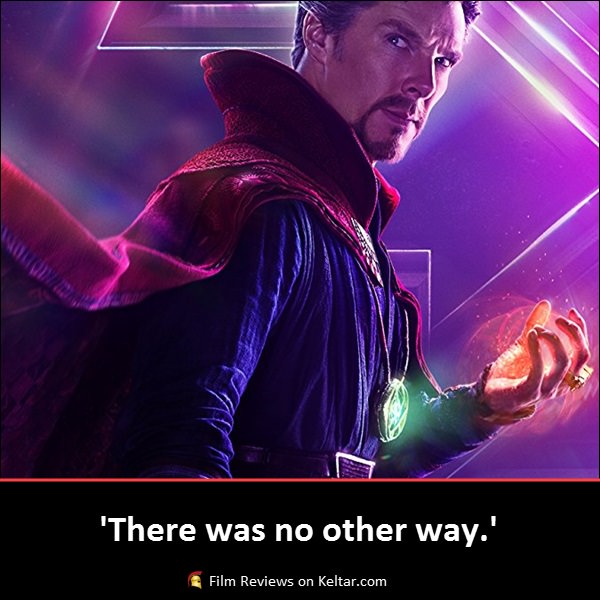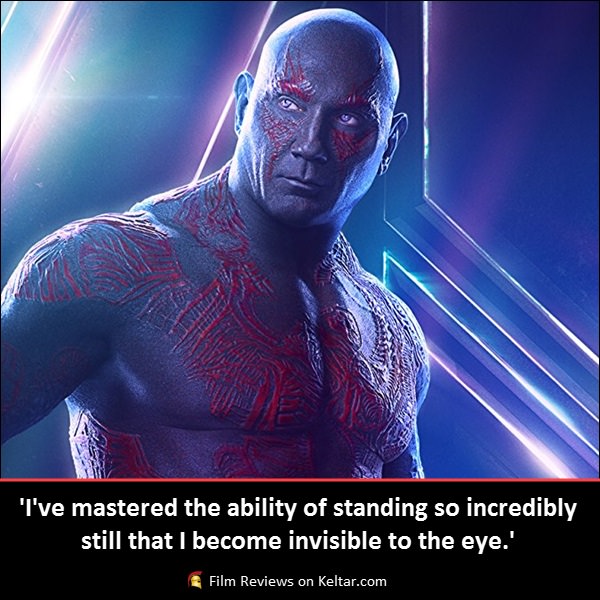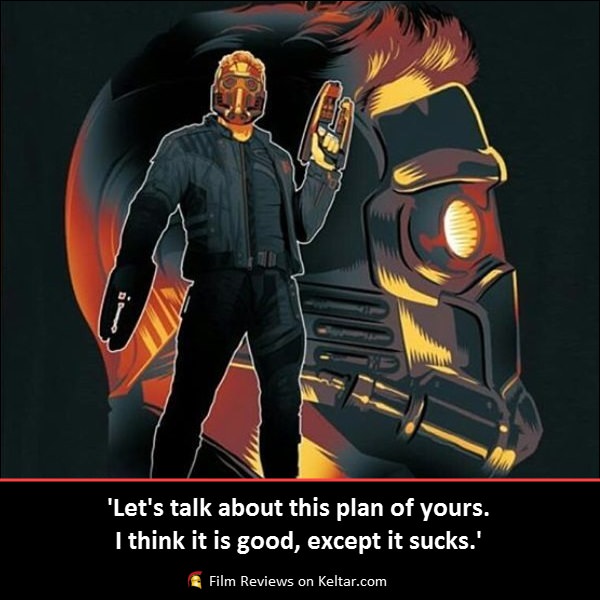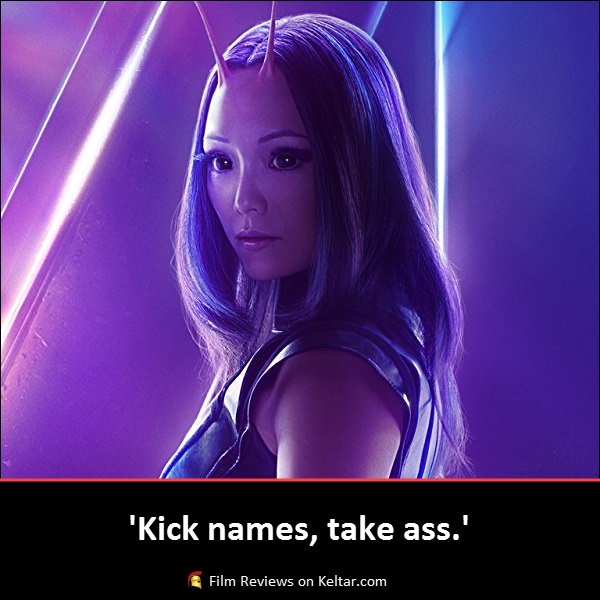 Film Details
12 · 2h 29m · 2018.
Genre
Action · Adventure · Fantasy · Sci-Fi.
Cast
Angela Bassett · Anthony Mackie · Benedict Cumberbatch · Benedict Wong · Benicio Del Toro · Bradley Cooper · Chadwick Boseman · Chris Evans · Chris Hemsworth · Chris Pratt · Danai Gurira · Dave Bautista · Don Cheedle · Elizabeth Olsen · Gwyneth Paltrow · Jeremy Renner · Jon Favreau · Josh Brolin · Karen Gillan · Letitia Wright · Linda Cardellini · Mark Ruffalo · Paul Bettany · Paul Rudd · Pom Klentieff · Robert Downey Jr. · Scarlett Johansson · Sean Gunn · Sebastian Stan · Terry Notary · Tom Hiddleston · Tom Holland · Vin Diesel · Winston Duke · Zoe Saldana.
Director
Anthony Russo · Joe Russo.
Writers
Christopher Markus (screenplay) · Stephen McFeely (screenplay).
Captain America created by
Jack Kirby · Joe Simon.
Doctor Strange created by
Steve Ditko.
Drax created by
Jim Starlin.
Gamora created by
Jim Starlin.
Spider-Man created by
Steve Ditko.
Thanos created by
Jim Starlin.
Based on the comic book by
George Pérez · Jim Starlin · Ron Lim.
Based on the Marvel comics by
Jack Kirby · Stan Lee.
Cinematography
Trent Opaloch.
Editing
Jeffrey Ford · Matthew Schmidt.
Music
Alan Silvestri.
Contains
moderate violence · threat.
David Axcell
Film Critic
David has quite a broad taste in film which includes big budget blockbusters and small indie films; including International and Arthouse cinema. As long as it's good in that particular genre, he'll watch anything.
This article is copyright owned by Keltar Limited. All rights reserved.
Plagiarism or unauthorised copying is not permitted.
All other copyrights remain the property of their respective owners.