Avengers: Endgame review – the perfect conclusion to an epic saga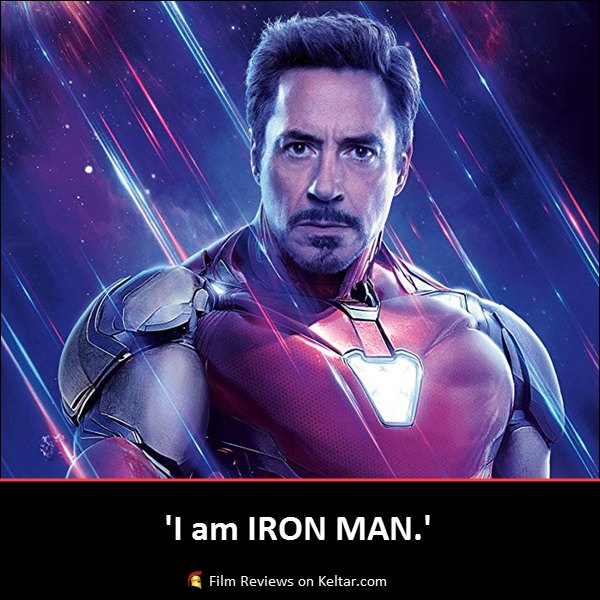 'After the devastation inflicted by Thanos the universe is in turmoil. With their surviving allies, the remaining Avengers assemble once more.'
Having been filmed back-to-back, it's only been a short year since Avengers: Infinity War shocked and awed us. Thanos won, and with all Infinity Stones in his possession, he wiped out half the universe's population. All the speculation and theories can now be put to rest as we finally get the conclusion to this epic, decade-long story in Avengers: Endgame. A masterclass in marketing, little has been revealed, which has only aided in ramping up the anticipation to the sort of levels a Star Wars movie usually gets.
If you've seen Infinity War, it's hard to imagine you need any convincing or teasing of the story to entice you to see Endgame. This is the second chapter of a two-part story, and is clearly for those who have stuck with the MCU from the beginning. Directors Anthony and Joe Russo know they have our attention and wallets, even boldly showing zero action sequences in the trailers. All we need to know is that those who were left behind are going to band together for an epic showdown with Thanos (Josh Brolin).
'To be able to conclude a film series like the MCU is unprecedented, and this is a real landmark moment in movie history.'
Obviously the franchise will continue after this, but the main storyline of the Infinity saga is at a definitive end. Happily, the Russo brothers stick the landing perfectly. They don't just offer a giant blockbuster with tons of spectacle, but also a heartfelt and emotional goodbye to some beloved characters. Bringing certain arcs full circle, there's definitely a sense of closure to the story. With such an epic conclusion, the three-hour runtime is absolutely justified and needed to fit everything in.
Like Infinity War there's numerous moving parts to balance within the narrative. Lots of side plots and a big cast to deal out a limited amount of screen time to. The Russo brothers juggle all these elements with pinpoint precision and pace the movie impeccably. Despite a slow first act, it's all table setting for a climactic finale.
'What's more, it shows real care has been taken in telling this final chapter's story.'
Not making it just about the action, but also about the story of these heroes, some of whom we've been watching through multiple movies. It's the character development that elevates Endgame the most. By raising the stakes to gigantic proportions, it's what will keep your eyes glued to the screen for all that time.
This paragraph contains a spoiler
There's a lot of emphasis on the past, and time travel does play a key role in the plot. Going back to some of our favourite moments in MCU history gives the story an interesting and cyclical nature. Re-contextualising those scenes allows us to see the older films in a whole new light. On top of that, it's a brilliant way to see how much the characters have changed and grown over time, which gives them opportunities for closure. Similar to Back to the Future Part Two (1989), the way those older sequences are edited into this new movie are achieved seamlessly. Playing a vital role, the Russo's do an excellent job in handling all the tricky plot details that can come when time travel's involved.
'Although every MCU character is practically in this film, most of the time is given to those original phase one heroes.'
Captain America (Chris Evans), Iron Man (Robert Downey Jr.) and Thor (Chris Hemsworth) clearly get the most to do. Downey Jr. particularly kills it as the vulnerable Stark. He's changed so much over the past ten years, and the original MCU actor is fabulous in showing us that maturity. If anything it feels like his movie, and there's a real sense of finality to the way his journey wraps up.
This paragraph contains a spoiler
Evans, as always, has been a solid Captain America. Making it clear this was always going to be his final appearance as the first avenger, he makes sure he shines one last time. Following on from Ragnarok (2017), Hemsworth continues to utilise those comedic chops as the God of Thunder, yet is still able to bring pathos when needed.
'Despite the huge stakes, Endgame is not devoid of humour.'
There's plenty of jokes and a surprising amount of levity. Adding consistency with the rest of the franchise, this does allow for some very crowd pleasing moments everyone's going to love. As mentioned, Thor has a good percentage of that comedy, and so does Paul Rudd's Ant-Man. Having said that, it never overshadows the overall seriousness of the main plot, but again, the Russo's have skilfully straddled these two aspects perfectly.
Granted it's not purely about spectacle, you can't have an Avengers film without mind-blowing action. You'll be pleased to know that the Russo's don't skimp on that either, with most of the excitement being saved for an epic third act which is nothing short of movie magic. If you thought they couldn't go any bigger after Infinity War, you were wrong.
To talk any more about the set pieces feels like a spoiler, as they essentially pay-off a good chunk of the story. All you need to know is that the visual effects are excellent and that you won't be disappointed. Combined with that now iconic score, you'll likely have goose bumps all over as you watch every superhero and his dog battle it out for the fate of the universe.
'Avengers: Endgame is no doubt going to break some box office records.'
This is deservedly the ultimate blockbuster movie; a title I can't imagine being beaten for quite some time. The culmination of twenty-two films, those who have stuck with the MCU from the start will find it emotionally satisfying and a very cathartic experience.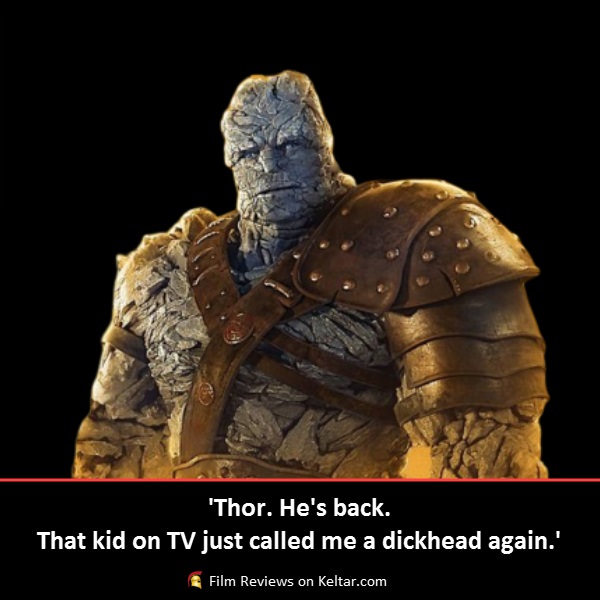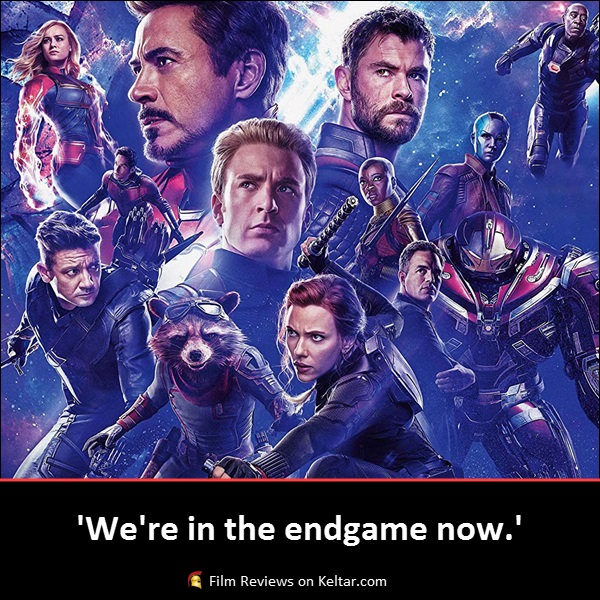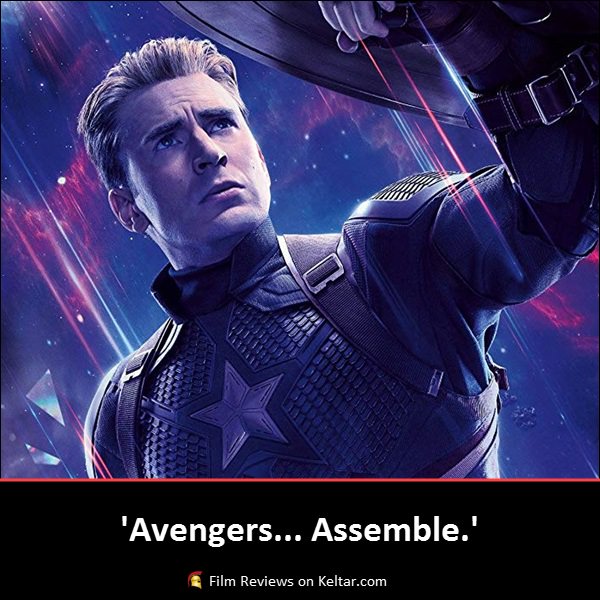 Film Details
12 · 3h 1m · 2019.
Genre
Action · Adventure · Fantasy · Sci-Fi.
Cast
Benedict Wong · Bradley Cooper · Brie Larson · Chadwick Boseman · Chris Evans · Chris Hemsworth · Danai Gurira · Dave Bautista · Don Cheedle · Elizabeth Olsen · Evangeline Lilly · Frank Grillo · Gwyneth Paltrow · Jeremy Renner · Jon Favreau · Josh Brolin · Karen Gillan · Letitia Wright · Mark Ruffalo · Michelle Pfeiffer · Paul Rudd · Pom Klentieff · Robert Downey Jr. · Scarlett Johansson · Sean Gunn · Sebastian Stan · Terry Notary · Tessa Thompson · Tilda Swinton · Tom Holland · Winston Duke.
Director
Anthony Russo · Joe Russo.
Writers
Christopher Markus · Stephen McFeely.
Based on the comic book by
Jim Starlin.
Based on the Marvel comics by
Jack Kirby · Stan Lee.
Cinematography
Trent Opaloch.
Editing
Jeffrey Ford · Matthew Schmidt.
Music
Alan Silvestri.
Contains
mild violence.
David Axcell
Film Critic
David has quite a broad taste in film which includes big budget blockbusters and small indie films; including International and Arthouse cinema. As long as it's good in that particular genre, he'll watch anything.
This article is copyright owned by Keltar Limited. All rights reserved.
Plagiarism or unauthorised copying is not permitted.
All other copyrights remain the property of their respective owners.