X-Men: Dark Phoenix review – an adequate X-Men movie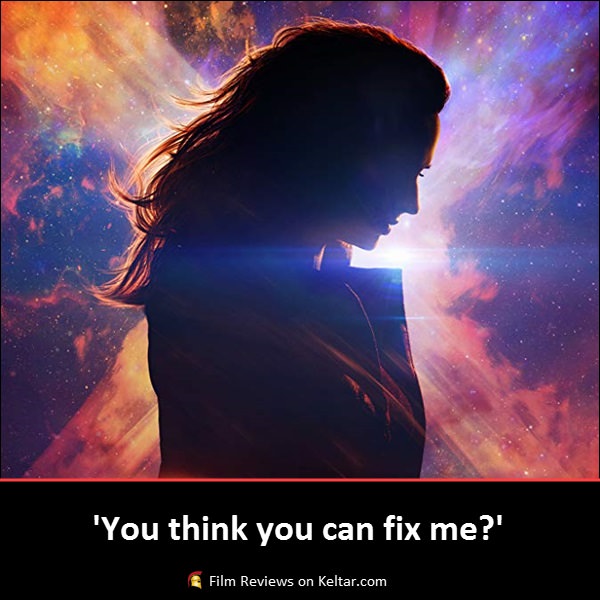 'The X-Men face their most deadly enemy when in a near-fatal accident, Jean Grey is hit by a cosmic force and evolves into the Dark Phoenix.'
X-Men: Dark Phoenix is likely the final movie in this long running franchise before it's rebooted by its new owners, Disney. It's also the second attempt at telling the Dark Phoenix saga from the comics after 2006's X-Men: The Last Stand. Not doing that story justice, the pressure is on for this latest and possibly last movie to wrap everything up. As well as getting this much beloved X-Men story right and giving fans the film it deserves. Director and writer Simon Kinberg undoubtedly has his work cut out for him.
Jumping another decade from the previous film, the story takes place in the early Nineties. Charles Xavier (James McAvoy) and the X-Men are now national heroes and are soon called to aid a rescue mission in space. During the operation, telepath Jean Grey (Sophie Turner) gets hit by a powerful cosmic force. Imbued with powers she can't control, she soon draws the attention of Magneto (Michael Fassbender) and a strange alien race led by the formidable Vuk (Jessica Chastain).
Considering the lacklustre response from previous movie Apocalypse (2016) and some production issues, this movie isn't as bad as it could have been. Debuting as a director, Kinberg does a decent job of putting this film together. Despite being no Endgame (2019), Dark Phoenix is still an entertaining and more faithful comic book adaptation, while also offering a sense of closure for the series. By no means probably the last X-Men movie, it's likely the final time we'll see this iteration of all these characters together. Not going out on a big bang, it certainly could have been a lot worse.
'Where the film falters, is in some of its storytelling.'
Kinberg has to do a lot of gymnastics in the writing to get characters in specific positions for the plot to move forward. Certain individuals act in ways that feel out of place, where they jump from one decision to the next. Rarely showing or explaining these thought processes, it can feel very forced at times.
What's more, Jean's powers as the Phoenix aren't clearly defined. It's presented as this all-purpose force that does what it needs to fit around the narrative. At one point she's so strong nothing can stop her, and the next, she has limits where others can hold their own against her. Unless you're familiar with the source material, this hazy portrayal of the character will seem confusing.
Having said that, all the main actors succeed in breathing life into their roles, regardless of the thinly written characters. If you can get past the fact that many of these young actors are supposed to be thirty years older from First Class (2011), they're still good nonetheless. McAvoy makes a brilliant Professor X and is starting to transition into his older counterpart we see in the earlier films. Coming off of as a manipulator, he's a more flawed person than we're used to seeing in Charles. Although he has good intentions, he still makes mistakes, and McAvoy is a skilled enough actor to convey all that in his performance.
'Reprising her role as Jean, Turner gets to be one of the main leads.'
Proving she can act outside of Game of Thrones (2011-2019), she brings a great deal of pathos to her conflicted psyche. You really feel and see that struggle on her face. On top of that, she really sells the power she has just with her body language. Unfortunately, there's a big ensemble, and none of the other cast get that much to do. Fassbender does his best, but his development hasn't evolved or changed since the previous movie. A lot of the clichéd and uninspired dialogue doesn't help either in bringing depth to these characters. And everyone else outside of those three feels like they're there because they have to be.
These flaws notwithstanding, the film is by no means terrible, and is lifted somewhat by the fast pace and relentless action. At under two hours, it's a breath of fresh air to have a superhero movie that doesn't feel the need to have an epic runtime. Granted, these are action sequences we've seen numerous times before, but they are satisfactory and exciting enough to entertain. The only thing that lets them down is that almost all of the set pieces take place during the dark. Making it hard to follow, you can't help but wonder if this was an intentional choice to hide some of the CGI heavy battles which may not have been up to scratch.
'In an over saturated market of comic book movies, you really have to make something special to stand out these days.'
Sadly, X-Men: Dark Phoenix doesn't quite cut it, struggling with shallow characterisation and a formulaic script. Saying that, it's not awful and fans of this franchise should find enough here to enjoy. With a breezy pace, plenty of action and a couple of noteworthy performances, it's a perfectly adequate superhero flick.
Film Details
12 · 1h 15m · 2019.
Genre
Action · Adventure · Sci-Fi.
Cast
Alexandra Shipp · Evan Peters · James McAvoy · Jennifer Lawrence · Kodi Smi-McPhee · Michael Fassbender · Nicholas Hoult · Sophie Turner · Tye Sheridan.
Director
Simon Kinberg.
Writer
Simon Kinberg.
Comic Created by
Jack Kirby · Stan Lee.
The Dark Phoenix Saga by
Chris Claremont · Dave Cockrum · John Byrne.
Cinematography
Mauro Fiore.
Editing
Lee Smith.
Music
Hans Zimmer.
Contains
bloody images · infrequent strong language · moderate violence.
David Axcell
Film Critic
David has quite a broad taste in film which includes big budget blockbusters and small indie films; including International and Arthouse cinema. As long as it's good in that particular genre, he'll watch anything.
This article is copyright owned by Keltar Limited. All rights reserved.
Plagiarism or unauthorised copying is not permitted.
All other copyrights remain the property of their respective owners.