Toy Story 4 review – another outstanding film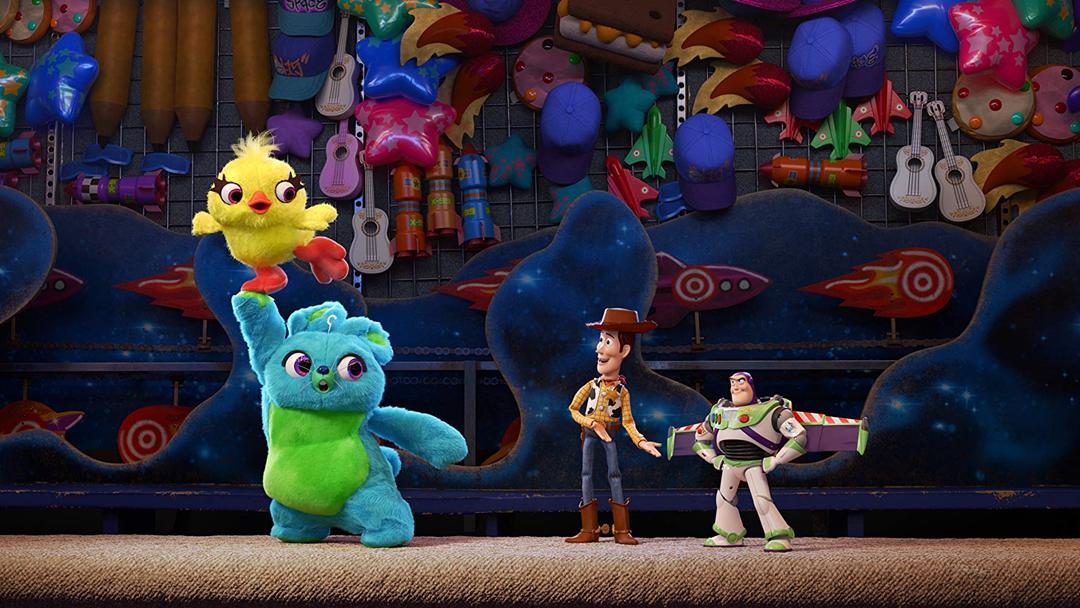 'Bonnie adds a new toy called Forky who joins Woody and his friends as they embark on an adventure that leads to an unexpected reunion.'
Back in 1995 computer company Pixar changed the face of cinema with a little movie called Toy Story. A ground-breaking achievement, it was the first feature length film to be made entirely through computer graphics, instead of the more traditional hand drawn animation. It may look dated now, but what set it apart was the excellent story, layered humour and mature themes. All this packaged around a plot about a group of toys that come to life when no one's around. That commitment to the story always took priority in future Pixar films, and set a very successful trend. Now, nearly twenty-five years later, they're going back to that first film for the third time with Toy Story 4.
Struggling at not being the favourite with new child Bonnie, Woody (Tom Hanks) spends most of his time un-played with. Determined to still be a good toy, when a nervous Bonnie goes for her first day at kindergarten, Woody sneaks along to give her support. He also helps her make a new toy out of a plastic fork who she calls Forky (Tony Hales). With new life, Forky has a full blown existential crisis and keeps trying to throw himself away. When he eventually escapes during a family road trip, Woody, Buzz (Tim Allen) and the rest of the toys go on a rescue mission to bring him back. Along the way they also bump into Bo Peep (Annie Potts), who hasn't been seen since Toy Story 2 (1999).
'Making his directorial debut, Josh Cooley has done a fantastic job with Toy Story 4.'
Long gaps between sequels usually don't bode well for a movie, but Pixar's flagship franchise is that rare exception. After nearly ten years since the third film, this new instalment feels just as fresh and relevant as the previous ones. Again, the focus is on the story, and clearly there was another chapter to tell. We've grown up with these characters, especially Woody, and there's a new journey for us to follow him on.
While the structure of a rescue mission is something all the other films have done. It's actually the motivation of Woody and his development that have always changed, making each film unique and original in its own way. Like all the previous Toy Story's, this makes it aimed for adults just as much as it is for the kids. There's a level of maturity and emotion you don't normally see in these kind of movies, that's just for the parents alone.
'That element is perfectly slotted into the narrative, and in no way do these seemingly opposing tones undermine each other.'
The story's about dealing with change, and Woody's inability to let go of that nostalgia of being top toy to previous owner Andy. It's about moving on and accepting life isn't static and not everything remains the same. These are universal themes that no other studio but Pixar are excellent at putting into their family films. Having said that, there's more than enough humour and excitement for the children. Combined with a mix of slapstick and character based comedy, it's layered for all age ranges to get a laugh out of. What's more, with well-paced and exhilarating set pieces, there's plenty of entertainment on display.
A lot of this success has to go to the excellent voice cast and the characters they inhabit. Hanks and Allen are always good together in these roles. Although Buzz does get side-lined throughout the movie, you still see a believable long-term friendship on-screen. Bringing Annie Potts back for Bo Peep was also a stroke of genius, and exploring her and Woody's relationship offers something original. Probably intentional, but the only let down was Christina Hendricks as antagonist Gabby Gabby, who was just a different spin on Toy Story 3 villain Lotso.
'To make up for that however, are some fantastic new additions in the shape of Ducky and Bunny (Keegan-Michael Key and Jordan Peele).'
Clearly a great comedy duo, they provide the funniest running gag that will have everyone rolling with laughter. On top of that there's also Keanu Reeves as stunt motorcycle toy Duke Caboom. Playing on his action star status, he sounds like he's having a tone of fun as a stunt toy with low self-esteem. Even he gets a great little arc about finding the confidence within himself.
'Toy Story 4 doesn't need to exist, and everything was suitably wrapped up by the end of the last film.'
But that doesn't negate the beauty of this movie and the story it's telling. Emotional and poignant, this is what Pixar does best; making children's films that the parents will be dragging their kids to see. One thing's for sure, if they ever decide to make a fifth one in another ten tears, it will certainly be a challenge to top this.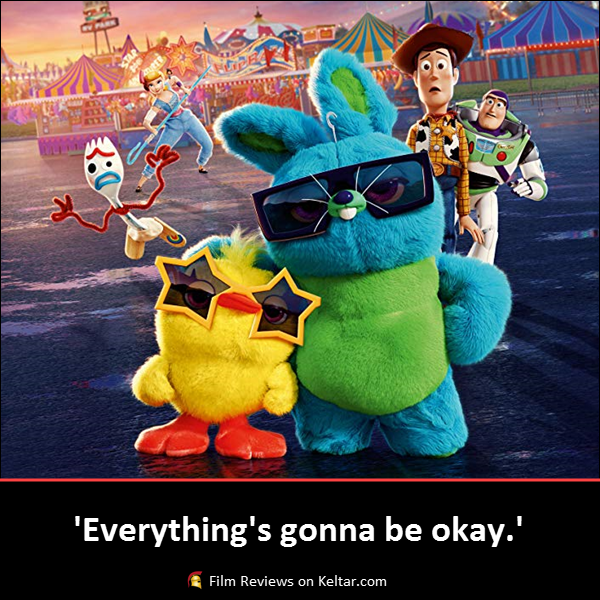 Film Details
U · 1h 40m · 2019.
Genre
Adventure · Animation · Comedy · Family · Fantasy.
Cast
Ally Maki · Annie Potts · Christina Hendricks · Jordan Peele · Keanu Reeves · Keegan-Michael Key · Madeleine McGraw · Tim Allen · Tom Hanks · Tony Hale.
Director
Josh Cooley.
Writers
Andrew Stanton (original story & screenplay) · John Lasseter (original story) · Josh Cooley (original story) · Martin Hynes (original story) · Rashida Jones (original story) · Stephany Folsom (original story & screenplay) · Valerie La Pointe (original story) · Will McCormack (original story).
Cinematography
Jean-Claude Kalache · Patrick Lin.
Editing
Axel Geddes.
Music
Randy Newman.
Contains
very mild violence · scary scenes.
David Axcell
Film Critic
David has quite a broad taste in film which includes big budget blockbusters and small indie films; including International and Arthouse cinema. As long as it's good in that particular genre, he'll watch anything.
This article is copyright owned by Keltar Limited. All rights reserved.
Plagiarism or unauthorised copying is not permitted.
All other copyrights remain the property of their respective owners.