The Nice Guys review – a fun and entertaining buddy film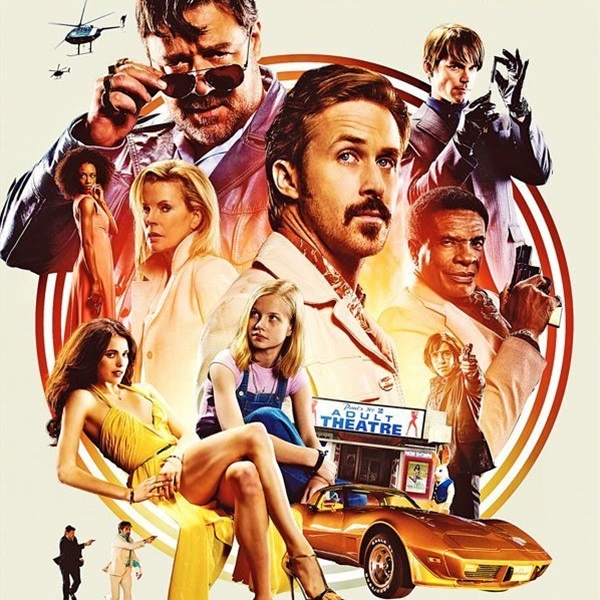 'A private investigator and an enforcer investigate a dark conspiracy in 1970's Los Angeles.'
After going big and bringing his contribution to the Marvel Cinematic Universe with Iron Man 3 (2013). Shane Black has gone back to his roots and brought us The Nice Guys, a buddy comedy, the genre he practically invented when he penned films like Lethal Weapon (1987) and The Last Boy Scout (1991). With a high banter rate and a cool 70's Los Angeles setting, Black has created a fun, rollercoaster ride of a film, which is quite something considering this is only his third job behind the camera.
The plot's typical of the Neo-Noir, and in many ways shares a lot of DNA with Black's debut, Kiss Kiss Bang Bang (2005). Enforcer Jackson Healy (Russell Crowe) and private eye Holland March (Ryan Gosling) stumble into a conspiracy involving a dead porn star, a missing girl named Amelia and a film linking it all together. You'll certainly have to pay attention as the story can feel rather convoluted at times, but these sort of mystery films normally are, and besides, part of the fun is working it out alongside the heroes.
The 70's setting helps bring that sense of fun, it was a bright and colourful era which Black uses to good effect, showing off the big show biz parties of the L.A. scene, but also not afraid to show the seedier underbelly of the period. It's a well-crafted setting with a lot of detail gone into creating the era. With a cool 70's soundtrack you would almost believe you're watching a film made in 1977 and not just set there.
Even if there is a lot to enjoy in the time period and story, with any good buddy film there needs to be chemistry between the duo in order for the audience to get invested in these characters and to buy into their partnership. Fortunately, Crowe and Gosling come with plenty as they are thrown into each other's orbit based around the missing Amelia, and after a shaky start (Healy breaks March's arm when they first meet), they learn they need each other to solve the case.
It's an odd pairing that sounds like it shouldn't work, but after five minutes of shared screen time it's obvious these character's actually complement each other rather well. In fact, if the film just revolved around one of them without the other the whole story would fall flat.
Outside of Crowe and Gosling, who are certainly the main draw, the supporting cast are all fine and do good work in bringing Black's and Anthony Bagarozzi's script to life. Special mention has to go to Angourie Rice who plays Holly, the thirteen year old daughter of Goslings widowed private investigator. As someone who spends the bulk of the film with the two A-lister's it would be easy to get overshadowed by the two heavyweights, but the young actress definitely holds her own alongside them. She also brings sympathy to the character of March, who with his morally dubious behaviour, would be hard to root for without that relationship in his life.
As a comedy, The Nice Guys does not disappoint either and is satisfyingly funny. Considering they're not known for it, Crowe and Gosling are quite proficient in this area, with the bulk of laughs produced from their partnership and banter. Gosling proves particularly adept with the slapstick and is unafraid to throw himself around; he also plays a good drunk and is a great foil to Crowe's more gruff and professional Healy.
'The Nice Guys is a great throwback to the films of that decade but also says something contemporary about the loss of innocence, as a fair few children are thrown into the chaotic life threatening story.'
Black has crafted a well-made, retro stylised, piece of entertainment and proved once again why he's king of the buddy film. I can't imagine a more fun flick that's out at the moment. Crowe and Gosling make a great team and are a revelation, they should absolutely consider doing more comedy.
David Axcell
Film Critic
David has quite a broad taste in film which includes big budget blockbusters and small indie films; including International and Arthouse cinema. As long as it's good in that particular genre, he'll watch anything.
This article is copyright owned by Keltar Limited. All rights reserved.
Plagiarism or unauthorised copying is not permitted.
All other copyrights remain the property of their respective owners.