The Kid Who Would Be King review – a fresh new take on the Arthurian legend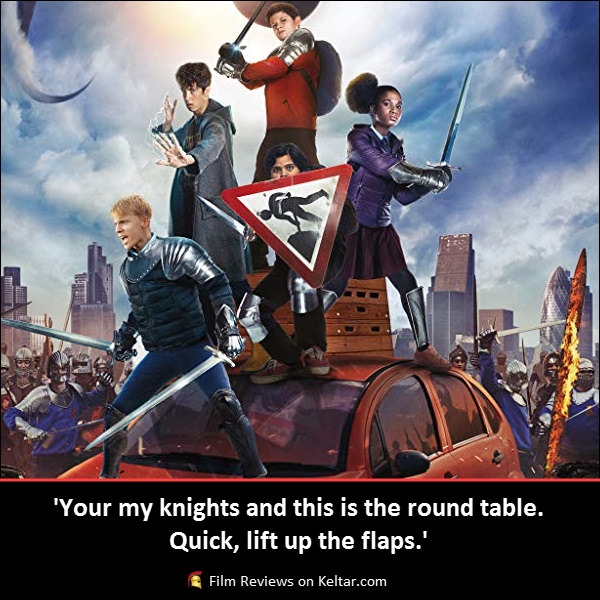 'A young schoolboy stumbles across King Arthurs mythical sword Excalibur and must unite his friends to help Merlin defeat Morgana and her army.'
Eight years after directing his successful debut Attack the Block (2011), Joe Cornish finally offers up a sophomore film. His new film The Kid Who Would Be King is yet another take on the Arthurian legend, only this time, brought into the 21st century. Like his previous movie, it's also unapologetically British, and is an old-school children's fantasy.
The story follows Alex (Louis Ashbourne Serkis), a typical British schoolboy who just wants to keep his head down and get through school. Picked on by bullies Lance and Kaye (Tom Taylor and Rhianna Dorris), his life drastically changes when he discovers a mysterious sword stuck in some rock. Now a target for the evil sorceress Morgana (Rebecca Ferguson), Alex must team up with best friend Bedders (Dean Chaumoo), as well as Lance and Kaye, to stop her.
This is a classic family film in the making.
It's also a movie kids are going to love, as it puts them squarely at the centre. Cornish makes them the primary heroes of the story, and emphasises that by making the main villain an adult. Even the Merlin character is re-imagined as a teenager played by Angus Imrie.
What's more, there's a levity added to it, creating a crowd-pleasing experience which has recently been lacking in most other YA movies. A lot of these types of films are becoming overly gritty and dark in tone. Smartly keeping things lighter, Cornish is able to keep his film more accessible and fun.
Having said that, this is also a very sincere movie, and Cornish does touch on some sombre moments. He pokes fun at the story of an average kid going around claiming to be a king. But he also plays it straight, balancing these two aspects very well. There are some serious issues Alex has to work through during his quest, learning to grow up and take responsibility. This is all shown in a believable and engaging manner that even grown up audiences will be able to connect to.
Plenty of the comedy is actually well placed, and it never undermines those sober scenes. Primarily character based, it comes from the interactions between the main protagonists. Likewise, there's some solid fish-out-of-water comedy from the Merlin character, who is a centuries old wizard trapped in a sixteen-year-old body.
'When it does come to that serious element, Cornish isn't afraid to push the boundaries of a PG rating.'
These are four school children who are in very real peril. The flaming supernatural beings that pursue Alex and his allies are brought to life by some convincing CGI. They show no restraint in their attempts at killing these children. That point is driven home all the more by the gloomy cinematography that is deployed, adding to that feeling of danger. Combined with some tense and brilliantly executed action sequences, young viewers should find a lot of enjoyment to distract from those scarier sequences.
Thanks to the stylish visuals that Cornish has, it will be easy to buy into the fantastical plot. If anything, you'll have to suspend disbelief more at how quickly the heroes learn to sword fight than any of the other supernatural shenanigans. With quite a chunk of story to fit in, some things are just rushed over. Character motivations and arks are changed and sped through so as to keep the runtime at a reasonable length.
A considerable amount of exposition has to be unloaded for viewers to follow what's going on. Even with these issues, the film still feels longer than it needs to be. Those problems notwithstanding this is a good old-fashioned family film. Apart from the computer generated enemies, there's great practical sets which really helps ground the narrative.
On top of that, the performances go a long way in elevating this movie.
Considering that the lead actors are all teenagers, for the most part, none of their inexperience hinders them. Serkis does a splendid job as the reluctant hero Alex. Earnest in his performance, he brings an authentic maturity regardless of his age. He also displays a sweet and loyal friendship with Chaumoo's Bedders.
Taylor and Dorris make for good bullies, but it's their slow transformation from enemies to allies which is deftly handled. Unfortunately, Ferguson is underused and spends most of her time as the only dodgy CGI creation. Patrick Stewart is really the only other adult character, and although he has a small role, he's cleverly inserted into the story.
'The Kid Who Would Be King is a charming British movie that all the family can enjoy. Despite a few pacing problems, there's no denying it's different from a lot of the other live-action family films out there. With a heartfelt story, strong child performances and some beautiful visuals, this is a fresh new addition to the Arthurian legend.'
Film Details
PG · 2h 0m · 2019.
Genre
Action · Adventure · Family · Fantasy.
Cast
Angus Imrie · Dean Chaumoo · Louis Ashbourne Serkis · Rhianna Dorris · Tom Taylor.
Director
Joe Cornish.
Writer
Joe Cornish.
Cinematography
Bill Pope.
Editing
Jonathan Amos · Paul Machliss.
Music
Electric Wave Bureau.
Contains
language · mild threat · scary scenes · violence.
David Axcell
Film Critic
David has quite a broad taste in film which includes big budget blockbusters and small indie films; including International and Arthouse cinema. As long as it's good in that particular genre, he'll watch anything.
This article is copyright owned by Keltar Limited. All rights reserved.
Plagiarism or unauthorised copying is not permitted.
All other copyrights remain the property of their respective owners.