The Irishman (2019): 'A Good Old-Fashioned Crime Movie'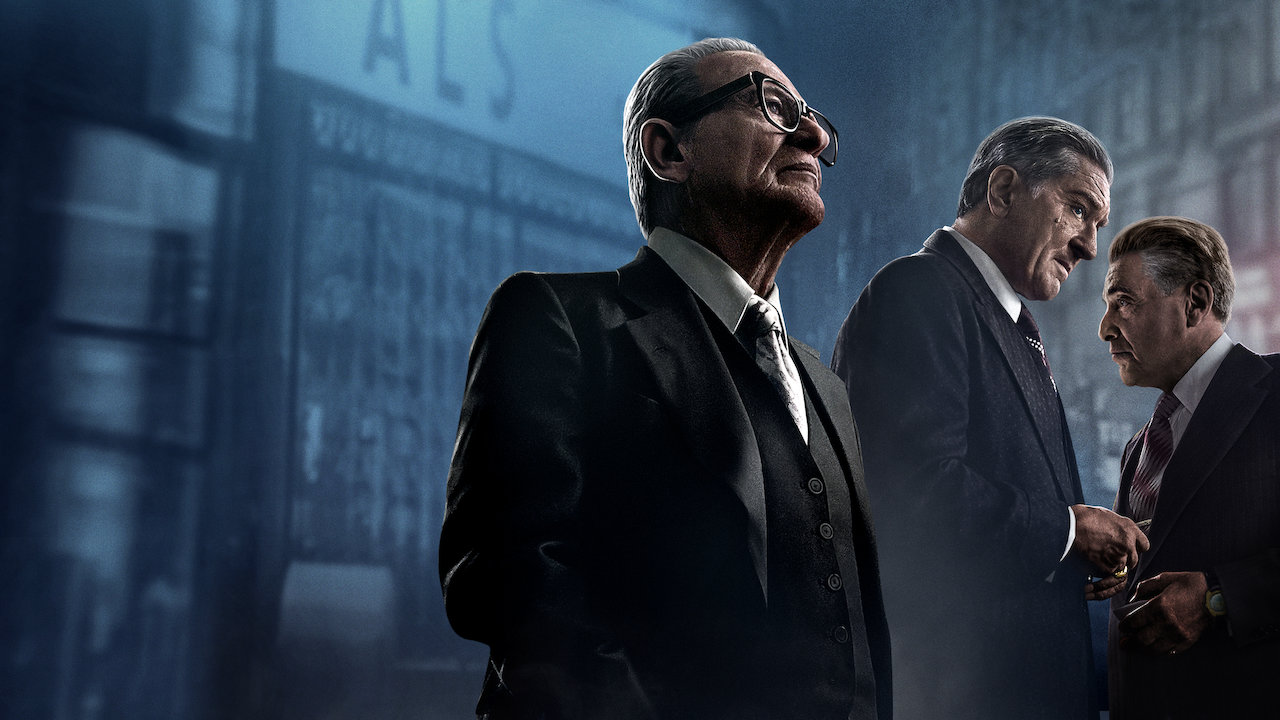 Frank Sheeran reminisces about his life as a hit man and his possible involvement in the death of Jimmy Hoffa.
After being such a staunch advocate for the theatrical experience, Martin Scorsese is finally selling out and making a movie for Netflix. To be fair, his new movie The Irishman will have a limited release in cinemas for those who want to search it out. But in an age where everything is at your fingertips, most people, I imagine, will see this film through the streaming giant's platform. However you decide to view it, I think it's safe to say a Scorsese movie is not to be missed. With forty years of film-making behind him, he's rarely made a bad one.
Another selling point, is that this brings back his original muse in Robert De Niro. Their collaborations in the early days of Scorsese's career produced some amazing masterpieces in the world of cinema. Adding another layer of anticipation, it's great to see these two giants in the industry back together again. Not only De Niro, but with Joe Pesci also being coaxed out of retirement, this truly feels like Scorsese going back to his roots.
'A lesson in recent American history, the story follows De Niro's Frank "The Irishman" Sheeran.'
A World War Two veteran, he now makes his living working as a truck driver. Through a chance encounter with Pennsylvania crime boss Russell Bufalino (Pesci), he soon climbs the ranks of this notorious organisation. His new job soon brings him into contact with Union leader Jimmy Hoffa (Al Pacino). The two quickly form a strong bond, which is put to the test when Frank's loyalty to Russell requires an uncomfortable mission.
At three and a half hours long, there's no other way to describe The Irishman other than epic.Although it's been a while since Scorsese has touched the gangster movie. With this old-fashioned gangster flick he proves here he's lost none of his flair for the genre. So much so, even with the hefty runtime, he keeps the story captivating till the very end. Slow and meticulously paced, this is perfectly restrained storytelling that doesn't rely on flashy gimmicks or hyper stylised violence. It's those quieter moments that are gradually building to something important that will have you transfixed.
'Narratively speaking there's a lot going on, and a good deal of the story is steeped in a history many might not be aware of.'
In that sense, you might find it hard to follow this massive sprawling saga at times. And with so many characters to remember, it's not always easy to grasp who is who. Those minor issues notwithstanding, this is a masterfully made film that's worth watching for the main trio of De Niro, Pesci and Pacino alone.
De Niro carries the film effortlessly with an amazing and understated performance. Whatever you think of his later choices, The Irishman shows us the greatness that is still in him. The whole movie is through his perspective, and he does a great job of convincingly showing the allure of a life of crime. Saying that, it's never glorified either, and we see the toil his choices have on his personal life. Particularly when it comes to his relationship with his daughter.
Pacino is just as awesome, bringing some surprising depth to his normal over-the-top acting. Actually, it's because of his and De Niro's chemistry, we're able to feel any kind of sympathy towards these criminals. Pesci returns and doesn't miss a beat despite the long absence. He's not the same unhinged psychopath we've seen in films like Goodfellas (1990) or Casino (1995). Yet he's still able to pull-off an intimidating presence with some skilful and subtle acting. Through no fault of their own, the only off-putting part of the performances are the de-aging effects. Which can be very noticeable in those earlier time periods. Having said that, it's only a small part of an otherwise well-made piece of art, making it easy to forgive.
'The Irishman is another excellent addition in Scorsese's filmography.'
An old-school period mob movie, it feels like something he could only have gotten made on Netflix. Spanning a few decades, it's a fascinating glimpse into a world that probably doesn't exist today. With De Niro's fantastic performance and a star studded ensemble, it is well worth carving out half a day to watch this classic in the making.
David Axcell
Film Critic
David has quite a broad taste in film which includes big budget blockbusters and small indie films; including International and Arthouse cinema. As long as it's good in that particular genre, he'll watch anything.
This article is copyright owned by Keltar Limited. All rights reserved.
Plagiarism or unauthorised copying is not permitted.
All other copyrights remain the property of their respective owners.