The House with a Clock in Its Walls review – a magically good time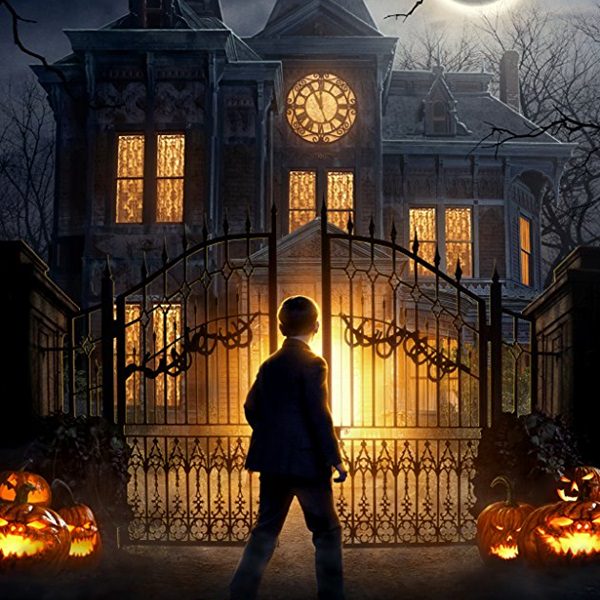 'An orphan boy goes to live with his Uncle and ends up helping him find a mysterious clock with the power to bring about the end of the world.'
Throughout the Noughties Jack Black was the go to guy for playing that lazy slacker character. It was his bread and butter role for a long time which he did so well. Recently, after appearing in movies like Goosebumps (2015) and Jumanji (2017), he seems to be carving out a solid career in family entertainment. They were big hits and it proved he had a knack for these lighter films, slotting in well with their wider appeal. Continuing that transition, his latest movie is a fun spooky adventure both kids and parents can appreciate.
Based on John Bellairs 1973 novel, The House with a Clock in Its Walls is set in 1955 and follows a recently orphaned Lewis (Owen Vaccaro). Sent to live with his mysterious Uncle, Jonathan Barnavelt (Black), he soon finds himself part of a magical world he never knew existed. Taught in the ways of the warlock,Lewis is swept up in his uncle's quest to discover the source of a strange ticking within his creaky old house's walls. Aiding them is also Barnavelt's neighbour and fellow witch Florence Zimmerman (Cate Blanchett).
One of this movie's biggest surprises is that it's directed by Eli Roth.
Mostly known for gory and twisted horror films, this is a complete one eighty for him in tone and style. Unexpectedly, he proves rather competent in knowing what this movie needs to be and delivers an entertaining experience everyone can enjoy. Also, because of his past credits, he really pushes what he can get away with for a family film. It's very reminiscent of classic Eighties movies like The Goonies (1985) and Return to Oz (1985). Although aimed for younger audiences, they weren't afraid to go dark and scary, with The House with a Clock in Its Walls very much following in that same vein.
On top of that, Roth has a great narrative to work with. The story of a child discovering a hidden reality in which they're a part of is something young viewers will relish. A role they can put themselves in and find escapism. There's a strong mystery element that will also have them hooked. Not too complicated but it's interesting enough for the adults to connect with as well. Considering this is based on a long running series of novels, it smartly isn't over-blown with world-building. Rather, Roth sprinkles just the right amount of exposition and mythology so it stands on its own. If it does do well though, don't be surprised to see other adaptations.
'When it comes to the adventure aspect, there's plenty of imagination and excitement on display.'
Even with some obvious CGI, they're utilised well and it fits within the more fantastical world that's presented. Equally, the mansion is practically made into an excellent setting for all the magical shenanigans, bringing an appropriate and spooky atmosphere. Injected with a lot of energy, the various set pieces provide a good time all round, including distraction from the scarier parts for those extra sensitive audience members.
Providing for the adults, it will be Black and his usual antics that will bring the most pleasure. Looking like his having barrels of fun, he gives an infectious performance you won't help but buy into. A perfect choice for the over-the-top Barnavelt, he brings just the right amount of physicality to the role. Not only that, he has a brilliant sparring partner in Blanchett's Mrs Zimmerman. Refreshingly, they have a platonic friendship that feels really genuine and believable. Being the more dramatic actor, she likewise is able to add the gravitas and emotion needed for the more serious parts of the story.
Vaccaro has a difficult job playing alongside such seasoned actors but he does an admirable job.
Doing solid work as an awkward ten-year-old, he's a good child protagonist and a point-of-view character for younger viewers. He does however, struggle when it comes to the one or two scenes that require a lot of emotion. The young actor just doesn't convince in showing the heartbreak that comes with losing your parents. Kyle MacLachlan, who plays the antagonist, is also underused.
'Despite these few issues, The House with a Clock in Its Walls is another worthy family film starring Jack Black. What it does, is show that Roth has it in him to play around and succeed with other genres. With marvellous cinematography, an engaging story and two terrific leads in Black and Blanchett, this is a movie everyone will delight in.'
Film Details
12 · 1h 54m · 2018.
Genre
Comedy · Family · Fantasy · Horror · Mystery · Sci-Fi · Thriller.
Cast
Cate Blanchett · Colleen Camp · Jack Black · Kyle MacLachlan · Lorenza Izzo · Owen Vaccaro · Renée Elise Goldsberry · Vanessa Anne Williams.
Director
Eli Roth.
Writers
Eric Kripke (screenplay).
Based on the novel by
John Bellairs.
Cinematography
Rogier Stoffers.
Editing
Andrew S. Eisen · Fred Raskin.
Music
Nathan Barr.
Contains
moderate threat · scary scenes.
David Axcell
Film Critic
David has quite a broad taste in film which includes big budget blockbusters and small indie films; including International and Arthouse cinema. As long as it's good in that particular genre, he'll watch anything.
This article is copyright owned by Keltar Limited. All rights reserved.
Plagiarism or unauthorised copying is not permitted.
All other copyrights remain the property of their respective owners.