The Beguiled review – flawed but atmospheric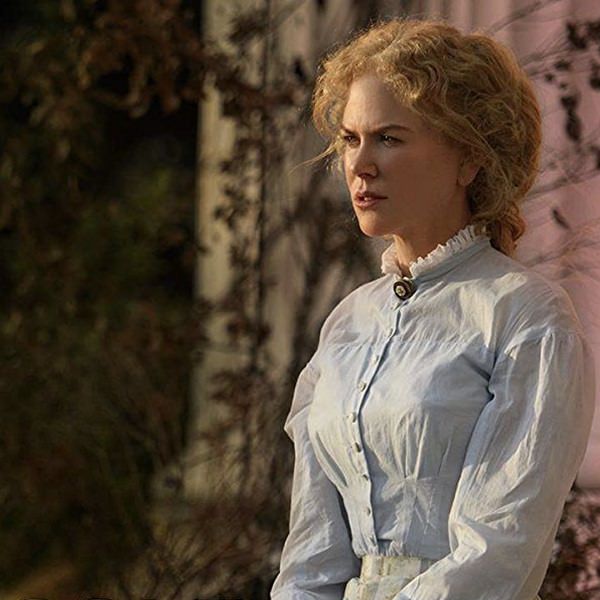 'A wounded Union soldier arrives at a girls school during the American Civil War and his presence arouses an uneasy, sexual excitation among the women.'
Directed and written by Sofia Coppola, and based on Thomas P. Cullinan's 60's novel, The Beguiled is a dark and twisted period drama, that pulls no punches in its depiction of rampant female hormones. Set three years into the American Civil War, the film opens with injured soldier John McBurney (Collin Farrell) being discovered by a little girl in the woods. She takes him to the all-female boarding school she attends where at the moment, only five students and two teachers remain.
Head mistress Martha Farnsworth (Nicole Kidman) takes him in and tends to his wounds. While there though, the handsome corporal begins to disturb the routine of the school, and his presence stirs jealously and rivalry among the young women, including oldest Alicia (Elle Fanning) and teacher Edwina (Kirsten Dunst).
Similar to My Cousin Rachel (2017), which came out a few weeks earlier, The Beguiled is a look into the power of sexuality, and how that basest of instincts can change everything and cloud our judgement. However, instead of from the male perspective, Coppola keeps her story mostly from the women's point of view, and how the presence of a man can stir up feelings and passions that can totally disrupt one's rational thinking. Refreshingly, she doesn't just limit this to the young girls who are coming into womanhood, as McBurney even has an effect on the older Martha and Edwina, showing that desire has no age limit.
This rising sexual tension is built gradually, where it might be the girls just changing the way they dress, or putting on make-up and jewellery. With subtle changes in demeanour, everyone starts vying for the male visitor's attention, where some of the girls aren't adverse to badmouthing each other. Accompanied with Coppola's signature slow and deliberate pace, it's all expertly done.
We get a clear view of this change in mood at two different scenes at the dinner table. The first has all the women seated, dressed in their plain clothes looking very subdued, and with barely a word spoken between them. By the second time, with McBurney joining them, there's a definite atmosphere in the air. Everyone has got a seductive smile on their face, and some are showing more skin than usual.
This won't be a film to everyone's taste, as this isn't a flashy drama with a lot going on. There's no big moments or major revelations, but just a straightforward story about the power of sexual desire. Coppola almost completely omits a score making this a very quiet movie, both literally as well as figuratively, which only adds to the isolation these people find themselves in. It's an unsettling tone she skilfully builds, and it all works together with the script and performances to help propel the story forward.
All the actors do fine work. Due to the period setting, most of the characters feel very repressed and unassuming, but in each main role the cast are able to give a good impression of their general emotion and desire, without the need to overact. Farrell, once again going for something different, is able to bring real ambiguity to the charming McBurney. We're never sure of his true intentions, and although he clearly enjoys all the attention he's getting, we get no certainty if he's manipulating the women so he doesn't have to go back to the war, or if he has genuine affection for one of them.
Kidman plays Martha with a slight touch, also never giving anything away. Is she keeping the corporal around out of Christian charity, or does she too have more earthly inclinations. Either way, her and Dunst, as the older women, play it more mature and restrained, and in the case of Edwina, she may have actual feelings for the young soldier, in which Dunst and Farrell do manage to muster some chemistry.
Fanning, as the oldest teenager, does a superb job as Alicia, who is infatuated with the male presence in the school. Seductively flirting with McBurney every chance she gets, she doesn't have the finesse of the more experienced teachers, and uses every opportunity to seduce him. She plays those two sides well, displaying the woman she wants to be, but also the child she still is; it's a balancing act she deftly performs.
Regrettably, the film is let down by a jarring third act that completely undoes the first two's slow-burn approach. When that gradually built tension finally breaks, it feels abrupt and sudden, totally changing the tone. What's more, character personalities and motivations do a one eighty, taking you right out of the movie, and making you feel like you're watching something utterly different. Unsatisfying and anti-climactic, we're left with an ending that doesn't really leave a mark or feel very memorable.
'The Beguiled is a film that will be an acquired taste for many. It's simply directed, slowly paced, and altogether is a rather quiet and unflashy experience. Still, there's great tension building going on, a moody and dream-like atmosphere, and a couple of very nuanced performances which will intrigue. Really, it's just a shame about that final act which breaks the suspense, undermining all that good that came before, and feels totally out of place.'
David Axcell
Film Critic
David has quite a broad taste in film which includes big budget blockbusters and small indie films; including International and Arthouse cinema. As long as it's good in that particular genre, he'll watch anything.
This article is copyright owned by Keltar Limited. All rights reserved.
Plagiarism or unauthorised copying is not permitted.
All other copyrights remain the property of their respective owners.