Terminator: Dark Fate (2019): 'An Unoriginal But Fun Terminator Movie'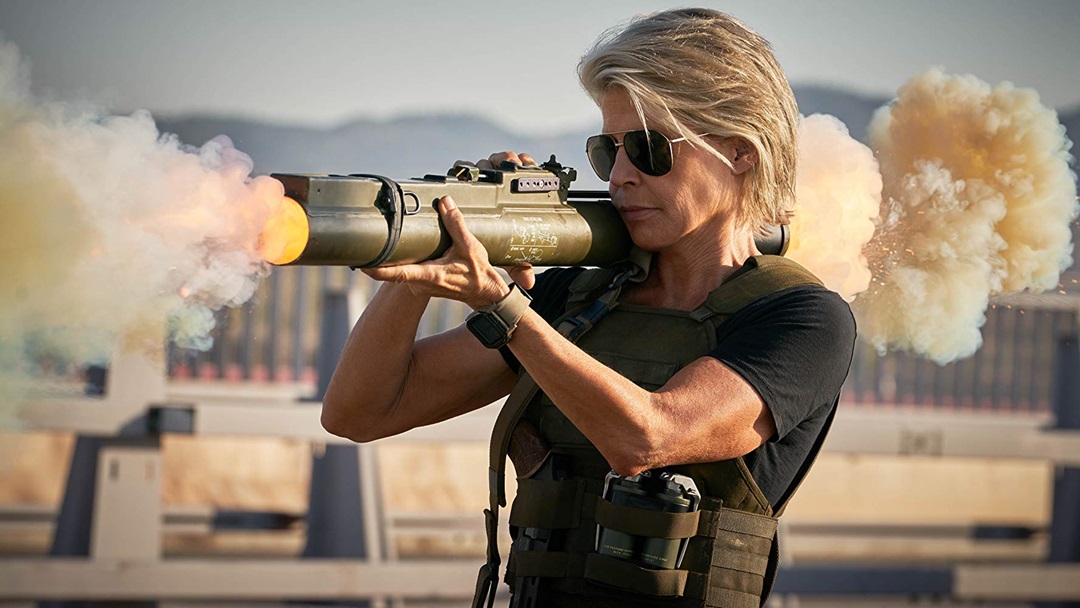 Photo: Kerry Brown/Paramount Pictures 2019.

'Terminator: Dark Fate (2019). Sarah Connor and a cyborg super soldier from the future protect a young woman from a new kind of Terminator.'
Even after the critical failure of Terminator: Genysis (2015), no one can seem to leave this franchise alone. After the first two excellent films, each instalment has just been progressively getting worse in quality. Now, with a story from original creator James Cameron, comes the sixth movie in the Terminator series. Terminator: Dark Fate makes the bold decision to ignore all the terrible films that came after Terminator 2: Judgement Day (1991). Instead, this is a direct sequel to that second film, and also brings back original actor Linda Hamilton as Sarah Connor.
Deadpool (2016) director Tim Miller helms this movie and continues the story set decades after the events of Terminator 2. Similar to previous films, the plot follows a time travelling Terminator (Gabriel Luna) with a mission to kill an important figure for the human resistance. This key individual is Mexican factory worker Dani Ramos (Natalia Reyes). Sent to protect her is Grace (Mackenzie Davis), an enhanced soldier from a future where humanity is at war with a powerful Artificial Intelligence. Overwhelmed, they receive help from Sarah Connor (Hamilton) and the original T-800 (Arnold Schwarzenegger).
'Although not hitting the standard of those first two films, Terminator: Dark Fate is definitely a step in the right direction.'
It's certainly a vast improvement on Genysis, which had its numerous and muddled timelines. More straightforward to follow, it has that simplistic template of a cat-and-mouse formula the earlier instalments had.
Despite that unoriginal format, by ignoring the continuity of films three, four and five, you have a more accessible story. And for audiences who may be stepping into this world for the first time, it will be easier to understand. In some regards, it doesn't even matter if you haven't seen the first two movies, as you'll still comprehend what's going on.
What also helps Dark Fate, are the actors who fill out the story. Despite the uninspired characterisation, they all deliver their best and no one looks like they're phoning it in. Bringing back Hamilton after such a long time could have simply been a cheap gimmick to entice the crowds. That's probably what the studio had in mind, but she does such an excellent job you can't fault her. She slots back into the role that defined her career seamlessly, playing an older and more hardened Sarah. Likewise, you can't have a Terminator movie without Schwarzenegger. He brings something different to this killing machine with a heart, also adding some well-timed humour.
'Newcomers Davis and Reyes are just as good and add a great deal of pathos to their roles.'
Davies in particular is solid in the protector role of Grace. A tortured soldier, she skilfully shows just the right amount of humanity for us to care about her. There's definitely a future as a female action star for her based on what we see here. Reyes is similarly brilliant as the guarded Dani. Like Hamilton before her in that first film, her transformation from vulnerable and scared individual to a potential strong-willed and fearless warrior, is handled aptly.
Through no fault of his own, the only let down is Luna as the advanced Terminator sent to kill Dani. Miller does some interesting things with his design, but he doesn't have the physicality or presence that Schwarzenegger had. On top of that, there's an over reliance on CGI in bringing him to life. Taking you right out of the experience, you'll be hankering for the prosthetics and tangible feel of the Cameron movies.
Speaking of which, when it comes to the action, not everything works. Just because we have all this computing technology nowadays, doesn't mean it has to be used in every set piece. Good old fashioned stunt work and in-camera action can make everything feel so more real and intense when used well. Something the original films had going for it. Having said that, apart from a night time scene where it's really hard to see what's going on, there are some thrilling sequences. As he proved with Deadpool, Miller shoots action well, making much of it exciting and enjoyable to watch. It just would have been better without leaning too much on the computer effects.
'Terminator: Dark Fate is clearly the third best film in this long running franchise.'
Certainly not breaking any new ground and by far not the best action movie, this is still a good deal of fun. With Cameron's input, the return of Hamilton and the always watchable Schwarzenegger, you could give your time to far worse out there. Proving there's still legs in this series, we might just get a seventh film in another few years down the line.
Film Details
15 · 2h 8m · 2019.
Genre
Action · Adventure · Sci-Fi.
Cast
Arnold Schwarzenegger · Diego Boneta · Gabriel Luna · Linda Hamilton · Mackenzie Davis · Natalia Reyes.
Director
Tim Miller.
Writers
Billy Ray (screenplay) · Charles H. Eglee (story) · David S. Goyer (screenplay & story) · James Cameron (story) · Josh Friedman (story) · Justin Rhodes (screenplay & story).
Based on the characters by
Gale Anne Hurd · James Cameron.
Cinematography
Ken Seng.
Editing
Julian Clarke.
Music
Junkie XL.
Contains
bloody images · language · strong violence.
David Axcell
Film Critic
David has quite a broad taste in film which includes big budget blockbusters and small indie films; including International and Arthouse cinema. As long as it's good in that particular genre, he'll watch anything.
This article is copyright owned by Keltar Limited. All rights reserved.
Plagiarism or unauthorised copying is not permitted.
All other copyrights remain the property of their respective owners.