Star Wars: The Rise of Skywalker (2019) – 'A Mediocre End To The Skywalker Saga'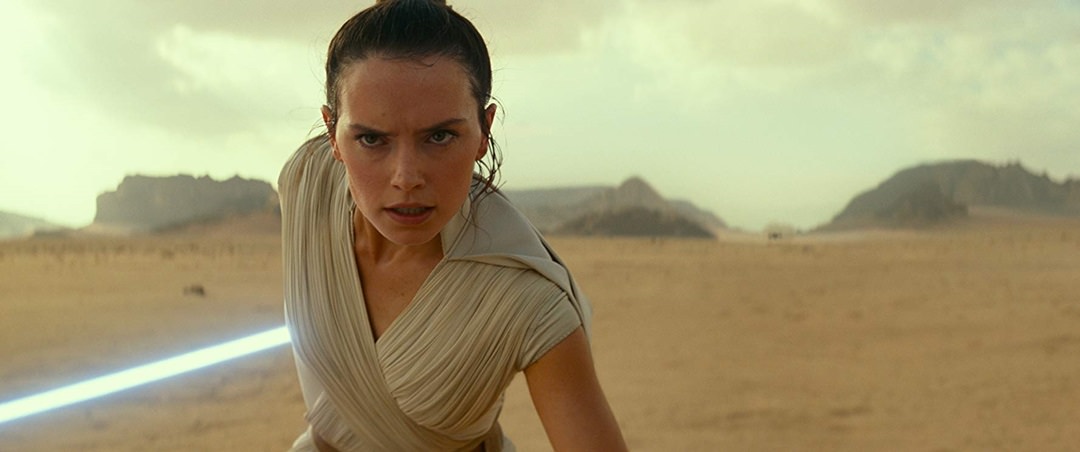 Photo: Lucasfilms/Disney.

Please be aware, this review contains spoilers.
The final chapter in the Skywalker saga. As Rey continues her journey, the Rebellion prepares for a final battle with the First Order.
Though it's barely the end of the franchise, Star Wars: The Rise of Skywalker marks the final instalment of the Skywalker saga. What started out as a singular sci-fi adventure movie, has turned into a multi-generational story about one important family. When Disney bought the rights, it was clear this world would never end. With other stories yet to be told, they're undoubtedly going to squeeze this cash cow to the bitter end. But the Skywalker's were the centrepiece of this universe, and with this final chapter, it truly feels like an end of an era. There's obviously a huge amount of pressure on director J. J. Abrams, who returns after Rian Johnson's controversial take in The Last Jedi (2017).
There's a lot to like about this film. John Williams' iconic score for starters makes everything feel so epic and inspiring. Combined with the brilliant visual effects, your struggle not to get swept up in the emotion of it all. As someone who's clearly a fan of those first Star Wars movies, Abrams fills his with plenty of fan service. It might be somewhat heavy-handed, but if you're on the same wavelength, you'll probably love every second of it. Character references, similar dialogue and general call-backs. These are all utilised skilfully to remind us why we love these movies in the first place.
Star Wars: The Rise of Skywalker
Rated: 12 (UK).
Moderate violence. Threat.
Action, Adventure, Fantasy and Sci-Fi.
Adam Driver*, Anthony Daniels, Billy Dee Williams, Carrie Fisher, Daisy Ridley* and John Boyega*. Joonas Suotomo, Ian McDiarmid, Kelly Marie Tran, Keri Russell, Mark Hamill, Naomi Ackie and Oscar Isaac*.
*These are external links and will open in a new tab.
You likewise can't fault the acting. Despite a large ensemble, Daisy Ridley and Adam Driver are the main characters which drive the story forward. Rey goes on a complex internal journey, and Ridley does a fantastic job of getting us to feel everything she's going through. What's more she's believable as a fighter, and doesn't make it look like she's just executing choreographed moves. The same goes for Driver as Kylo Ren. Still conflicted about his identity, Driver is very convincing in straddling those opposing personalities. He plays-off well with Ridley, and they continue to develop that complicated bond they've had throughout this new trilogy.
John Boyega and Oscar Issac are more in the background as Finn and Poe. They do however, get some good moments, including some humorous one-liners. And as a whole group, they all gel well together, bringing an authentic comradery between them. The old guard is slotted into the story just the right amount, and they never overshadow the new characters. Using stock footage, Abrams gives the late Carrie Fisher the cathartic send-off she deserves. Although a small role, she plays an important part in the story. Billy Dee Williams also returns as Lando Calrissian. Regardless of being there just because he hasn't been in any of the other films, he makes a welcomed addition nonetheless.
Directed by: J.J. Abrams*.
Cinematography by: Dan Mindel.
Story by: Colin Trevorrow, Chris Terrio, Derek Connolly and J.J. Abrams.
Based on the characters by: George Lucas.
'Always in a state of momentum, this is an action-packed movie.'
Fast-paced and with so much going on, I don't think you can call these set pieces boring. It's full of the massive space battles and dramatic lightsabre duels we've all come to expect by now. Visually stunning, Abrams has always been good at delivering spectacle, and The Rise of Skywalker is no exception. Many of the action sequences are jaw-dropping and spectacular. He's really good at getting us emotionally invested in all the drama.
Despite those positives, the movie is not without its faults. Concerning the story and how it fits within this latest trilogy, it is very messy and convoluted. Abrams obviously had a specific idea when he made The Force Awakens (2015). Spending a chunk of time setting up character arcs and a new mythology, you could tell he had a plan on how things would unfold. Then Johnson came in with a completely different and subversive take with The Last Jedi (2017). Quickly undoing all that set up, Johnson clearly wanted to tell his own story. Consequently, you definitely get the impression that Abrams is now trying to shift everything back to his original concept.
This section of the review contains spoilers. Click to view.
'One of those major plot threads is the absence of supreme leader Snoke.'
Built up as the big bad, Johnson decided to unceremoniously kill him off in his movie. This left Abrams with little choice but to go back to Emperor Palpatine (Ian McDiarmid). Now the narrative is forced to make it look like the Emperor was behind everything. That he was the puppet master behind Snoke and the First Order, even though we've had no hint of his return.
Another story element that Abrams picks back up, is the question of Rey's heritage. He establishes her origins as this big mystery he clearly wanted explored further. Only for Johnson to decide her parents were nobodies. Overturned once again, Abrams now makes her the granddaughter of Palpatine, which apparently everyone knew about. All these shifts make it very jarring, with a lot of unnecessary exposition having to be used to bend the plot back to Abrams will.
'Star Wars: The Rise of Skywalker is probably not the satisfying conclusion fans were hoping for.'
At best, it's formulaic with some moments of greatness in there. And at worst, a jumbled attempt by Abrams to reverse all that Johnson did in the previous film. Head of Lucasfilm Kathleen Kennedy evidently didn't have a blueprint of this final trilogy's overall arc. In hindsight, maybe all three movies would have been better under one film maker's singular vision. On its own, this film is entertaining enough. But as a concluding chapter to a nine film saga, it just doesn't fulfil all that it could have been.
David Axcell
Film Critic
David has quite a broad taste in film which includes big budget blockbusters and small indie films; including International and Arthouse cinema. As long as it's good in that particular genre, he'll watch anything.
This article is copyright owned by Keltar Limited. All rights reserved.
Plagiarism or unauthorised copying is not permitted.
All other copyrights remain the property of their respective owners.