Rocketman review – a bold and imaginative bio-pic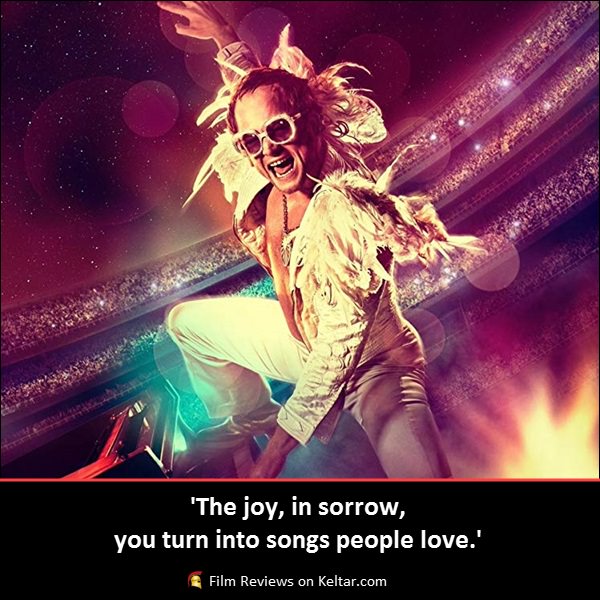 'Told through flashback, music legend Elton John recounts his life from child prodigy to international superstar. Based on a true fantasy.'
Last year, Queen frontman Freddie Mercury got his own bio-pic Bohemian Rhapsody (2018). Brought to life by an Oscar winning performance from Rami Malek, it proved a huge financial success and made just under a billion dollars worldwide. This year we get our next big legendary musician plastered on the big screen in the form of Elton John. Directed by Dexter Fletcher, Rocketman stars Taron Edgerton as the musical Icon, whose songs date back as far as fifty years. Coming out under a year after Bohemian Rhapsody, if this proves just as successful, don't be surprised to see a resurgence in music legends being turned into movies in the near future.
Following the early years of John (Edgerton), the story starts with his days as a prodigy at the Royal Academy of Music. From there he soon meets lyricist Bernie Taupin (Jamie Bell), and the two collaborate together which skyrockets John into superstardom. Struggling with the pressure, he soon finds himself suffering from depression and substance abuse. Making matters worse, he also battles to come to terms with his sexual orientation.
'Those expecting something similar to Bohemian Rhapsody, won't find it here.'
Whereas that film attempted to be more factual and straightforward, Rocketman takes a different approach all together. Most of it is framed as a flashback from John's point-of-view and is presented from his mind. This allows Fletcher freedom in his storytelling.
As the tagline suggests, this is a true life fantasy, coming from the imagination of the narrator, John himself. It may not be how it all happened, but this is his truth, and from his heightened perspective. Subsequently, he sees his life as one big musical, which the movie plainly is. His songs aren't just sung on stage or in studios, but are used to propel the narrative, where John sings to the camera and breaks the fourth wall. Proving a great framing device, this helps the film distinguish itself and stand out.
'Creating a fantastical aesthetic like most musicals, you'll enjoyment of this film will depend on what you want.'
If you'll looking for a whimsical, truth-stretching look at this real-life figure and aren't to fussed about the facts, this should be a great deal of fun for you. In the end, John had a very flamboyant style, and his movie clearly reflects that larger-than-life personality. Likewise, for fans of his music, Rocketman proves a marvellous showcase for some of his biggest hits. Styled in different ways with big flashy dance numbers, Fletcher offers a fresh way to view John's songs in a storytelling format.
Tonally, this is also more hard-hitting and doesn't shy away from the darker aspects of John's past, including his struggle with drug addiction. There is levity and humour, but neither does Fletcher lighten or try to sanitize the story. We're shown John's harsh and sad upbringing. With a distant father and a callous mother, the only support we actually see him get is from his grandmother. Fletcher balances those two sides of the film skilfully, and the songs are inserted aptly to show the emotions John is going through.
Similar to Bohemian Rhapsody, the movie hinges on one man's performance. Edgerton is electrifying as the famous singer, and he effortlessly inhabits John's psyche. From his personality right down to his fashion sense, there are times when you'll swear you're watching the genuine article. What's more, he proves he can hold a tune by brilliantly singing all the iconic songs himself.
'Musically, he puts his own spin on them and seemingly doesn't worry about imitating the legend himself.' 
When it comes to his dramatic performance, he's equally superb, with Edgerton making sure we see Elton John the person, and not just the performer. It's heart-breaking to watch at times, but it's through Edgerton that that outlandish element is grounded in some kind of truth.
Clearly he's the main star, yet it is worth mentioning the rest of the stellar cast. Bell does a solid job as Taupin, in which he displays a really believable and touching friendship with Edgerton. Richard Madden is despicably smarmy as music manager John Reid. He plays a fantastic buttoned-up villain to the more dazzling and flashy John. Outside of those two, there's also Stephen Graham, Bryce Dallas Howard and Steven Mackintosh, who all play small but pivotal roles.
'Rocketman is an imaginative bio-pic that doesn't just go through the motions.'
If you love the music of Elton John and want to see it used in the context of his life, this is the movie for you. Thanks to Edgerton's magnetic performance and Fletcher's bold un-flinching style, this is a fantastical yet still authentic exploration into a living legend.
Film Details
15 · 2h 1m · 2019.
Genre
Biography · Drama · Music · Musical.
Cast
Bryce Dallas Howard · Jamie Bell · Richard Madden · Taron Egerton.
Director
Dexter Fletcher.
Writer
Lee Hall (screenplay).
Cinematography
George Richmond.
Editing
Chris Dickens.
Music
Matthew Margeson.
Contains
drug misuse · sex · very strong language.
David Axcell
Film Critic
David has quite a broad taste in film which includes big budget blockbusters and small indie films; including International and Arthouse cinema. As long as it's good in that particular genre, he'll watch anything.
This article is copyright owned by Keltar Limited. All rights reserved.
Plagiarism or unauthorised copying is not permitted.
All other copyrights remain the property of their respective owners.