Peter Rabbit review – a surprisingly good movie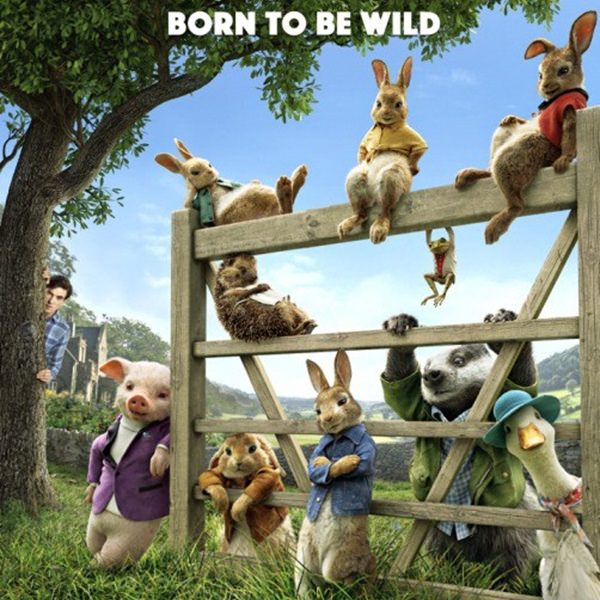 'A plucky rabbit called Peter Rabbit causes trouble in the home and garden of Mr. McGregor.'
After a variety of adaptations, Beatrix Potter's classic Peter Rabbit character is finally getting a big screen outing. Having charmed countless children over the decades, young audiences can now watch this classic creation as a talking CGI animal.
Director Will Gluck has an uphill battle on his hands, as this is very similar to films like Garfield (2004), Scooby Doo (2002), and the Alvin and the Chipmunks (2007). As these movies have proved, adding a computer animated animal to live action, hasn't always produced the best that cinema has to offer.
Voiced by James Corden, Peter Rabbit and his family spend most of their days tormenting Mr McGregor and stealing the vegetables from his garden. When the old timer dies and his nephew Thomas (Domhnall Gleeson) inherits the house, an even more bitter rivalry grows between rabbit and man. Especially when he draws the affection of Bea (Rose Byrne), the next door neighbour who Peter has a mother-like relationship with.
What so easily could have been another terrible children's film about talking animals interacting with the real world, is actually quite good. Usually, these kind of movies are lazily made, relying more on the fact that it's based on an already existing property, and appealing to parents who just want something to take their kids to. Surprisingly, Gluck produces a well thought-out story that both honours Potter's original tales, but also modernises it. Yes, he may succumb to the odd cheap gimmick like easy toilet humour and using modern pop songs, but ultimately, he provides something that feels old-fashioned while still being approachable and for everyone to enjoy.
The story, which was also co-wrote by Gluck, is smart and funny, and the way he deconstructs the tropes for this type of film, is cleverly done. By turning the narrative beats on its head and having an almost knowing and meta style, there's an intelligence you just don't normally see in this overdone kids genre. There's even a witty repertoire in the dialogue that will go over young viewer's heads and be just for the adults.
It's like the film knows what it is and makes fun of itself in a really playful way, which only ends up making it better. However, Gluck isn't afraid to go dark either, and he touches on some mature themes like death and growing up, although it's perfectly balanced within that irreverent and silly tone.
All packaged within a brisk pace, there's plenty of excitement and crazy shenanigans going on to keep it all very entertaining. Indeed, when the conflict really kicks off between Thomas and Peter, we see some solid set pieces that can be quite hilarious at times. The CGI used to bring the animals alive is also better than your average talking animal film, and the rabbits particularly are realistic enough to fit in with the practical environments. Speaking of which, this is a delightful looking movie, and Gluck gets the most out of the beautiful Lake District landscapes. A bulk of filming was also done in Sydney, Australia, and yet, everything skilfully blends together so it all feels like we're in one contained location.
Regarding the performances, everyone does brilliantly with their roles, and they all slot into this world really well. Corden brings a suitable and cheeky voice to the mischievous Peter, and as a comedic actor, has a good delivery to get the maximum laughs. Daisy Ridley, Margot Robbie and Elizabeth Debicki provide the voices of his sisters, but they on the other hand, struggle to add any distinctiveness to their vocals. With the focus on Peter and his family, we only get glimpses of Potter's other famous anamorphic characters.
Byrne is charming and sweet as Bea, who clearly represents Beatrix Potter herself, but the real standout among the live cast, has to be Domhnall's fastidious McGregor. Unexpectedly, he shows a real talent for the slapstick, as he throws himself all over the place, and looking like he's enjoying every minute of it. He equally proves competent in interacting with the CG animals, making it easy to buy into their war as it grows increasingly personal. Playing it over-the-top, he's definitely one of the best things about this movie, and he also gets some great lines as he begins to recognise the absurdity of the situation he finds himself in.
'Although it might upset some Potter purists, Peter Rabbit will be a good time for children and adults alike. With a postmodern bent, a very game cast, and solid animation, this a very entertaining and easy-to-watch children's film. If anything, it also proves Gleeson has a future in comedy after his stint in Star Wars.'
David Axcell
Film Critic
David has quite a broad taste in film which includes big budget blockbusters and small indie films; including International and Arthouse cinema. As long as it's good in that particular genre, he'll watch anything.
This article is copyright owned by Keltar Limited. All rights reserved.
Plagiarism or unauthorised copying is not permitted.
All other copyrights remain the property of their respective owners.