Avengers Assemble review – a fantastic superhero team-up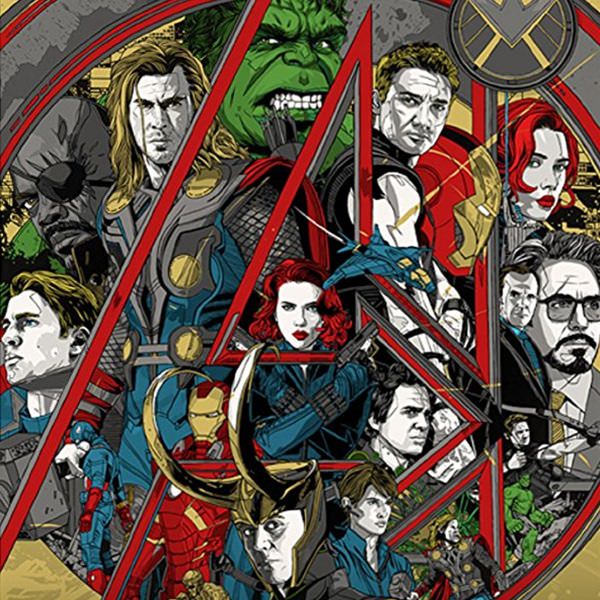 'Nick Fury assembles Earth's mightiest heroes in one place to form a team powerful enough to stop the invasion of Loki and his alien army.'
At the very end of Iron Man (2008), Tony Stark goes home to find Samuel L. Jackson's Nick Fury waiting for him, going on about something called the "Avenger Initiative". From that moment an interconnected universe was born, and fans have been waiting patiently for the pay-off ever since.
Now, four years later after one sequel and three more stand-alone movies, we're finally getting the superhero team-up it's been building to in Marvel Avengers Assemble.
One of the things the film has going for it, is it's directed and written by king of the geeks Joss Whedon. As proved in his cult TV series Buffy the Vampire Slayer (1997-2003), he has a keen eye for balancing an ensemble of different characters and writing believable, compelling relationships. He's suitably chosen for Marvel Avengers Assemble then, as the story focuses on American agency S H.I.E.L.D and there need to bring together Earth's mightiest heroes when the world is in danger.
Said danger being in the shape of Loki (Tom Hiddleston), adopted brother to Thor (Chris Hemsworth). With an army behind him, it's up to Captain America (Chris Evans), Iron Man, the Incredible Hulk (Mark Ruffalo) and Thor to stop him. They're also joined by S.H.I.E.L.D Agents Black Widow (Scarlett Johansson) and Hawkeye (Jeremy Renner).
This movie is a great achievement. By playing the long game and taking their time, Marvel Studios have made one of the best comic book adaptations to come out in quite some time. Really, it's unprecedented, to have all these big superheroes under one film and have it work. It will certainly change the landscape of Hollywood going forward, and the way other studios develop their franchises. Having already done separate origin films for each of the main characters, Whedon doesn't have to cram in loads of character development and exposition. We already have an idea of everyone's motivation and personality, and right from the beginning, he's able to get straight to the meat of the story.
A big part of that story is obviously the mind-blowing action that comes when super humans start clashing. The pressure was on then to add something new and fresh after seeing each hero separately. Fortunately, Whedon doesn't disappoint, as he brings a grand and epic scale to these progressively escalating sequences. Having great special effects at his disposal, by the third act we even see the Avengers finally assembled to battle an alien army in New York City.
Speaking of that final act, the CGI may be dodgy in places, but with such a fast-paced and exciting climax, you'll be far too entertained to care. Despite the enormity of the action sequences, Whedon skilfully makes sure they're still filled with little character moments to keep it as grounded as possible. They're also filled with crowd-pleasing ones (mostly involving the Hulk), in which you'll be cheering and punching the air all the way through.
Known for his witty and whip-smart dialogue. Whedon also creates an interesting dynamic between this disparate group of individuals. Whether it's the sarcastic Stark grating with the more buttoned up Rogers, or Thor struggling to fit in, there's some humorous back and forth between them all. Likewise, it all feels organic, the way they move from strangers to allies, with their interactions being very authentic. Believably written, if you weren't convinced these larger-than-life characters could ever share a movie, you will be by the end.
Bringing these characters to life, are the on-point performances, particularly the four main actors. After two films playing Iron Man, Downey Jr. is quickly becoming synonymous with billionaire playboy Tony Stark. He's great as that type of person who uses humour to mask his insecurities, resulting in some great one-liners. Evans is equally good as Captain America, and he plays that moral centre that the rest of the team can rally around really well.
Newcomer Ruffalo does an excellent job as both Banner and Hulk, bringing the humanity to this dangerous yet misunderstood creature. Even Hemsworth slots in well, despite his character's otherworldly origins. Renner may be misused in the first two acts, but both him and Johansson hold their own alongside the more God-like heroes.
What also helps, is to have Hiddleston back as main antagonist Loki. Clearly one of the better villains to come out of this cinematic universe, he's a great foil for the Avengers. Bringing both charm and commitment to his quest for domination, it's a great performance. Having someone with a familial connection to one of the Avengers adds that personal touch to what's at stake. Less cut and dry, this makes it more messy and interesting than a simple tale of good versus evil.
'Marvel Avengers Assemble is a fantastic climax to four years of careful planning.'
More than meeting fan expectations, it also sets things up for a new phase of movies that will now have a lot of pressure to live up to. Going by this film, however, Marvel Studios will have easily built up enough good faith for audiences to eagerly wait and see what they do next. With amazing action, engaging characters and a hilarious script, this is one of the most fun and entertaining superhero films to come out in a while.
Film Details
12 · 2h 23m · 2012.
Genre
Action · Adventure · Sci-Fi · Superhero.
Cast
Chris Evans · Chris Hemsworth · Jeremy Renner · Mark Ruffalo · Paul Bettany · Robert Downey Jr. · Samuel L. Jackson · Scarlett Johansson · Stellan Skarsgård · Tom Hiddleston.
Director
Joss Whedon.
Writers
Joss Whedon (screenplay) · Zak Penn (screenplay and story).
Cinematography
Seamus McGarvey.
Editing
Jeffrey Ford · Lisa Lassek.
Music
Alan Silvestri.
Contains
moderate fantasy violence.
David Axcell
Film Critic
David has quite a broad taste in film which includes big budget blockbusters and small indie films; including International and Arthouse cinema. As long as it's good in that particular genre, he'll watch anything.
This article is copyright owned by Keltar Limited. All rights reserved.
Plagiarism or unauthorised copying is not permitted.
All other copyrights remain the property of their respective owners.