Jurassic World: Fallen Kingdom review – an entertaining dinosaur movie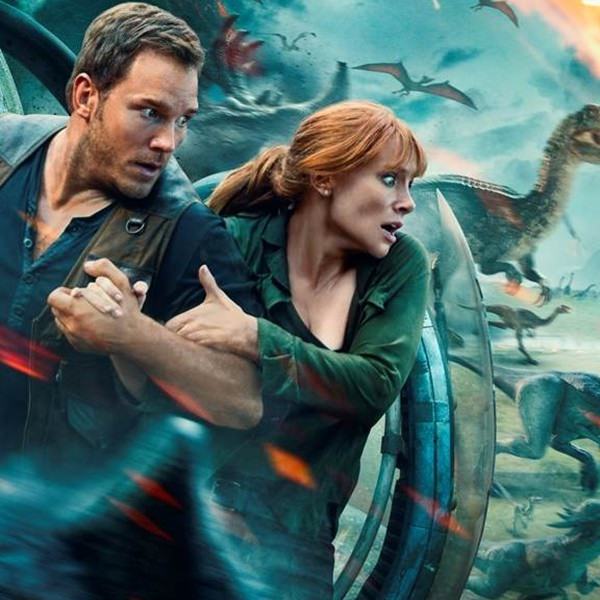 'Three years after the Jurassic World theme park was closed, Owen and Claire are back trying to save the dinosaurs and uncover a conspiracy.'
With the record breaking success of Jurassic World back in 2015, we now have its inevitable sequel, subtitled Fallen Kingdom. Indeed, with its predecessor making over 1.6 billion dollars globally, this seems to have kick-started this dormant franchise back into overdrive. Hoping to strike gold twice, if this new instalment proves just as popular with audiences, we might be seeing a whole new Jurassic Park revival. Colin Trevorrow is still a credited writer, but he's replaced by J. A. Bayona for directing duties. Proving with A Monster Calls (2017) that he knows how to balance spectacle and emotion, he should be a great choice to bring back that sense of wonder the Steven Spielberg original evoked all those decades ago.
Taking place three years after the events of the last film, the dinosaurs are now in danger from an active volcano. Returning characters Claire (Bryce Dallas Howard) and Owen (Chris Pratt) are tasked with rescuing them by Elis Mills (Rafe Spall). When they arrive however, they are double-crossed and discover he plans to use these de-extinct animals for his own nefarious means.
It's safe to say, if you liked the previous movie, you'll probably going to enjoy Fallen Kingdom, as it gives us more of the same. Plenty of dinosaur action with various nods and call backs to the 1993 original, including children in peril. Bayona does a good job of directing bringing some nice visual touches and emotional beats for us to engage with. Thankfully, he does neglect that awe-inspiring tone and atmosphere which usually comes from seeing these magnificent beasts on the screen.
Maybe we've become too use to seeing these technological marvels now and considering this is the fifth instalment in the franchise, some of that magic has been lost. Either way, the emphasis is clearly on entertainment, with this being more an up-market popcorn movie rather than a sophisticated yet action orientated film. Yes, there is a message littered throughout about the danger of genetic power (mostly told through Jeff Goldblum's brief cameo). Mostly though, this is a fun viewing experience in which you can switch your brain off for a while, watch dinosaurs fight each other and hunt humans.
That is certainly what you get and there's rarely a dull moment throughout its two hour runtime. This is a non-stop thrill ride from start to finish and after a short first act setting everything up, the movie runs along at an exciting pace from one set piece to the next. Not only that, but these are well-shot and tense sequences that will have you on the edge of your seats, as our heroes try to out-manoeuvre these deadly creatures at every turn. Whether it's running from an erupting volcano alongside a stampede, or a new ferocious predator stalking its prey in a mansion. These are scenes that will easily keep you invested.
Bringing all this to life are some effective visual effects. Clearly, the stars of Fallen Kingdom are the dinosaurs and they are rendered with brilliant CGI. No animatronics are used, which is a shame because that could have added something more personal and real. For the most part though, they interact with the physical world and actors really well. What the effects team do with Blue is especially good, making this vicious Raptor actually sympathetic, heroic and a character in her own right. Sadly, she's not in the movie that much, but Bayona builds on the previous 'Jurassic World' and develops her relationship with Owen splendidly. More of a focus on that dynamic wouldn't have gone a miss.
Due to that emphasis on the dinosaurs, it's the human element that is the film's weakest aspect. Thinly drawn archetypes, the characters feel like an afterthought and a functional necessity more than actual people. Howard and Pratt get the most to do as the returning stars, but even they don't grow or develop in any interesting way, being those basic protagonists for the audience to empathise with. Saying that, Pratt is apt as the roguish, wisecracking good guy. He's such a likable actor and continues to be the perfect choice for these kind of films. Likewise, Howard brings a good performance and has her own moments to shine.
Unfortunately, there's quite a large cast, and not everyone gets enough time for us to care about them. Amazing actors like James Cromwell and Toby Jones are wasted and get very little to do. Spall is simply that money-grabbing villain with no depth added to him. Even new characters Franklin and Zia, played by Justice Smith and Daniella Pineda are little more than the nervous computer geek and feisty vet.
'Despite the underdeveloped and generic characters, Jurassic World: Fallen Kingdom is still a satisfying dinosaur movie. It may not live up to the legacy of the original, but for a fifth instalment in a franchise, this is a worthy effort. Combined with brilliant set pieces, realistically created creatures this should be a crowd-pleasing and fun time for the majority of audiences.'
Film Details
12 · 2h 8m · 2018.
Genre
Action · Adventure · Sci-Fi.
Cast
BD Wong · Bryce Dallas Howard · Chris Pratt · Daniella Pineda · Geraldine Chaplin · James Cromwell · Jeff Goldblum · Justice Smith · Rafe Spall · Ted Levine · Toby Jones.
Director
J. A. Bayona.
Writers
Colin Trevorrow · Derek Connolly.
Based on characters created by
Michael Crichton.
Cinematography
Oscar Faura.
Editing
Bernat Vilaplana.
Music
Michael Giacchino.
Contains
action violence · moderate threat · occasional bloody moments.
David Axcell
Film Critic
David has quite a broad taste in film which includes big budget blockbusters and small indie films; including International and Arthouse cinema. As long as it's good in that particular genre, he'll watch anything.
This article is copyright owned by Keltar Limited. All rights reserved.
Plagiarism or unauthorised copying is not permitted.
All other copyrights remain the property of their respective owners.