Jojo Rabbit (2019): 'Both An Hilarious And Deeply Moving Film'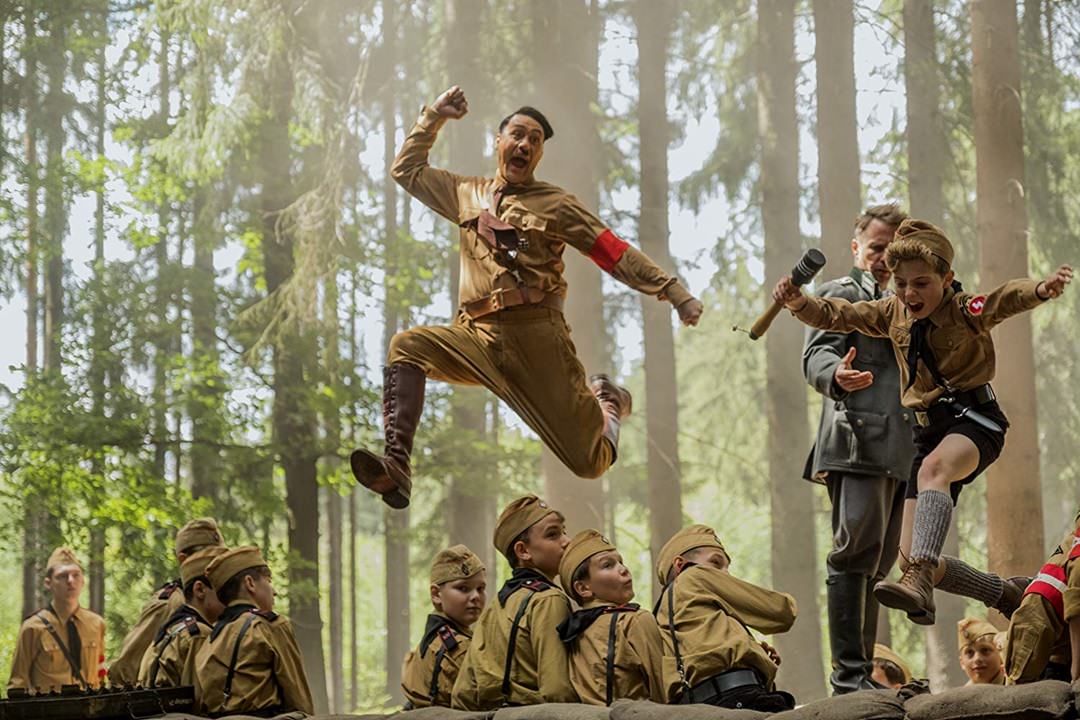 A young boy in the Hitler Youth finds out his mother is hiding a Jewish girl in their attic.
Taika Waititi has always been good at taking dramatic and weighty stories and injecting them with humour. Movies like Boy (2010) or The Hunt for the Wilderpeople (2016) are all good examples of this. They both dealt with young children using their vivid imaginations to escape the harsh reality they found themselves in. The comedy usually came from their interactions with the grown-ups who struggled to see this. His latest film, Jojo Rabbit is very much in that same vein, and centres around another young boy growing up in Nazi Germany.
Set towards the end of World War Two, the story follows ten-year-old Johannes "Jojo" Betzler (Roman Griffin Davis). A member of the Hitler Youth, he believes all Nazi propaganda, especially the derogatory teaching of the Jewish people. Helping him along the way is an imaginary friend in the form of Adolf Hitler (Waititi). His ideology is soon challenged however, when he discovers his mother (Scarlett Johansson) has helped hide a Jewish girl named Elsa (Thomasin McKenzie).
Jojo Rabbit
Rated: 15 (UK).
Bloody images. Discrimination. Sex references. Strong language.
Comedy. Drama. War.
Roman Griffin Davis, Sam Rockwell, Scarlett Johansson*, Taika Waititi and Thomasin McKenzie. Archie Yates, Rebel Wilson and Stephen Merchant*.
*This is an external link and will open in a new tab.
It's not easy finding the humour in such a sombre time in history. You might even argue it's in bad taste and makes light of the serious subject matter. But Waititi not only succeeds in making it funny, but also equally moving and poignant. Able tow that line pitch perfectly, he knows exactly what to make comedic and what to take seriously. At one moment you'll be laughing at a funny visual or the humorously written dialogue. And the next sobbing at the sadness and tragedy of life at war.
'Most of the comedy comes from the fact we're seeing this story unfold through a small child's eyes.'
Ten-year-old boys are very susceptible, and Jojo just accepts and blindly believes everything he's told. That naive nationalism is amusing against the absurd so-called "truths" he's taught. Waititi is also great and writing funny and quirky characters which will crack you up. Particularly with Jojo's imaginary take on Hitler. Childish and supportive, he clearly represents his brainwashed fanatical side. Again, it might be controversial, but Waititi is obviously making fun of the infamous dictator through this child's mind.
Directed by: Taika Waititi*.
Cinematography: Mihai Malaimare Jr.
Screenplay: Taika Waititi.
Novel: Christine Leunens.
*This external link will open in a new window.
Visually appealing, this is a great-looking film, and is full of stylish imagination. Whether provoking sadness, laughter or terror, Waititi is very intentional on how he composes a shot or sequence. There's a series of set-ups and pay-offs which are impeccably placed and paced. They're all timed to bring out the appropriate emotional response from the audience. One scene for example, where Jojo first discovers Elsa hiding in his house is executed like a horror film. This is very fitting, as this is how Jojo has been taught to see Jewish people: as inhuman monsters.
'A great deal of the movie's success, is down to the excellent cast, especially Davis' performance.'
For such a young actor, he does a fantastic job as the easily impressionable Jojo. The whole story hangs on him, and he carries it superbly. He's not only got great timing when it comes to the comedy, but he equally knows how to pull at the heart strings when the occasion calls for it. With real tragedy in his upbringing, you'll find it hard to not to get misty eyed at this adorable little boy. On top of that, he has an excellent rapport with McKenzie's Elsa. Their relationship is at the heart of the story, and propels Jojo's journey to question his beliefs.
Outside of Davis and McKenzie, there's a brilliant ensemble of actors who all aid the narrative. Johansson does fine work as Jojo's mother. She loves her son but hates that he's being brainwashed, and subtly tries to nudge him in a different direction. A low-key performance, it's a nice change to see her do something different. Although Waititi's imaginary Hitler might be what you remember the most, it's Sam Rockwell's demoted army officer who is quietly magnificent. What so easily could have been a one-note caricature, is actually quite a nuanced individual. Rockwell does get some hilarious moments, but there's some hidden depth which he expertly brings out at the same time.
'Jojo Rabbit is certainly another hit for Waititi and proves he's not sold-out exclusively to the Marvel machine.'
Both a hilarious comedy and a deeply sad film, some might find it too jarring or inappropriate. Yet he smartly knows when to crack a joke and when to make it forlorn, keeping it respectful towards these real-life events. With a fabulous child-performance in Davis, some exceptional directing and writing from Waititi. This is a movie that will make you laugh and cry all within the same breath.
David Axcell
Film Critic
David has quite a broad taste in film which includes big budget blockbusters and small indie films; including International and Arthouse cinema. As long as it's good in that particular genre, he'll watch anything.
This article is copyright owned by Keltar Limited. All rights reserved.
Plagiarism or unauthorised copying is not permitted.
All other copyrights remain the property of their respective owners.