It review – a terrifying King adaptation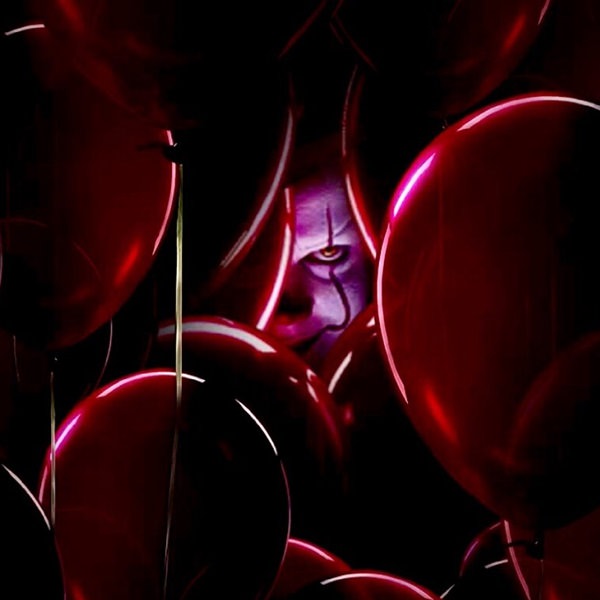 'A group of kids band together to destroy a shape-shifting monster which disguises itself as a clown and preys on the children of a small town.'
Just weeks after The Dark Tower (2017) and the first season of The Mist (2017), we're being offered our third Stephen King adaptation this year with horror film It. Even if you haven't read the very large book it's based on, many will be familiar with the 1990 mini-series, in which Tim Curry played the 'It', in the form of Pennywise the clown.
Although dated now, it does hold a soft spot to that particular generation, who were no doubt put off clowns for life. This means it already has the nostalgia effect going for it, and if that wasn't enough, it's set in the Eighties and based around a group of misfit school kids, making this a film not just for horror fans, but also those wanting to relive a piece of their childhood.
Set in the fictional town of Derry, Maine, during the summer of 1989, the story focuses on a group of outcast school children, led by Bill Denbrough (Jaeden Lieberher).
When Bill's little brother is brutally murdered by a demonic monster that takes the shape of an unholy clown (Bill Skarsgård), this group of unlikely heroes will have to work together to stop its reign of terror. What they discover though, is this entity is far more sinister than they could ever have imagined, as it has the ability to transform in to whatever scares its victim the most. With its influence affecting the whole town and spanning centuries, these young children on the cusp of adulthood, will most definitely have a fight on their hands.
From the very get go, it's clear that It is a Stephen King movie that's worth shouting about. Not only is it an extremely effective scary movie that will have the hairs on the back of your neck stand up, but it also tackles various issues, and is actually thematically rich for a horror film. Indeed, it's equally a coming-of-age tale, as the story's main focus is on a gang of prepubescent school kids dealing with issues of growing up and young love, in addition to death, grieving, and a demonic shape-shifting monster.
Clearly there's a dense narrative here, and director Andy Muschietti makes sure he does it justice. In fact, having read the book, I know there's even more story to be told, and having the film be a part one of two allows him to do that. Really, apart from a few diversions from the source material, in both plot and structure, it's more or less a faithful adaptation, which should also keep fans of the novel happy.
'As a horror film, It more than does its job.'
Blended with an unnerving score, some well executed sound effects and cinematography, there's no doubt you'll have the shivers throughout the movie. Muschietti skilfully creates an atmosphere of evil that permeates through the whole town, where there's always something off about this place, and you can feel the influence this creature has over the people.
He also paces the film well, causing that chilling tone to constantly come and go between the scary moments and the coming-of-age ones. This will really shred at your nerves, lulling you into a false sense of security, only to have a disturbing image pop up out of nowhere and mentally wreck you every time. Jump scares are used as well, but these aren't your typical cheap ones with a lot of build-up, only to have a cat jump in front of the camera or something similarly un-threatening. No, each scare in It feels earnt and justified, and always leads to something genuinely terrifying.
Equally, the film's success as a horror is down to the monster and its execution. There's always been something innately unsettling about clowns, and Muschietti skilfully taps into that fear and exploits it with bloodcurdling efficiency. Despite the fact this entity can take any shape, having it prefer the form of a freakish clown is an ingenious way of giving this antagonist a face and personality to root against. For many, Curry left big shoes to fill, but Skarsgård proves more than capable of introducing an equally intimidating and frightening entertainer. He manages to both honour what Curry did, while also bringing his own take to this iconic villain at the same time. Combined with good CGI and a very physical performance, he presents a horrifying and inhuman creation that will certainly petrify a new generation of horror fans.
Opposite Skarsgård is a young cast who all do a fantastic job of filling out the self-titled 'Losers Club'.
It's clear Muschietti has a great love for these characters, and gives plenty of time over to fleshing them out and getting us to really care about each one of them. Moreover, the fact this movie's set in a small town during the eighties, following a young group of kids on bikes going on adventures, gives the film a similar vibe to eighties classics like The Goonies (1985) and Stand By Me (1986) – another King adaptation.
All the performances are solid, and even with minimal adult involvement, manage to carry this film and keep the audience engaged. They all bring a lot of heart and emotion to their roles, and although at times fall into basic character troupes of the scary movie, are still able to transcend them, offering something more than horror cannon fodder.
'Not only is It an excellent Stephen King adaptation, but it's also a brilliant horror film that will have you squirming in your seats all the way through its two hour plus runtime. What's more, touching on universal themes like friendship and the loss of innocence, it becomes so much more than one genre, and opens it up to a wider audience. With phenomenal performances from the young cast and a horrifyingly executed monster in the shape of Skarsgård, this should be considered one of best scary movies of the year. Just be prepared to have a fear of clowns for the rest of your life.'
Film Details
15 · 2h 15m · 2017.
Genre
Drama · Horror.
Cast
Bill Starsgård · Chosen Jacobs · Finn Wolfhard · Jack Dylan Grazer · Jackson Robert Scott · Jaeden Lieberher · Jeremy Ray Taylor · Sophia Lillis · Wyatt Oleff.
Director
Andy Muschietti.
Writers
Cary Fukunaga (screenplay) · Chase Palmer (screenplay) · Gary Dauberman (screenplay).
Based on the novel by
Stephen King.
Cinematography
Chung-hoon Chung.
Editing
Jason Ballantine.
Music
Benjamin Wallfisch.
Contains
language · strong horror · violence.
David Axcell
Film Critic
David has quite a broad taste in film which includes big budget blockbusters and small indie films; including International and Arthouse cinema. As long as it's good in that particular genre, he'll watch anything.
This article is copyright owned by Keltar Limited. All rights reserved.
Plagiarism or unauthorised copying is not permitted.
All other copyrights remain the property of their respective owners.