Incredibles 2 review – an incredibly great Pixar film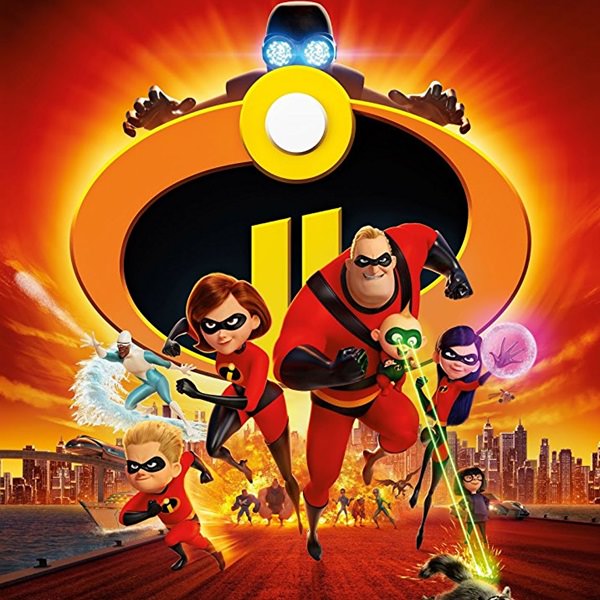 'Mr. Incredible finds domestic life a huge challenge as he tries to look after the family whilst his wife Elastigirl is out saving the world.'
Surprisingly, it's taken fourteen years but we're finally getting a sequel to one of the best superhero films that's not part of the MCU. In fact, Pixar's The Incredibles (2004) came out in the very early days of this cinematic age of superheroes we find ourselves in. It was a great example of how to do a family focused movie within a genre that's normally full of angst-ridden loners. Not only that, but as per usual with Pixar, it wasn't aimed purely for kids, and touched on some rather grownup themes parents can identify with as well. Now, returning director and writer Brad Bird does it again with his belated follow-up, Incredibles 2.
Literally taking place from where the last film left off, the story once again follows the misadventures of the super-powered Parr family. Wanting to change the public's perception of them and with the help of a telecommunications company, they set about making superheroes legal again. However, it's not Bob, AKA, Mr Incredible (Craig T. Nelson) they want as the face of this new campaign, but Helen's Elastigirl (Holly Hunter). With their roles now reversed, Bob must be the stay-at-home parent while Helen gets to be in the limelight.
Pixar once again delivers not just a great children's film, but a great film in general. This is a movie that is for everyone and can be enjoyed by all ages. What's more, it even rivals the vast list of live-action superhero flicks we're usually bombarded with every year, which is no small feat. One of its main strengths is that Bird doesn't cater his movie purely for the younger audiences. By blending comic book antics within a family drama, there's actually plenty for the parents to connect with to. Bird isn't afraid to tackle the more mature themes his story has to offer. Nor does he succumb to cheap gags or an overuse of toilet humour to get an easy laugh. He instead trusts his audience, young and old, to follow the plot and let the comedy flow more organically from the characters situations.
When it comes to those themes, like its predecessor, Incredibles 2 portrays a believable husband and wife. This isn't a fairy tale marriage with zero problems and no fighting. Where they're constantly in that state of first love and the kids are perfectly behaved. No, this is a real marriage with real issues and no easy solutions. Really, it's a breath of fresh air to have a relationship in a family movie that feels authentic, and that people can relate to. Even reversing the roles and having Bob stay home with the kids adds a very modern and progressive element to the story. Within that premise, Bird gets to explore what it means to be masculine in today's contemporary culture. Along with the challenges of fatherhood and being a supportive husband in a more egalitarian society.
Outside of the family dynamic, Bird equally portrays what a world full of superheroes might realistically look like. That not everyone is going to appreciate their involvement in crime fighting. Causing a lot of collateral damage, one character even points out that if they had done nothing, it would have turned out better.
Yet, despite these very involved explorations, this is still a movie for younger viewers as well. As such, Bird makes sure there's a sufficient amount of action and a fast paced energy to entertain the little ones. Although visual effects have come on leaps and bounds over the decades, one of the best things about animation is the limitless possibilities of what can be achieved. Taking full advantage of the format, Bird concocts set pieces that easily give some of the best live-action scenes a run for their money. These are fantastic sequences full imagination and excitement. Some of the close-quarter battles are even quite brutal, where you'll feel every punch and kick, helping build real stakes into the story. Likewise, keeping that retro Sixties aesthetic from the original, this aids in providing a visually distinct world in which all this great action takes place.
All the cast do brilliantly in adding depth to their characters. Yes, you can hear the age in Nelson and Hunter's voices after all this time, but their tones are so distinct, you couldn't do Mr Incredible and Elastigirl without them. Creating a real partnership between this superhero couple, they also have a great chemistry with their children Dash (Huck Milner) and Violet (Sarah Vowell). The real scene stealer is baby Jack Jack (Eli Fucile). With an assortment of powers, he contributes a lot to the comedy, especially when it comes to Bob having to look after him. There's also a variety of other new characters, including new hero Void (Sophia Bush), all bringing something different to this follow-up, and not just repeating the same formula.
'Incredibles 2 is another standout superhero movie with Pixar continuing to prove they're a studio not just for kids. There's also a story here that appeals to everyone, combined with high-octane and thrilling action. For a sequel, it also builds on the original and shows it was worth the fourteen year wait.'
Film Details
PG · 1h 58m · 2018.
Genre
Action · Adventure · Animation · Comedy · Crime · Family · Sci-Fi · Superhero.
Cast
Craig T. Nelson · Eli Fucile · Holly Hunter · Huckleberry Milner · Samuel L. Jackson · Sarah Vowell.
Director
Brad Bird.
Writer
Brad Bird.
Cinematography
Erik Smitt · Mahyar Abousaeedi.
Editing
Stephen Schaffer.
Music
Stephen Schaffer.
Contains
mild bad language · violence.
David Axcell
Film Critic
David has quite a broad taste in film which includes big budget blockbusters and small indie films; including International and Arthouse cinema. As long as it's good in that particular genre, he'll watch anything.
This article is copyright owned by Keltar Limited. All rights reserved.
Plagiarism or unauthorised copying is not permitted.
All other copyrights remain the property of their respective owners.