Happy Death Day 2U review – familiar but fun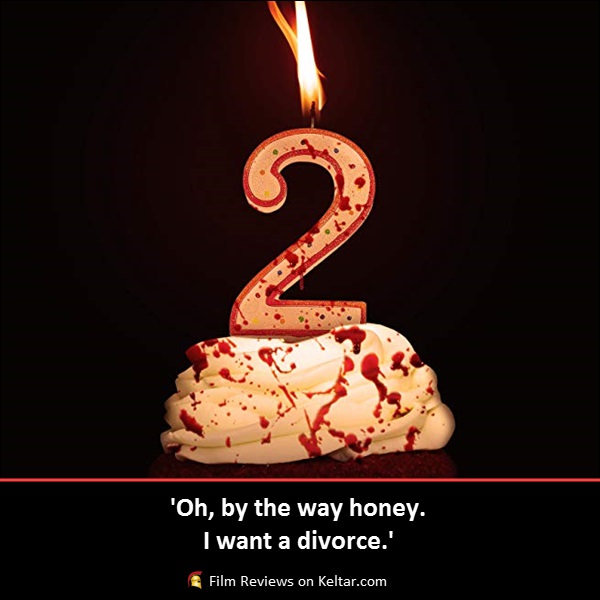 'College student Tree Gelbman must break out of another time loop. This time the killer not only threatens her but also targets her friends.'
Happy Death Day was a pleasant surprise and unforeseen success when it came out back in 2017. Taking the popular time loop concept and placing it within a slasher movie, director Christopher Landon was able to do something different. He got to play around with the genre, where the mean girl who usually dies at the beginning of these films is actually the main protagonist.
Combined with a comedic tone it proved a big hit with audiences, making a ton of money when compared to its small budget. Predictably, a sequel was soon greenlit, and Happy Death Day 2U looks to follow main character Theresa "Tree" Gelbman (Jessica Rothe) as she continues to repeat the same day over and over again.
Following on from the previous movie, Tree now believes she has freed herself from the time loop.
No longer trapped with a masked killer that reset the day, she has a new lease on life. Things gets a lot worse however when she suddenly wakes up in that same loop. Only this time, there are differences, with another baby-masked killer stalking her. Now, Tree has to convince all her college friends what's happening all over again and find a way to break the cycle.
What could have been an easy and unoriginal repeat of the first film, is really quite fun. There are some obvious and familiar story beats, but Landon makes the clever decision to expand the narrative of the previous movie. Instead of just doing a different day to repeat, he explores what caused that first time loop. By offering some answers, it actually feels like a continuation of a story, and gives Tree a bigger, more interesting arc. Having said that, this is not a heavy or thematically complex film. Like the original, this is some light entertainment that is very easy to watch.
'Despite being marketed as a scary movie, Happy Death Day was comedic in tone, which ended up working in its favour.'
Landon absolutely doubles down on that approach for the sequel. In truth, the horror aspect is a very small part of the narrative, and feels more like it's there because it has to be. That mystery aspect of who the killer is has no bearing on the overall plot. Even when you do find out at the end it feels cheap and tacked on just for the sake of closure.
Leaning more on that sci-fi element, there's a clear homage to Back to the Future Part II (1989). Exploring the idea of multiple dimensions, it really is more of a science fiction comedy than a slasher. With clear references, Landon even has a similar score in places that is very evocative of that time-travel classic. Making no attempt to hide that influence, he wears it as a badge of honour. That meta take might make it difficult for some audiences to connect with. But those familiar with the material he's paying tribute to, will find an extra level of enjoyment to be gleaned.
As a comedy Happy Death Day 2U is pretty successful, and really is the movie's main strength.
If you want more horror than comedy, then this isn't for you. Fast-paced and with a lighter touch, you'll find yourself smiling more than being scared. Tonally, it's the kind of film you can enjoy anywhere and at any time, easily grabbing your attention for ninety minutes.
A lot of this has to do with Roth's committed performance as Tree. She carries this film brilliantly, throwing herself into everything with a crazy amount of energy. Regardless of a misleading intro, the story is all about her, and she delivers in every aspect of her character. Just the way she reacts to the same predicament she finds herself in is skilfully and hilariously done.
There's a series of sequences taken right out of Groundhog Day (1993) that will particularly bring the most laughs. Not just in the comedy, but when it comes to those more emotional moments, she's equally great. Pulling you right into her journey, she's definitely the best thing about this movie.
The only let down is the rest of the cast's development. It's a consequence of the time loop framework, that the rest of the characters are literally stuck in the same moment. They're good in what they have to do, like Israel Broussard's love interest and Ruby Modine's best friend. Unfortunately, there's no room for growth or progress, and the rest are mostly there for comic relief. Saying that, some do play that role rather well, especially Steve Zissis as the college dean.
'If you found the first one a lot of fun, Happy Death Day 2U should be right up your alley. Although not breaking any new ground in the overpopulated time loop film, this is certainly one of the better ones out there. What's more, as a sequel, it elaborates and builds on the previous story instead of just re-treading the same old formula. Focusing more on character and with a winning performance from Rothe, there's plenty of reasons to go back to this movie again and again.'
Film Details
15 · 1h 40m · 2019.
Genre
Horror · Mystery · Thriller.
Cast
Israel Broussard · Jessica Rothe · Phi Vu · Rachel Matthews · Ruby Modine · Sarah Yarkin · Steve Zissis · Suraj Sharma.
Director
Christopher Landon.
Writer
Christopher Landon.
Characters by
Scott Lobdell.
Cinematography
Toby Oliver.
Editing
Ben Baudhuin.
Music
Bear McCreary.
Contains
strong violence · threat.
David Axcell
Film Critic
David has quite a broad taste in film which includes big budget blockbusters and small indie films; including International and Arthouse cinema. As long as it's good in that particular genre, he'll watch anything.
This article is copyright owned by Keltar Limited. All rights reserved.
Plagiarism or unauthorised copying is not permitted.
All other copyrights remain the property of their respective owners.