Good Movies on Netflix UK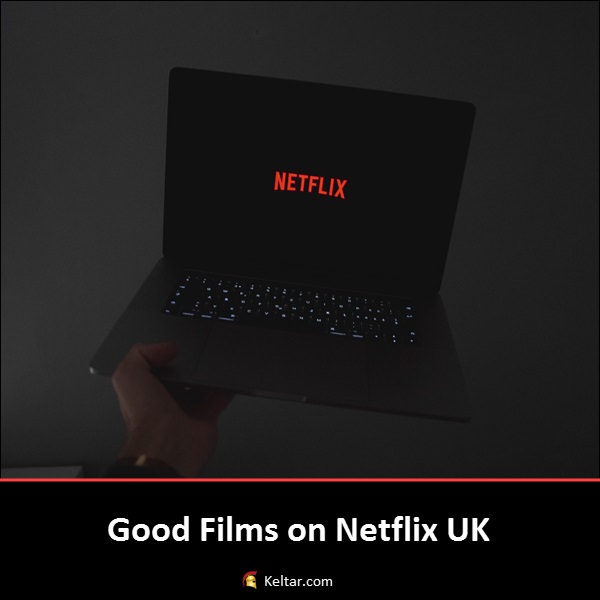 'Trying to find a good movie to watch on Netflix? We review and recommend the best movies we can find.'
Our aim is to find you a good film to watch on Netflix. Have a browse through the list below and hopefully a few movies will grab your attention. When you click on a reviewer's rating (positive, mixed or negative), a new tab will open in your browser with the movie's review. All reviews are spoiler-free with paragraphs that could spoil your enjoyment of the movie hidden from view.

The Lord of The Rings: The Fellowship of The Ring (2001)
'The ultimate fantasy film'
Adventure · Drama · Fantasy
In the land of Middle Earth, the fate of the world is threatened when the One Ring is discovered. If reunited with its maker, the powerful Sauron could conquer all peoples. Fortunately, fate has placed it in the hands of a young Hobbit named Frodo Baggins. Aided by an assortment of allies, Frodo sets out on a perilous mission to destroy the ring before it falls into enemy hands.
Back to the Future (1985)
'Pure unadulterated entertainment'
Adventure · Comedy · Sci-Fi
It's 1985 and high schooler Marty McFly enjoys nothing more than spending time with his girlfriend and playing in his band. But when scientist Doctor Emmett Brown accidently strands him in 1955 with his time travelling DeLorean, he'll have to race against time to get back home.

The Terminator (1984)
'An intense and superbly-made sci-fi'
Action · Sci-Fi
A cyborg from the future is sent to the past to terminate Sarah Connor, who will become the mother of the messianic leader of the Human resistance. Kyle Reese, a human solider, is also sent back in time to protect her, and save mankind from the machine uprising.
Blade Runner 2049 (2017)
'A visual feast for the senses'
Mystery · Sci-Fi · Thriller
Set thirty years after the last film, a new blade runner stumbles onto a conspiracy that could plunge society into chaos. His discovery leads him to Rick Deckard, a former blade runner who's been missing for decades.
Baby Driver (2017)
'A masterfully-made action movie'
Action · Comedy · Crime · Music · Thriller
After a car accident at a young age, Baby develops permanent tinnitus and uses music to drown out the constant ringing in his ears. He's also a talented getaway driver who works for criminal mastermind Doc. When Baby falls for young waitress Deborah, he wants out of the criminal life, but soon finds it's not going to be as simple as just walking away.
Stranger Than Fiction (2006)
'A delightful and heart-warming comedy'
Comedy · Drama · Fantasy · Romance
Harold Crick works for the IRS and lives a solitary and repetitive existence. When he begins hearing a woman's voice narrating his life though, he wonders if he's having some kind of mental breakdown. Things take a turn for the worse though, when this voice predicts
his upcoming death.
Guardians of the Galaxy Vol. 2 (2017)
'Hilarious and entertaining'
Action · Adventure · Fantasy · Sci-Fi
The Guardians return, and it's not long until they're in trouble again. After a job goes badly, they soon find themselves on the run and face to face with a mysterious figure claiming to be Star Lord's father.

Spider-Man: Homecoming (2017)
'A return to form for the wall-crawler'
Action · Adventure · Fantasy · Sci-Fi
Teenager Peter Parker struggles balancing high school life and his extra-curricular activities as superhero Spider-man. Wanting to join the Avengers, he comes under the mentorship of Tony Stark (Iron man). Desperate to prove himself he goes after criminal Adriane Toomes on his own, without realising how unprepared he truly is.
It Follows (2014)
'An atmosphere drenched horror'
Horror · Mystery
College student Jay lives a content life with her friends in the suburbs. When she sleeps with her new boyfriend though, she contracts a supernatural curse and is followed by a mysterious entity that only she can see.
Hush (2016)
'Tense and thrilling from beginning to end'
Drama · Horror · Thriller
Maddie is deaf and lives a solitary life in the woods as a writer. One night a masked stranger appears at her window and a fight for survival ensues.
Lights Out (2016)
'A fear inducing experience that will keep your lights on for days'
Fantasy · Horror
A young woman must battle a terrifying entity that can only be seen when the lights are out, and has been haunting her family for years. When her little brother begins seeing this dangerous poltergeist she must return home to save him and finally put an end to this family curse.
The Girl with All The Gifts (2016)
'A surprisingly original and fresh take on the zombie film'
Drama · Horror · Thriller
In a dystopian near future, humanity has been ravaged by a mysterious fungal disease, which those who are afflicted are robbed of all free will and turned into flesh-eating 'Hungries'. When there base is over run, a scientist and a teacher must set out on a journey of survival with a special young girl who may hold the key to a cure.
The Conjuring 2 (2016)
'Sees the Warren's return for another spine tingling case'
Horror · Mystery · Thriller
Set in 1977 and based on a true account, The Conjuring 2 see's real life ghostbusters Lorraine and Ed Warren come out of self-imposed exile and travel to Enfield in North London. There, they meet Peggy Hodgson, an overwhelmed single mother of four who tells the couple that something evil is in her home. Ed and Lorraine believe her story when the youngest daughter starts to show signs of possession. As the Warrens try to help the besieged girl, they become the next target of the malicious spirits.
Kill Bill: Vol 1 (2003)
'A rip-roaring rampage of revenge'
Action · Crime · Thriller
After being left for dead at her own wedding, an ex-assassin goes on a journey of revenge against her former colleagues. Writing a list, she seeks then out one by one, saving gang leader Bill for last.
Annihilation (2018)
'A thought-provoking sci-fi'
Adventure · Drama · Fantasy · Horror · Mystery · Sci-Fi · Thriller
A biologist's husband disappears during an expedition into a strange quarantined zone known as the Shimmer. She puts her name forward for the next trip to seek answers, but does not find what she's expecting.
Apostle (2018)
'A superbly crafted horror film'
Horror · Mystery · Thriller
In the early Twentieth century, a man travels to a remote island to search for his missing sister after she is kidnapped by a mysterious religious cult.
Journey's End (2017)
'A brutal and gut-punching war film'
Drama · War
March, 1918. C-company arrives to take its turn in the front-line trenches in northern France led by Captain Stanhope. With a German offensive just around the corner, the soldiers distract themselves with talk of food and their past lives.
Wind River (2017)
'A hauntingly beautiful mystery film'
Crime · Drama · Mystery · Thriller
When the body of a young woman on a Native American reservation is discovered, FBI agent Jane Banner is sent to investigate. Teaming up with a local tracker as a guide, they soon find themselves in danger the closer they get to unravelling the mystery of the woman's death.
Colossal (2016)
'A monstrously good film'
Action · Comedy · Drama · Fantasy · Sci-Fi
Gloria is an out-of-work party girl who enjoys a drink a bit too much. After being kicked out of the New York apartment she shares with her boyfriend, she's forced to move back to her middle American hometown. Things then get really weird when news reports start breaking out about a giant monster wreaking havoc in Seoul that Gloria is somehow connected to.
Okja (2017)
'A multi-layered film with heart'
Action · Adventure · Drama · Sci-Fi
For ten years Mija has been caretaker and friend to a strange animal known as Okja. When a multinational conglomerate takes Okja for themselves and transports her to New York, Mija sets out on a daring rescue mission to get her dearest friend back.

In the Tall Grass (2019)
'A solid little horror film'
Drama · Horror · Thriller
After hearing a young boy's cry for help, a brother and sister venture into a vast field of tall grass in Kansas. They soon discover however, that something sinister is at work within this patch of land, and the deeper they get, the less chance they have of finding a way out.
Beauty and the Beast (2017)
'A visually stunning and whimsical musical'
Family · Fantasy · Musical · Romance
Belle is a strong, smart, independent woman who lives in a small minded village who don't understand her. When her father is kidnapped by a ferocious beast living in a cursed castle, Belle offers to swap places with him and stay in the castle forever instead. What starts out as a hostile relationship soon thaws into something more sweet, as Belle slowly starts to see behind the Beast's terrifying exterior and into the heart of a hurting but kind young man.
Atomic Blonde (2017)
'A white-knuckle experience from beginning to end'
Action · Adventure · Drama · Mystery · Thriller
Lethal MI6 agent Lorraine Broughton heads to Berlin just before the collapse of the wall in the late Eighties. Her mission: to retrieve a priceless document and take down a ruthless espionage ring.
Ghost in the Shell (2017)
'A stylishly-made, and spectacle filled sci-fi film'
Action · Crime · Mystery · Sci-Fi · Thriller
In the near future, robotic technology has advanced enough that most of the world's population have been augmented with cybernetics enhancements. Major Mira Killian is a human cyborg working for an elite task force known as Section 9. Her team is on the hunt of a deadly criminal, whose main goal is to destroy one of the leading companies in cyber technology.
Get Out (2017)
'A terrifying and hilarious social horror'
Horror · Mystery
Chris and Rose have been seeing each other for a while now, and have finally reached the stage of their relationship where they meet the parents. They go away for the weekend to meet Rose's family, and what first seems like an awkward but innocent atmosphere regarding their daughter's interracial relationship, soon turns into something far more sinister and disturbing.
The Ritual (2017)
'A spooky and unsettling horror film'
Horror
A group of male friends decide to go on a hiking trip in honour of one of their friends who recently died. When they get lost in the woods a dark presence begins stalking them.
It Comes at Night (2017)
'An unconventional yet terrifying horror'
Horror · Mystery
A family make ends meet in a post-apocalyptic landscape by isolating themselves from the rest of humanity. Their fragile existence is threatened though when a young family appear seeking shelter.
Cargo (2017)
'A solid addition to the zombie movie'
Drama · Thriller
A violent pandemic sweeps across the globe, turning all those who are infected into murderous creatures. A father who has succumbed to the virus travels the Australian outback with his infant child, desperate to find someone who will care for her before he turns.

El Camino: A Breaking Bad Movie (2019)
'A film just for the fans'
Action · Drama
Set after the events of the Breaking Bad finale, the story follows former meth cook Jesse Pinkman. In the wake of his dramatic escape from captivity, Jesse must now come to terms with his past in order to forge some kind of future.
What Happened to Monday (2017)
'A well thought out sci-fi film'
Action · Drama · Sci-Fi · Thriller
In the not-to-distant future, to battle overpopulation, a global one child policy is enforced by a shady corporation, and any family who are discovered to have more than one child will have them taken away. Six septuplet sisters will have to band together then when one of their sisters goes missing and use all their different skills to bring her home.
Life (2016)
'A chilling sci-fi horror'
Drama · Horror · Sci-Fi · Thriller
A team of astronauts are on a mission to pick up a probe from Mars, which is holding the first evidence of extra-terrestrial life. On the way back to Earth, they soon discover that the lifeform is far more deadlier than they could have imagined. With time running out, they must find a way to destroy it before they get back to Earth.
Extremely Wicked, Shockingly Evil and Vile (2019)
'A competently crafted thriller'
Biography · Crime · Drama · Thriller
In Seattle 1969, handsome drifter Theodore "Ted" Bundy meets Elizabeth Kendall, a college student and single mother. The two begin dating and Ted helps Liz raise her young daughter. Little does she realise that Ted is a vicious serial killer and is the subject of a national manhunt.
The Babysitter (2017)
'A disposable but fun horror-comedy'
Comedy · Drama · Horror
One night while his parents are out, twelve year old Cole witnesses his babysitter and her friends perform a human sacrifice as a part of their satanic cult. When he's discovered, it's up to this young prepubescent to survive the night and not become the next victim of these committed devil worshippers.
A Cure for Wellness (2016)
'A unique psychological horror'
Drama · Horror · Thriller
A young stockbroker travels to a remote location in the Swiss Alps to retrieve his company's CEO from a mysterious wellness centre. However, he soon discovers that things are not what they seem, and his very sanity is tested when he unravels the centre's horrifying secrets.

Fast & Furious 8 (2017)
'Entertaining and action-packed'
Action · Adventure · Crime · Thriller
Exonerated from all crimes, the Fast and Furious crew are now living relatively normal and peaceful lives. Things change though when a new enemy surfaces and seemingly seduces Dom back into the criminal world. Hurt and confused, this makeshift family must once again band together and use all their driving skills to put a stop to Dom's betrayal.
The Mummy (2017)
'A fun adventure film'
Action · Adventure · Fantasy · Horror
A cruel princess of ancient Egypt seeks unlimited power, only to be stopped and encased in a tomb by her people. In present day Iraq, Nick Morton, a soldier-for-hire, discovers her prison and unwittingly resurrects and releases this ancient evil upon the Earth.
Bright (2017)
'A unique urban fantasy'
Action · Crime · Drama · Fantasy · Sci-Fi · Thriller
Taking place in an alternate version of reality, where human beings and mystical creatures live side by side. A human cop is forced to partner up with the country's first orc police officer. Despite their differences. The pair must quickly learn to trust one another as they investigate a dangerous case involving a powerful magic wand, and a mysterious prophecy.
Shimmer Lake (2017)
'A solid mystery crime thriller'
Crime ·Drama · Mystery · Thriller
Told in reverse, a small town Sheriff hunts down three bank robbers, one of whom happens to be his brother.
Death Note (2017)
'A conventional but enjoyable adaption'
Fantasy · Horror · Mystery · Thriller
A supernatural notebook with the power to kill anyone whose name you write in it, is found by high school genius Light Turner. Seeing an opportunity, he begins killing people he deems not worthy of life, only to draw the attention of a world famous detective who will stop at nothing to find him.
The Beguiled (2017)
'Flawed but atmospheric'
Drama
Corporal John McBurney is a Union soldier during the American Civil War. When he's wounded in battle he deserts his post only to be found by a group of girls from a small, all female boarding school. Head teacher Martha Farnsworth takes the soldier. It's not long though before sexual tensions result in jealously and rivalry as the women tend to this wounded man.

The Dark Tower (2017)
'A messy and bland adaption'
Action · Adventure · Fantasy · Horror · Sci-Fi · Western
In a parallel world, the last Gunslinger, Roland Deschain, has been locked in a never-ending battle with the Man in Black. Determined to prevent him from toppling the Dark Tower, which holds the universe together, he must race across the land and defeat his enemy. With the fate of the worlds at stake, good and evil will collide in the ultimate showdown.
Transformers: The Last Knight (2017)
'A boring and bloated sequel'
Action · Adventure · Fantasy · Sci-Fi · Thriller
Optimus Prime is missing and the Transformers remain outcasts on Earth and at war with humanity. The only way to put things right is to look into the past, and the hidden history of transformers on Earth. It's now up to Cade Yeager, Bumblebee, an English lord, and an
Oxford professor to save the world.
The Circle (2017)
'A boring techno-thriller'
Drama · Sci-Fi · Thriller
A young woman with an ill father lands a job with a powerful internet company called The Circle. As she quickly rises through the ranks she is selected to try out the company's newest technology, which she eagerly accepts. Not long though, she soon finds herself in danger and discovers the company's head founder has a dark agenda.
The Great Wall (2016)
'A CGI bloated mess'
Action · Adventure · Drama · Fantasy
Set in 15th-century China, a group of European warriors join up with the Chinese army to defend the Great Wall from a supernatural menace.
Rings (2017)
'A pointless and lazy sequel'
Drama · Horror
A young woman becomes worried about her boyfriend when he explores a dark experiment surrounding a mysterious videotape said to kill the watcher seven days after they have viewed it. She sacrifices herself to save her boyfriend and then sets out to discover the origin of the cursed video and find out if there's a way to save herself.
Assassin's Creed (2016)
'Another dry and lifeless video game adaptation'
Action · Adventure · Fantasy · Sci-Fi
Through a revolutionary technology that unlocks his genetic memories, Callum Lynch experiences the adventures of his ancestor, Aguilar, in 15th Century Spain. Callum soon discovers he is descended from a mysterious organisation, the Assassins, and soon gains the knowledge and skills he will need to take on the oppressive and powerful Templar organization in the present day.
War Machine (2017)
'An unengaging war movie'
Comedy · Drama · War
Four-star general, Glenn McMahon, leaps in like a Rock Star to command NATO forces in Afghanistan, only to be taken down by a journalist's no-holds-barred exposé.
Pirates of the Caribbean: Salazar's Revenge (2017)
'Nothing special'
Action · Adventure · Fantasy
An undead army of pirates lead by the powerful Salazar are out looking to settle an old score with Captain Jack Sparrow. The only thing that can save him is the ancient Trident of Poseidon, with witch the holder has the power of the ocean. With the help of young sailor Henry, astronomer Carina, and old rival captain Barbossa, they set of to find this mysterious item and put a stop to Salazar once and for all.

Flatliners (2017)
'A pointless and lifeless remake'
Drama · Horror · Sci-Fi · Thriller
Five medical students decide to embark on a dangerous experiment to see what happens after you die. They each take turns in stopping their hearts and then resuscitating them to see if there really is a life after death.
David Axcell
Film Critic
David has quite a broad taste in film which includes big budget blockbusters and small indie films; including International and Arthouse cinema. As long as it's good in that particular genre, he'll watch anything.
This article is copyright owned by Keltar Limited. All rights reserved.
Plagiarism or unauthorised copying is not permitted.
All other copyrights remain the property of their respective owners.