Fast & Furious 8 review – entertaining and action-packed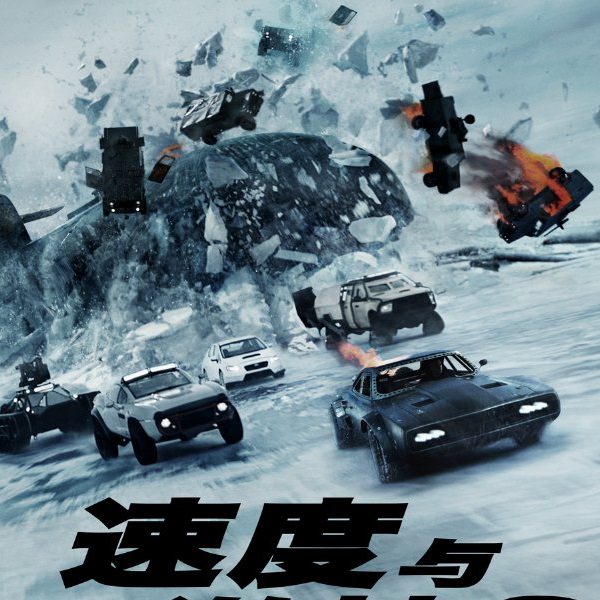 'The crew are living relatively normal lives until a new enemy surfaces and seduces Dom back into the criminal world.'
For what they are, the Fast & Furious films are great examples of what a popcorn movie should be. These aren't high art, sophisticated, and richly layered films that challenge your perspective on life and the way you view the world. Where the acting and writing is so good that it emotionally engages you and lingers in your mind for days on end. Ever since Dom and his team of motor heads sped on to our screens way back in 2001, they've never tried to be anything more than they are. That is why they're so successful, and the franchise is still going strong sixteen years later, with now eight films to their name.
Directed by F. Gary Gray, Fast & Furious 8 (AKA The Fate of the Furious – original US title) starts with Dom and Letty (Vin Diesel and Michelle Rodriguez) enjoying their honeymoon in Cuba. Blissfulness is disrupted though when Charlize Theron's cyber terrorist shows up and somehow turns Dom against his team. Reeling from his betrayal, Dom's friends must work together, along with former enemy Deckard Shaw (Jason Statham) to bring down their old leader.
We all know what to expect from these movies by now. Fast & Furious 5 revitalised the franchise by adding Dwayne "The Rock" Johnson and reformatting the structure away from the street racing scene, turning it into a heist action series instead, but with fast cars. From then on, each instalment has been a series of stunts and set pieces that defy the laws of nature and physics, loosely built around a thinly conceived plot, with each one trying to outdo the film that came before. Fast & Furious 8, in that sense, is no different, and sticks to that well known formula that is both its strength and weakness.
If you can switch off your brain for a couple of hours and forget the plot holes, like the previous films, Fast & Furious 8 is still a lot of fun. With plenty of entertainment value, it hits all the familiar beats we've come to expect in this franchise, from the gloriously over-the-top car chases, to the globe-trotting heists.
Writer Chris Morgan even mixes things up a bit by having Dom seemingly turn on his crew. Sure, we can see all the twists and turns coming a mile away, and pretty much know how it's all going to end, but it does provide something mildly fresh in the story.
Unfortunately, that winning formula they've been using since the fifth movie is starting to feel stale. Enjoyable as these films are, there's only so many times they can convincingly bring Dom and his team back into the world of espionage and continually escalate the action to ridiculous proportions. At this rate, it won't be long before the audiences start getting bored of it, no matter how crazy the stunts are.
On top of that, there are too many characters to follow by this point. And with each passing instalment they seem to be adding more people to our team of heroes than is necessary. With Scott Eastwood's government agent joining the ranks this time round and Theron's new big bad, even with the lengthy runtime, not everyone gets enough time to shine. Instead, what we're offered are thinly drawn archetypes with the most basic of motivations, except maybe for original cast member Diesel.
Luckily, the movie's secret weapon in the form of Johnson is still very much in full effect. As Dobbs, he's got tons of charisma, having a big presence both literally and figuratively. Amongst the cast, he's clearly the main draw, and continues to put a hundred and ten percent into this role, looking like he's having a blast doing it. Putting Dobbs and Shaw together as a double act was a stroke of genius. From the moment their eyes meet there's this great rivalry that turns into begrudging respect, and seeing them goad each other on, offers some of the funniest moments. In truth, if Diesel ever wanted to step away, Johnson and Statham could easily carry this franchise forward.
It wouldn't be a 'Fast & Furious' film without the death defying stunts, and Gray doesn't disappoint. It's hardly what you would call grounded action, but if you're watching this film, that's obviously not what your after anyway. Presenting unrealistic car stunts to superhero levels is the name of the game, and Gray puts the gang up against a nuclear submarine in Russia, and a hoard of driverless cars in New York city.
'If you're watching an eighth instalment of a film franchise, you're clearly a fan, and in regards to Fast & Furious 8, it has all that you would expect and want from this world: Fast cars and big explosions. Combined with the chemistry of Johnson and Statham, there's no denying this is an enjoyable and entertaining film. The only problem is that it no longer feels very original and fresh. Even with a big fan base, this tried and tested formula will start getting old soon, unless they can find a way to reinvigorate the next film with something new.'
David Axcell
Film Critic
David has quite a broad taste in film which includes big budget blockbusters and small indie films; including International and Arthouse cinema. As long as it's good in that particular genre, he'll watch anything.
This article is copyright owned by Keltar Limited. All rights reserved.
Plagiarism or unauthorised copying is not permitted.
All other copyrights remain the property of their respective owners.