Extremely Wicked, Shockingly Evil and Vile review – a competently crafted thriller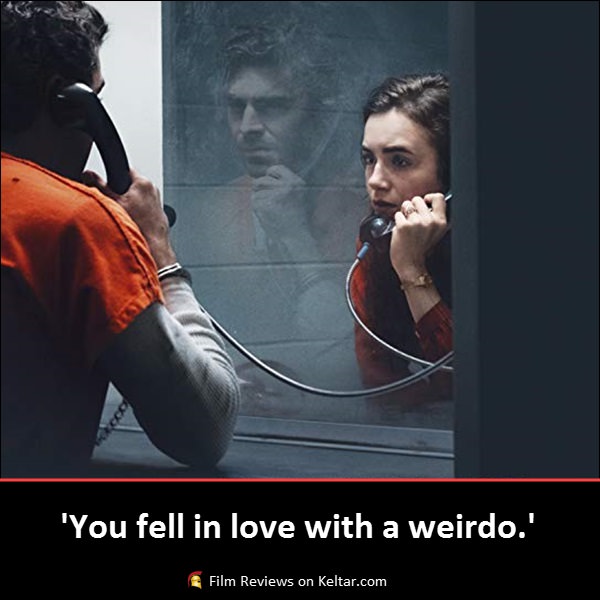 'Single mother Elizabeth Kendall finds out her long-term boyfriend Ted Bundy is a vicious serial killer.'
One of America's most notorious serial killers, Ted Bundy, gets another film dedicated to himself. There's no shortage of books and movies about this vicious predator, but director Joe Berlinger brings his own take nonetheless with Extremely Wicked, Shockingly Evil and Vile. Despite being known more as a documentary film maker, he takes the bio-pic approach and casts Zac Efron against type as the dangerous yet deceptively charming Bundy. Sky have the UK rights, so if you can't find a local cinema to watch, you can see it on Sky Movies or Now TV.
Bringing a different spin, the story's told through the perspective of Elizabeth Kendall (Lily Collins), a young single mother. She meets the elegant Bundy in 1969 in Seattle and forms a romantic relationship with him. Unaware of his true nature, she struggles to except the truth when he's caught and put on trial for a number of kidnapping crimes and accused of murder. As the police struggle to convict Bundy, Liz continues to visit him in jail and believe his pleas of innocence. Evidence piles up however, and Liz begins to doubt she ever knew who this young charismatic man really was.
'Berlinger does a solid job in telling this very familiar story in a fresh way.'
By exploring Bundy's trial through Liz, we see him through different lenses. We see how someone could believably be duped by this vicious killer's suave veneer. Even as the evidence against him increases, it feels almost plausible the way Liz stands by him. Barely giving anything away, if we didn't have the foreknowledge of who Bundy truly was, even we could be taken in by his charm and sincerity.
Due to the story being from Liz's point-of-view, Berlinger actually never shows or depicts any of the crimes themselves. We're put directly in her frame of mind, which is plagued with doubt and uncertainty. This makes it as much her film as it is Bundy's.
Unsurprisingly, considering his expertise is in true crime documentaries, Berlinger also has a very straightforward approach. A matter-of-fact feel to the way the narrative unfolds. Whether intentional or not, this results in a very un-cinematic aesthetic and looks more like a television movie at times. There's a slow and repetitive pace, where Bundy's in and out of court rooms and being tossed around the country as further crimes are connected to him. These are tropes we've seen in many courtroom dramas before, and in that regard, this doesn't feel all that original.
'What really lifts the film are the performances.'
There's a big cast, but ultimately this is Efron and Collins movie all the way through. Efron is disturbingly suited as the seemingly perfect boyfriend. At the same time, you can really see a true predator behind that vacant and unnerving stare. Giving such a strong and riveting performance, just the way he convincingly tells everyone he didn't commit these shocking crimes makes you almost question the evidence against him.
He's so undeniably charming, with only a few times where he drops the facade and reveals his true self. What's more, it could have been so easy to play him as a straight-up monster, but Efron is able flesh him out just enough you see an actual person.
Likewise, Liz could have lazily been portrayed as foolish and naive in the way she stands by Bundy for so long. But Collins does such great work in bringing reason and understanding to her decisions. It's a heart-breaking role, and Collins adds real depth to this sad and broken woman. She just wanted to know the truth about the man she spent a big chunk of her life with, and we see that uncertainty slowly deteriorate her mind really palpably.
All the other cast are good in their roles, like Kaya Scodelario who plays Carol Ann Boone, another one of Bundy's girlfriends. Even John Malkovich as one of the judges gets a small but pivotal role. Unfortunately, the rest of the cast are more or less wasted due to the main focus being on Efron and Collins.
'Extremely Wicked, Shockingly Evil and Vile joins the long line of other Ted Bundy related media.'
Although far from perfect, it's a competently crafted thriller about one of America's most infamous killers. What it lacks in style and originality, it easily makes up with two excellent performances from Efron and Collins. Their ability to infuse this movie with real pathos should be praised, as the way they play their parts is really engaging and absorbing. Combined with a straightforward approach into this real-life nightmare, if your unfamiliar with Bundy's story, this is a good film to start with.
Film Details
15 · 1h 1m · 2019.
Genre
Biography · Crime · Drama · Thriller.
Cast
Angela Sarafyan · Haley Joel Osment · Jim Parsons · Joe Berlinger · John Malkovich · Kaya Scodelario · Lily Collins · Zac Efron.
Director
Joe Berlinger.
Writer
Michael Werwie.
Based on the book by
Elizabeth Kendall.
Cinematography
Brandon Trost.
Editing
Josh Schaeffer.
Music
Dennis Smith · Marco Beltrami.
Contains
crime scene images · sex · sexual violence · strong references to violence.
David Axcell
Film Critic
David has quite a broad taste in film which includes big budget blockbusters and small indie films; including International and Arthouse cinema. As long as it's good in that particular genre, he'll watch anything.
This article is copyright owned by Keltar Limited. All rights reserved.
Plagiarism or unauthorised copying is not permitted.
All other copyrights remain the property of their respective owners.