Despicable Me 3 review – a good time killer for the kids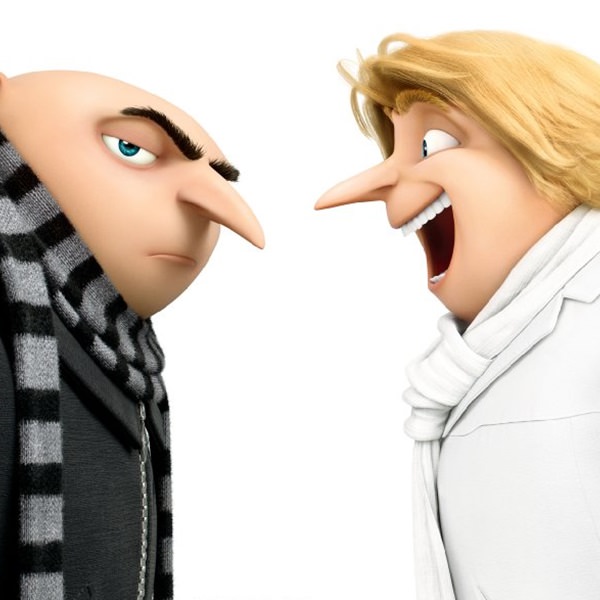 'Ex-supervillain Gru meets his long-lost happy, successful twin brother Dru who wants to team up with him for one last heist.'
Illumination Studios flagship franchise returns for its third outing in Despicable Me 3. After the misfire that was Minions (2015), a spin-off that put the yellow, gibberish speaking side characters front and centre, it's refreshing to see them back in a supporting role. Although they still have their own storyline running alongside the main one, they are very much in the background to the far more coherent character of Gru (Steve Carell), and therefore, are made less annoying for the adults.
Directed once again by Pierre Coffin and Kyle Balda, the story picks up sometime after the events from the previous film, with ex-supervillain Gru now married to Lucy (Kristen Wiig) and working for the Anti-Villain League (A.V.L). When they fail to capture Eighties themed criminal Balthazar Bratt (Trey Parker), they are subsequently fired. At the same time, Gru discovers he has a long lost twin brother named Dru (also voiced by Carell), who reaches out to him. Excited to meet his brother, he takes Lucy and their three adopted daughters go to visit him, but when they get there, Gru finds himself tempted back into the criminal world.
We all know what to expect from this studio by now. These are kids films, pure and simple, no more, no less. Unlike Pixar and Disney, that attempt to create viewing experiences both young and old will appreciate, Illumination's movies have always been about making features that parents can take their children to and keep them quiet for ninety minutes or less.
Despicable Me 3 is no exception, and in fact, as the third in an animated franchise, has lost a lot of steam, and is clearly there to make money more than tell a good story. Full of frenetic set pieces, slapstick and toilet humour, it's a film the young ones will certainly enjoy, but leave the adults just counting down the minutes on their watch. For what it is though, it's one of the many perfectly adequate family film to take your kids to over the summer, just lower those expectations for yourself.
What hinders the film, is it's messy and uninspired story. The whole evil twin angle is old and lazy, and feels shoehorned in just to add some more depth to Gru, which it doesn't even succeed in that. The whole idea of him going back to villainy sounded interesting and had potential, but the writers don't even commit to that, leaving us with a half-hearted story with hardly any effort put in.
To make up for it, they add a lot of side plots, which just end up making the film feel all over the place and unfocused. Whether it's Lucy's attempt to be a good mother and connect with her adopted daughters, the minions stint in jail, or even one of the little girls' search for a unicorn, they only help in making Despicable Me 3 look like a loosely connected series of sketches.
Luckily, the film's saving grace can be found in its characters. Gru has had a great arc over the course of these films, and Carell's silly accent always brings a laugh to the little ones. He brings just enough of a variation to his voice to distinguish it between him and his brother. Wiig brings a lot of energy and enthusiasm to Lucy, where you'll actually feel for her as she attempts to bond with these three little girls she's instantly become a mum to.
Standing out though is Parker's Balthazar Bratt as the former child star from the Eighties, who can't seem to let go of that decade. With a mullet, giant shoulder pads, and a cheesy soundtrack he's constantly dancing to, he makes a formidable foe for the more straight laced Gru. As someone obsessed with the Eighties, he's clearly there for the adults to feel some kind of nostalgia towards.
'Despicable Me 3 is nothing more than a time killer. An average animated feature for the kids to be entertained by, which they will be. That's not to say there's nothing to enjoy for the slightly more mature, especially with some of the characters. You may even find that inner child laughing at some of the toilet humour, and even the much more toned down minions.'
David Axcell
Film Critic
David has quite a broad taste in film which includes big budget blockbusters and small indie films; including International and Arthouse cinema. As long as it's good in that particular genre, he'll watch anything.
This article is copyright owned by Keltar Limited. All rights reserved.
Plagiarism or unauthorised copying is not permitted.
All other copyrights remain the property of their respective owners.