Colossal review – a monstrously good film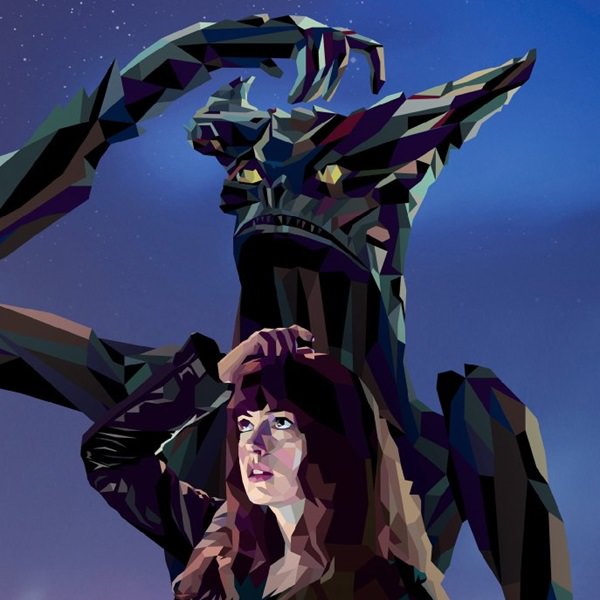 'An out-of-work party girl comes to believe she is somehow connected to a giant creature that is destroying Seoul.'
Written and directed by Nacho Vigalondo, Colossal is a strange combination of monster movie and indie dramedy, that strangely enough works. The setup is about as typical as you can get for a film set in a small town. Gloria (Anne Hathaway), a unemployed writer who struggles with alcoholism, is kicked out of the New York apartment she shares with her boyfriend Tim (Dan Stevens). Forced to move back to her hometown in the middle of nowhere, she ends up reconnecting with her old school friend Oscar (Jason Sudeikis), and working in his bar, where most nights they end up staying after closing and drinking until morning.
Things get weird though when halfway across the world in Seoul, a giant monster starts appearing and wreaking havoc across the city. Not only that, but this creature seems to be mentally connected to Gloria, where somehow her actions directly influence it's movements.
Blending these two very distinct and polar opposite genres would look like an impossible task on paper. How could you take a small, character driven plot, and at the same time, entwine it with a giant, world-changing, city destroying, monster movie; they just don't go together. Yet, despite that, Vigalondo does the impossible and meshes these two worlds seamlessly, offering something truly original and matchless, with nothing out there quite like it. In an age where every other film is part of a vast and interconnected universe, it's refreshing to have something like this that can stand alone. Indeed thanks largely to the movie's indie sensibilities, which aren't particularly known for spurring numerous follow-ups, you can watch Colossal on its own without the fear of it being turned into some bloated franchise (knock on wood).
Comedy wise, this isn't a film chock full of belly laughs and physical slapstick. No, the humour is black in tone, which isn't surprising considering the topic of alcoholism, which itself is well observed and portrayed authentically. Subtly approached, we see the different effects addiction to alcohol can have on someone, and the people around them. We especially see this through the character of Tim, who loves Gloria but can't stand watching her wreck her life.
About halfway through the film, the story takes a really dark turn to drive these points home even further, becoming something far more dramatic and serious. Despite the fantastical elements, Vigalondo is skilfully able to keep the story grounded in reality, while dealing with these mature issues. In fact, the monster aspect, with the how and why, aren't actually that important, being there more to help Gloria on her journey of self-discovery, and turned more into a metaphor, magnifying the utter destructiveness of Gloria's addiction.
For a small film, the visual effects are decent and used sparingly, with Vigalondo clearly not interested in making a CGI driven and action packed extravaganza. Saying that, he does have some clever ways, which I won't spoil, to still get across the carnage the monster is causing without having to break the bank.
As a drama, the film's success rest on the characters, and the actors bringing them to life. Fortunately, the two main performances from Hathaway and Sudeikis are excellent, and they easily carry the story, making it engaging and interesting on its own, even without the monsters. Hathaway in particular is brilliant as Gloria, who has to come to terms with her drinking problem when she realises the consequences are far more global than just personal.
She brings a lot of layers to her character, where she doesn't go overboard with the alcoholism, but goes the more functional route, adding more finesse and nuance to this horrible disease. Convincingly stumbling around and passing out in the most uncomfortable places, she certainly commits, and is able to make her sympathetic regardless of her self-destructive tendencies.
Likewise, Sudeikis also does a great job. Mostly known for lighter and comedic roles, he displays considerable range with Oscar, and he very much comes across as a yang to Gloria's yin. They play off each other well, presenting two sides of the same coin, where they both have similar demons that are expressed in different ways. He's a conflicted character, and Sudeikis nails those contradictions within his personality, showing us something completely different to what we normally see from him.
'Vigalondo has made a movie that won't be a massive box office hit, or likely pack out the theatres, but if you're looking for something unique and a bit out there, then there is plenty to enjoy and appreciate in this film. With a couple of standout performances, and an engaging story about alcohol addiction, but with giant monsters, Colossal will likely be a cult film with a small group of hard-core fans in no time.'
David Axcell
Film Critic
David has quite a broad taste in film which includes big budget blockbusters and small indie films; including International and Arthouse cinema. As long as it's good in that particular genre, he'll watch anything.
This article is copyright owned by Keltar Limited. All rights reserved.
Plagiarism or unauthorised copying is not permitted.
All other copyrights remain the property of their respective owners.